Arsene Wenger angry with Andre Santos after Arsenal defender swaps shirts with Robin van Persie
Simon Rice
Monday 05 November 2012 17:53 Comments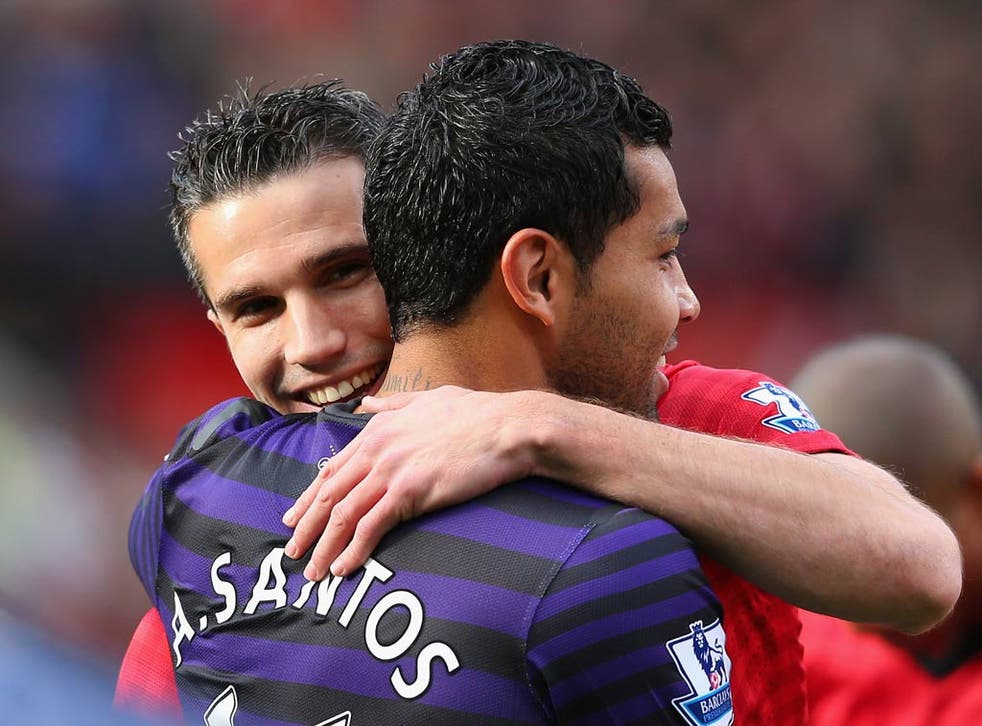 Arsene Wenger has told off Andre Santos after the Arsenal left-back asked to swap shirts with former team-mate Robin van Persie.
The Brazilian defender took the shirt of the Manchester United striker after the half-time whistle went at Old Trafford on Saturday.
At the time Arsenal were 1-0 down - the goal coming from Van Persie - and Santos' actions were scrutinised and used to level accusations that the Gunners no longer see themselves as equals with their once great rivals.
Speaking ahead of Arsenal's Champions League tie with Schalke, Wenger dismissed speculation that Santos would be dropped for tomorrow's match, but made his unhappiness with the defender clear.
"I spoke about that but I don't want to make too much of a big story of that," the Arsenal boss said.
"I believe that was not the right thing to do at all, but that is not an explanation for our bad performance on Saturday."
Arsenal lost the match against Manchester United 2-1.
Half-time swaps
While swapping shirts is traditional in football, players usually wait for the full-time whistle. The actions of Santos, if not deemed offensive to Arsenal fans, were at the least considered a bit strange. But as his wife Suelem Leal explained on Twitter, it is Brazilian tradition to ask for an opponents shirt midway through the match.
"The English should better understand the Brazilian culture before judging someone," she wrote on Twitter to defend her husband.
She added: "No one stops being friends just for changing company." explaining it is "normal in Brazil."
Related articles...
Bankrupt of talent now, Arsenal pay a high price for austerity
Tactics Talk: Arsenal uninspired as Manchester United coast to win
Arsene Wenger insists 'you don't care who scores' following Robin van Persie goal against Arsenal
Manchester United forward Shinji Kagawa left out of Japan squad for World Cup qualifiers
Register for free to continue reading
Registration is a free and easy way to support our truly independent journalism
By registering, you will also enjoy limited access to Premium articles, exclusive newsletters, commenting, and virtual events with our leading journalists
Already have an account? sign in
Join our new commenting forum
Join thought-provoking conversations, follow other Independent readers and see their replies