Arsene Wenger 'worried' that his Arsenal players cannot 'absorb the blows' of defeat
Arsenal travel to Germany next week to take on Bayern Munich, who they trail 3-1 after the first leg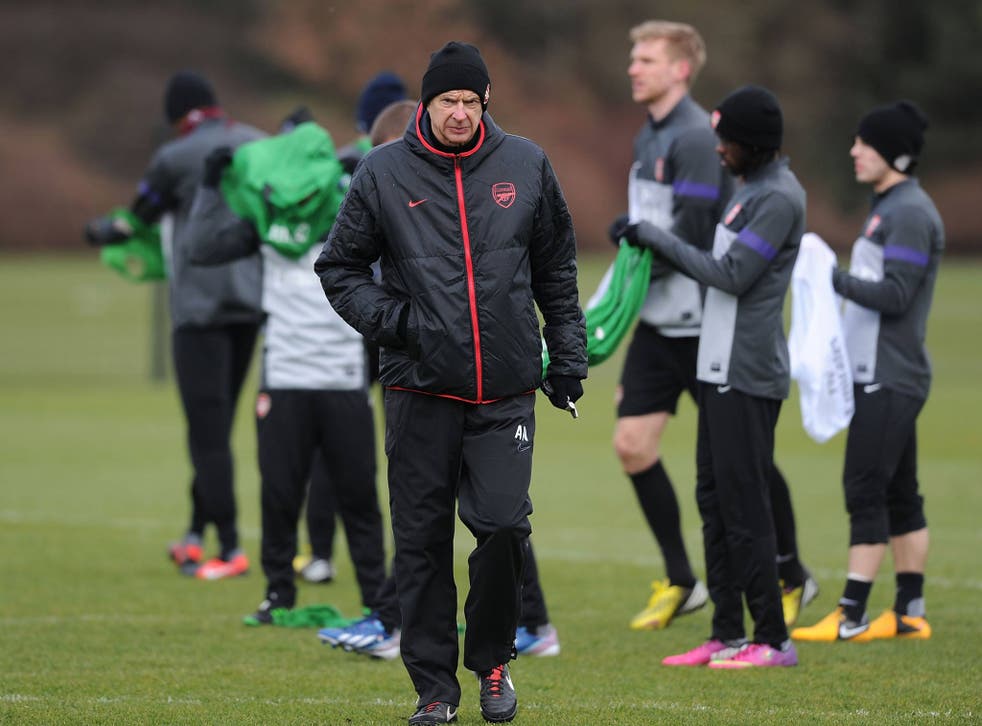 Humiliated by Blackburn Rovers in the FA Cup, outclassed by Bayern Munich in the Champions League and trailing their greatest rivals by seven points in the Premier League.
The all-too familiar 'business end' capitulation that has taken place at Arsenal this season and the affect it may have on the players is a source of concern for Arsene Wenger.
Technically the Gunners could still win the Champions League, but trailing their German opponents 3-1 after the first leg, few are backing them to advance - meaning another season with no silverware.
But Arsenal still have all to fight for, with a top-four finish in the Premier League, and the Champions League qualification that comes with it, still in sight.
It will be a tall order to haul in Chelsea, who are five points ahead, and rivals Tottenham, who are seven ahead after their victory in the north London derby.
Wenger says he is ready for the fight but has admitted his concern about the mental state of his players and the impact it could have.
Wenger said: "I am not worried about us potentially coming back against Bayern, I am more worried about consequences that could manifest in the heads of our players.
"You will never know how they can absorb those blows and how the team respond to disappointment. This is the most worrying aspect for me.
"But from the experience of how to handle the end of the season, we know how to deal with that. We have had lots of experience.
"Of course, you are not feeling great if you can't win, but we can stay solid or crack under the pressure.
"If you want to know, I am still solid but I can't tell you that I feel great right now because my job is about winning games and when you lose you will not find a single coach in this world who feels very good."
Arsenal have arguably the easiest run-in of their rivals in the fight to secure Champions League football for a 16th consecutive season. Of the League's top six, the Gunners only have to play Manchester United and Everton — both at home — but their final 10 matches begin with a difficult trip to Capital One Cup winners Swansea.
Wenger's side have not won on either of their visits to the Liberty Stadium since Swansea were promoted back to the Premier League.
"We are in a situation right now where our objective is just to qualify for the Champions League — so we can't drop points any more," said the 63-year-old.
"Contrary to our two cup defeats we are on a good run in the Premier League actually — with the two big blows in just three days in the cups. We need to recover, and that will define the rest of our season."
Arsenal are hopeful Kieran Gibbs will be available against Bayern report The Evening Standard after the left-back returned to full training following a thigh injury. His progress will be closely monitored but, at this stage, it is expected he will only be fit enough for a place among the substitutes.
Join our new commenting forum
Join thought-provoking conversations, follow other Independent readers and see their replies