Aston Villa's Christmas video hijacked by Micah Richards and his uncontrollable fits of laughter
Richard and Brad Guzan dressed up as Santa Claus to dish out the club's secret Santa gifts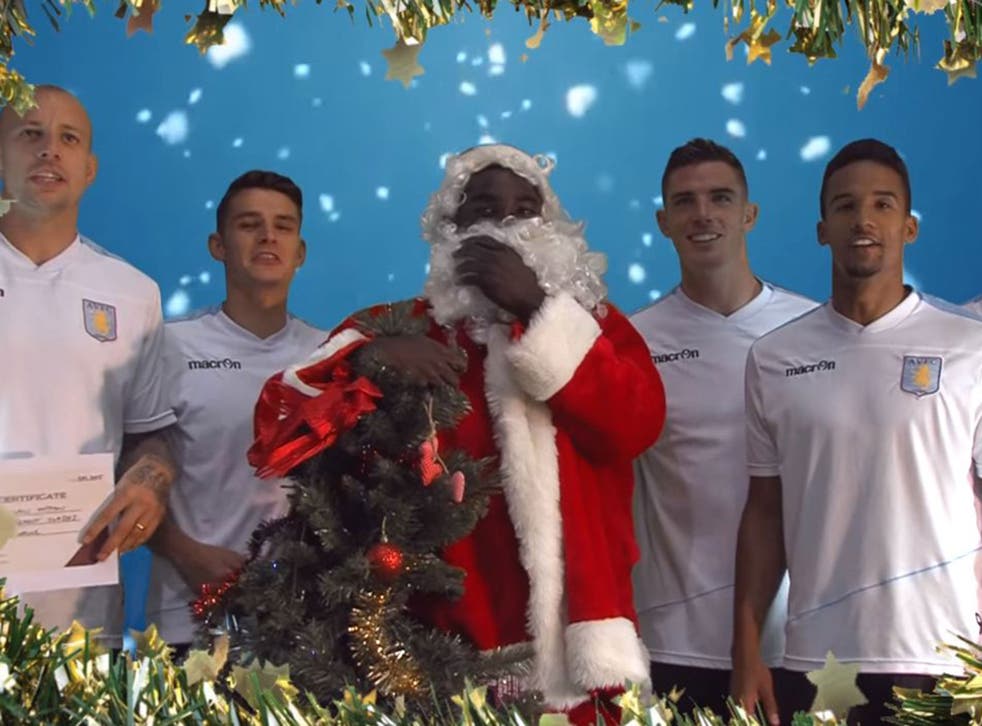 Aston Villa might have the best Christmas video of the entire Premier League after they dressed up captain Micah Richards and goalkeeper Brad Guzan as 'Bad' Santa Claus and made them give out their secret Santa presents to the rest of the squad.
Villa may not be enjoying the best of seasons, given they sit bottom of the Premier League and are currently an alarming 10 points off safety and five points behind 19th-placed Sunderland, but they have still found the festive spirit to produce a video to wish their fans a merry Christmas and a happy New Year.
However, what fans won't have been expecting is the chaos that ensues just by opening their presents, and no one will have been ready for the sheer brilliance of Richards' uncontrollable laugh.
The former Manchester City defender dishes out the presents, starting with winger Scott Sinclair who receives a 'My First Question and Answer Book' because he asks "so many questions".
Next on his hit-list is Ciaran Clark, who received 'The Daniel O'Donnell Irish Collection' CD because, as Richards explains, "we didn't know if to get you English or Irish but you pretend you're Irish".
Jack Grealish is up next, and given his recent misdemeanours of late-night partying and infamously passing out on the streets of Tenerife in the summer while on holiday, Santa Guzan provides him with an inflatable mattress "so next you feel like taking a nap anywhere you can bring this with you".
Scottish defender Alan Hutton, described by Richards as the team's "angry man", unsurprisingly receives a gift voucher for anger management classes, and by some of his performances this season you'd have to say it's about time.
Guzan then gives his fellow goalkeeper Mark Bunn a tube of fake tan, telling him "not to be in denial about it". Bunn responds by launching it as if he's sending Gabriel Agbonlahor away on a counter-attack, and it's fair to say he's not impressed with his present.
And after Ashley Westwood is given a booster seat for his Range Rover to help him see over the steering wheel, we come to striker Agbonlahor, who is quite thoughtfully given a French dictionary to help him communicate with the players in the squad from the continent.
The forward promptly blurts out an expletive, and Richards is done. The defender erupts into fits of laughter along with his team-mates, and when Hutton falls into the Christmas tree he can no longer contain himself.
Watch the video below...
We dare you to watch the video without laughing.
Join our new commenting forum
Join thought-provoking conversations, follow other Independent readers and see their replies