Aston Villa vs Manchester United preview: Louis van Gaal backs Wayne Rooney to score over 20 goals this season
Manager backs his striker ahead of Premier League trip to Villa Park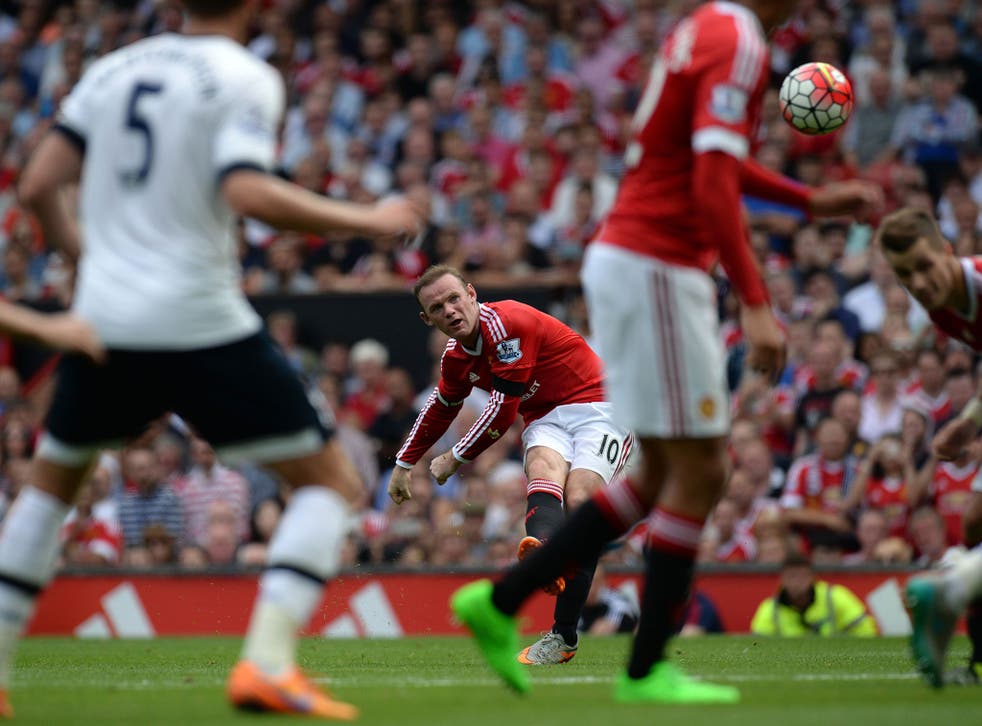 If you ask Manchester United's players to imagine the away dressing room at Villa Park, they might talk of the light polished wood, the claret and grey floor – or they might talk of the constant celebrations that have been staged there.
You would have to go back to August 1995 and Alan Hansen, in the kind of white jacket Richie Benaud made his own, remarking that you win nothing with kids to find the last time United lost a league game at Aston Villa. This is their gentlest away game, an inexplicable sequence of results against the biggest club in England's second -biggest city.
And yet last December, Manchester United almost lost here, one of the rare occasions on which Radamel Falcao came to their rescue. The Colombian may not have achieved much but he did at least preserve their 20-year sequence in this corner of Birmingham.
That performance was typical of United under Louis van Gaal. Their home record last season was the third best in the Premier League; away from Old Trafford, they won only six times, fewer than Tottenham, Liverpool or even Crystal Palace. They lost at Leicester, at Milton Keynes in the League Cup, they failed to win at Sunderland, at Burnley and at West Bromwich Albion. It was not until 22 November that they took three points home and that, perversely, was from Arsenal.
Wayne Rooney scored the second, decisive goal that evening and, with Falcao and Robin van Persie forced out, he will be expected to score many more this time around. Last season, as Van Gaal experimented with systems and formations, the England captain was shifted around the pitch, even ending up as a holding midfielder.
On this summer's tour of the United States, Rooney remarked that he intended to play almost every game as the club's main striker, just as he had been in the two seasons before Van Persie's arrival.
This was confirmed by his manager in his usual emphatic style. "Our aim is to play with Rooney in the striker's position," he said. "Chicharito [Javier Hernandez] is the reserve striker and, if he plays, Rooney will be the No 10, but normally Rooney shall play because we have the confidence he can score more than 20 goals."
Van Gaal is setting a high bar. In only two seasons since his move from Everton 11 years ago has Rooney managed 20 goals – in 2009-10 and 2011-12. He played magnificently in those campaigns, sometimes dragging his club forward in a manner reminiscent of Bryan Robson in United's twilight years. Whether he can do the same as he approaches his 30th birthday will be one of the great questions hanging over Old Trafford.
The other is how, after two frantic summer transfer windows, Manchester United have allowed themselves to be in a situation where their two reserve strikers are Hernandez and Adnan Januzaj. One of whom was loaned out to Real Madrid while the other, who had flourished under David Moyes, was consigned to the shadows under his successor. Significantly, Van Gaal said he expected both men to remain at United.
"We have a better balance after two transfer windows," he said. "But a better squad has to result in points. Only if we win more points than last season can you say we have a better squad."
That squad is likely to be added to with the imminent arrival of Pedro, who appears to be in the same mental position as David De Gea, likely to leave Barcelona but unsure when.
"I am not going to mention anything about Pedro before he has signed," said Van Gaal. "When he has signed I will come to you and say, 'Pedro is here'."
Asked if the forward, whose last act for Barcelona may have been to score the winner in the Super Cup final, was the kind of fast, penetrative player who could open up space and opportunity for Rooney, Van Gaal smiled and said: "I hear you. Pedro is a player like that, so write it."
Van Gaal may be short of out-and-out centre-forwards but he has two more points than Jose Mourinho, three more than Arsène Wenger and three more than he had after the first game of his first season at Old Trafford.
Van Gaal was relaxed enough to brush off criticism by Hristo Stoichkov, his former player at Barcelona who had advised Pedro not to leave the Nou Camp. "Van Gaal is a man who destroys clubs to the extent that they take years to rebuild," said the Bulgarian in a radio interview. "He has spent £200m and the other day I saw his first game of the season. It was disastrous and he won it because of an own goal."
Van Gaal reminded journalists that Luca Toni, who had been his centre-forward at Bayern Munich, also thoroughly disliked him. "We are at the beginning of the season," he said. "The start is something you just have to survive because you have new players, a new team, a new process that makes the team dynamic different.
"At this time of the season nobody is 100 per cent and yet they have to play. Sometimes it is because of the World Cup or the Copa America or fulfilling the commercial activities of a club on a pre-season tour. You always see it in the level of their game but we have to pay attention to it and our start cannot cost us as many points as last year."
Register for free to continue reading
Registration is a free and easy way to support our truly independent journalism
By registering, you will also enjoy limited access to Premium articles, exclusive newsletters, commenting, and virtual events with our leading journalists
Already have an account? sign in
Join our new commenting forum
Join thought-provoking conversations, follow other Independent readers and see their replies