Brendan Rodgers: Daniel Sturridge can be king at Liverpool
Liverpool's manager tells Steve Tongue the striker is not arrogant and can play alongside Suarez
Steve Tongue
Saturday 14 September 2013 23:31 Comments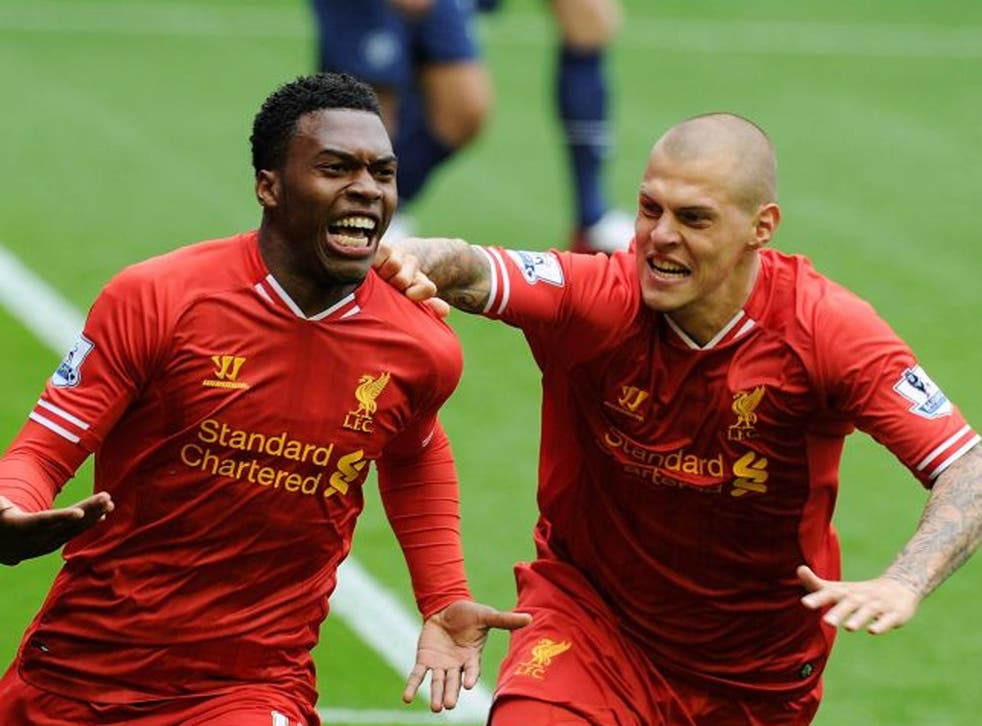 If Liverpool continue all season as they have begun in the Premier League, it will be quite a campaign: played 38, won 38, for 38, against 0, pts 114. Oh, and Daniel Sturridge wins the Golden Boot for his 38 goals. A little unlikely, to be honest, but if the sequence of 1-0 victories established thus far against Stoke, Aston Villa and Manchester United were to be extended into tomorrow night's game at Swansea, the club would be perfectly happy.
Not surprisingly, they are especially keen to have Sturridge fully recovered from the injury that caused him to miss England's two recent World Cup matches, and are grateful for the two extra days this weekend to help him do so. Thereafter, it will be important to keep him fit and firing at least until Luis Suarez finally starts his season when a ten-match suspension for his nibble at Chelsea's Branislav Ivanovic runs out in two weeks.
From that point – they could link up again in the League Cup tie at Old Trafford, of all places – the partnership should be one of the most exciting anywhere, as was briefly promised in the second half of last season. Sturridge, who joined in January from Chelsea, has settled in and already has 16 goals in 20 games to his name. Ah, the doubters say, an even greater ego now; not one prepared to play second fiddle, and how can there be room for two lead violinists when Suarez returns?
To which Brendan Rodgers, the man charged with keeping the music sweet, replies: "Neither of them will be the main man. This is based around a team. People were talking about Suarez being a one-man team last year. I kept saying we were not, and if you look at the numbers clearly we weren't.
"Sturridge has this myth around him that he was a real arrogant sort, a difficult boy. He's actually one of the nicest boys I've met. He was at Manchester City, top young talent, the best No 9 in European football as a young player, breaking through there. He thinks he's going to get a chance, he loves everything about the club, going to be a hero, then bang, they got all that money and he's not going to get a chance.
"So he goes to another club that's got a lot of money [Chelsea] and now he's trying to replace Didier Drogba. He knows he's good, he's scoring goals in practice games, four at a time but he's not in the hierarchy yet. So he's probably frustrated."
Insistent that too often the most talented players "never hear the kind of things that will do them good", Rodgers sold Liverpool to Sturridge thus: "I said to him, 'Don't come here unless you're committed. I need you to commit to a cause. We'll organise a plan for you to be the best you can be. It's then your responsibility, as a footballer the crown is on your head, you're king of your own destiny'.
"What he needed was an opportunity and not a threat." What of the pair's team-mates, notably those in the less fashionable back of the orchestra, who have kept three clean sheets out of three so far?
Jose Enrique, now being challenged for the left-back position by another Valencia man, Aly Cissokho, says admiringly that bringing back Suarez alongside Sturridge and the Brazilian Philippe Coutinho will give Liverpool a front three to match any in the land: "With these strikers you know that if you have one chance you can win the game in any moment. This is very important for us as defenders. You know some games will be ugly games away and having these type of players, they can turn the game.
"I tell [Sturridge] that if he wants he can be one of the best strikers in the world. For me he's one of the most complete players I've ever played with," said Enrique at an EA Sports Fifa 14 demo launch event.
For Suarez, playing for his country in the past week must have been like a pass-out from prison, but Enrique says he has remained upbeat throughout. "Of course it is difficult for him but he is doing fantastic. For me, it is the best signing of the summer that he doesn't go. That's why a lot of teams like Arsenal offer a lot of money for him. He is worth it. That's why Liverpool didn't sell him because they know it is so important for us that we kept him."
Rumours persist that the Uruguayan will not stay beyond next summer at the latest. All that could keep him, it is understood, is the Champions' League place Liverpool failed to secure this season; which makes it all the more crucial to break back into the top four this time.
For Enrique, "the Champions' League without Liverpool is not the same, because of what they've done before in Europe and how many fans they have in the world. They have to be there. We've been out for two years now and it hurts."
"It's a hugely difficult ask," Rodgers admits. But ask he will over the next few months.
Swansea v Liverpool is on Sky Sports 1 tomorrow, kick-off 8pm
Jose Enrique appears in EA SPORTS FIFA 14. Download the FIFA 14 demo version now on PlayStation Network and Xbox Live Gold. Xbox Live Silver members can download from September 17.
Register for free to continue reading
Registration is a free and easy way to support our truly independent journalism
By registering, you will also enjoy limited access to Premium articles, exclusive newsletters, commenting, and virtual events with our leading journalists
Already have an account? sign in
Join our new commenting forum
Join thought-provoking conversations, follow other Independent readers and see their replies