Brendan Rodgers: Under pressure Liverpool manager has to prove himself again
Sixteen months ago his side nearly won the title. But little has gone right since then and the pressure is growing on the Liverpool manager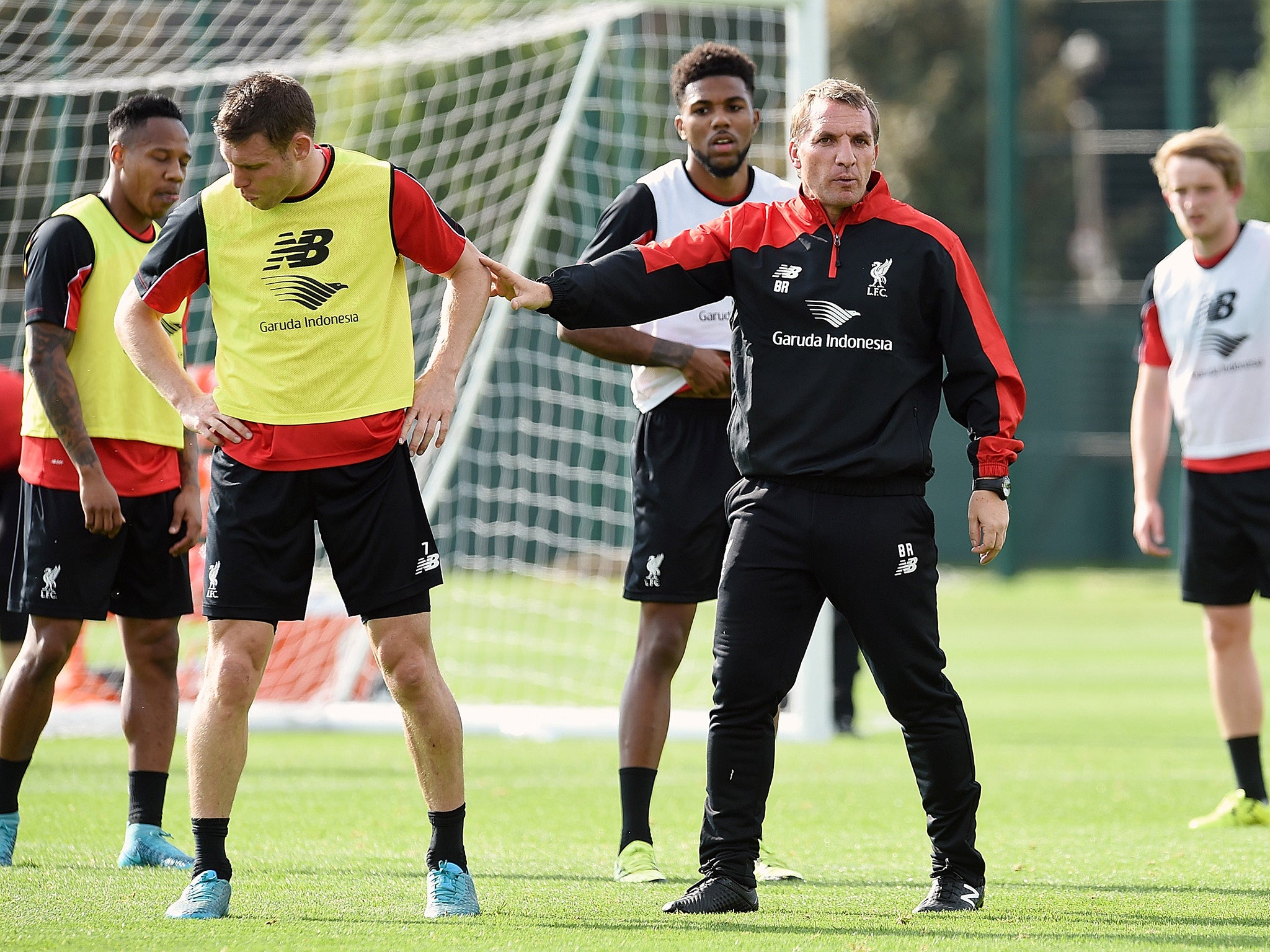 Shortly before the end of last season Brendan Rodgers, Liverpool's manager, was asked whether he was sure he would remain manager of the club. Rodgers replied that he was "150 per cent" certain his position was secure.
His conviction was established following a conversation with the man in charge of the day-to-day running of Liverpool, Mike Gordon, the president of Fenway Sports Group, the club's American owners.
Two days later, Rodgers' team played their last game of the campaign and were thrashed 6-1 at Stoke, the worst performance of a two-month period that was peppered with poor performances. Their abject display in losing the FA Cup semi-final to Aston Villa was almost as bad.
Premier League Power Rankings - Game Week 6
Show all 17
In the aftermath of the Stoke humiliation it began to look as if Rodgers' confidence about his position was misplaced. FSG is a Massachusetts-based investment company that also runs the Boston Red Sox baseball club. Discussions among the most senior FSG officials in America saw Rodgers' suitability examined.
An end of season review at which Liverpool's progress under the manager would come under scrutiny was always going to take place on Merseyside, but before it happened, Gordon and the club's chief executive, Ian Ayre, worked hard to support Rodgers, arresting the rising feeling against him by presenting a staunch defence to Fenway's principal owner, John W Henry, and its chairman, Tom Werner.
Underpinning their faith was the fact that just 12 months earlier, Rodgers had gone tantalisingly close to accomplishing one of the great shocks of the modern era by winning the Premier League title.
Having finished seventh the season before, and despite possessing less resources than clubs around them, Rodgers' side had played brilliant, attacking football only to lose a vital game at home to Chelsea.
Given the scale of Rodgers' achievement at that point, his position may have seemed unchallengeable for years to come . In fact, the seeds of discontent were soon being sown.
FSG made it clear during the summer of 2014 that they wanted Rodgers, who had established an enviable reputation as an innovative and far-sighted coach, to pass on his knowledge to Steven Gerrard.
Gerrard had retired from international football because he wanted to prolong his Liverpool career. FSG recognised that Gerrard was a symbol of the club and understood the financial and sporting benefits of extending the association beyond even Gerrard's expectations. FSG wanted Gerrard to shadow Rodgers and to learn from him. Somehow the message got lost.
Negotiations for Gerrard's Liverpool contract were delayed and when they finally did begin, Ayre was late arriving for the first meeting, which was brief. The coaching plan was only revealed to Gerrard when he'd announced his departure from Anfield for Los Angeles Galaxy. He alluded to this without really expanding upon it during a radio interview last week, ahead of the release of his second autobiography.
Gerrard moved on in the summer, while Rodgers remained, but a month into the new season there is little sign of improvement for Liverpool. Bad defeats at home to West Ham and at Manchester United suggest the manager is way short of his stated aim of returning the club to the Champions League.
It is still early days but if Liverpool fail to achieve victories at home to Norwich City today and Aston Villa next Saturday, his position could become more precarious than it has ever been.
There are excuses, ones that would apply to any manager, and some relate to the way the club is run from its Chapel Street offices in Liverpool's business quarter. Indeed some see the faulty automatic entrance at those offices representing a apt metaphor for Liverpool FC in 2015.
This is a club that spends a reasonable amount of money to take up three floors in one of the most expensive and striking towers in the city. Only, the front door is temperamental, occasionally boarded up, and there is no option to open windows when the air conditioning fails.
There is no doubt that on Merseyside many are questioning whether Rodgers can take Liverpool forward. Last weekend, one fan set up a fund aimed at raising the £7.3m that would cover the compensation Rodgers is due if he were to be sacked. Inside stadiums there are no chants calling for that to happen, yet the issue consuming Liverpool's supporter base is just how much Rodgers is to blame for the malaise.
His reputation as an excellent coach of attacking players was enhanced by the season when the title was so nearly won. At that time Rodgers' influence could be seen not just in the results and goals but also in the development of players like Raheem Sterling and Jordan Henderson, who became his choice to replace Gerrard as club captain.
That reputation took a knock as the feeble displays mounted up last season and there is a growing sense that Rodgers has lost his way and compromised on his identity in an attempt to preserve his own status - a view fortified by his sacking of his long-time assistant and friend, Colin Pascoe, in June. Pascoe felt betrayed by the decision.
Rodgers replaced him with Sean O'Driscoll, the former Doncaster and Nottingham Forest manager whose previous role was coaching the England Under-19s.
Since then, those inside the club have noticed Rodgers deferring more coaching responsibilities to the new man, while he takes a step back, observing standards.
However, there remains an emphasis on attack over defence in training sessions. There is a view that Rodgers believes that if he can make Liverpool a cohesive attacking unit, confidence will return to his squad and winning results will follow.
Rodgers's focus – as it is with many managers including some of the Liverpool greats – is almost always with the players in his starting XI. In recent months, however, this has led to gallows humour developing among squad members not getting any attention - a group who call themselves "the Bomb Squad".
If concerns are now being expressed about Rodgers' coaching, far more questions have been raised about his success, or lack of it, in the transfer market.
It was not Rodgers' choice that his two best players in Luis Suarez and Sterling were sold in successive summers. Yet both brought enormous fees, much of which has been squandered by Rodgers and the transfer committee, of which he is part.
When he was first appointed, joining from Swansea in 2012, the owners saw Rodgers as an outstanding coach with the ability to improve players given time with them. There would be signings, but not many.
Instead, Rodgers has become something of a wheeler-dealer, with seven new first-team players purchased in each of the last two summers.
Big fees have been shelled out on a number of recruits that have been unsuccessful. Dejan Lovren, the Croatian defender, has spread uncertainty rather than reassurance among the team mates around him, while Adam Lallana has not met standards expected of him consistently enough.
For all the disquiet, though, Gordon and Ayre remain convinced by Rodgers and provided their word continues to hold sway, he will not be sacked. The message going back to America from Chapel Street is one of hope, that everything will be fine as soon as Henderson, Daniel Sturridge and Philippe Coutinho return from injury and suspension.
Should Gordon and Ayre be overruled, however, insiders say it is unlikely to FSG will turn to the manager who many regard as being a natural Liverpool manager, Jürgen Klopp. At Borussia Dortmund the charismatic Klopp enjoyed a wonderful relationship with the club's passionate support and brought them remarkable success.
Klopp resigned at the end of last season to tumultuous acclaim and is said to be keen to work in England. However, it seems that Fenway have been warned against hiring the German, presumably by someone with first-hand practice of working with him.
From Rodgers' point of view, that bit of advice might be very good news indeed.
Join our commenting forum
Join thought-provoking conversations, follow other Independent readers and see their replies