Chelsea 2 Liverpool 1 match report: Determined Chelsea start to show mark of Jose Mourinho
Samuel Eto'o and Eden Hazard cancelled out Martin Skrtel's opener for Liverpool
Sam Wallace
Sunday 29 December 2013 19:00 Comments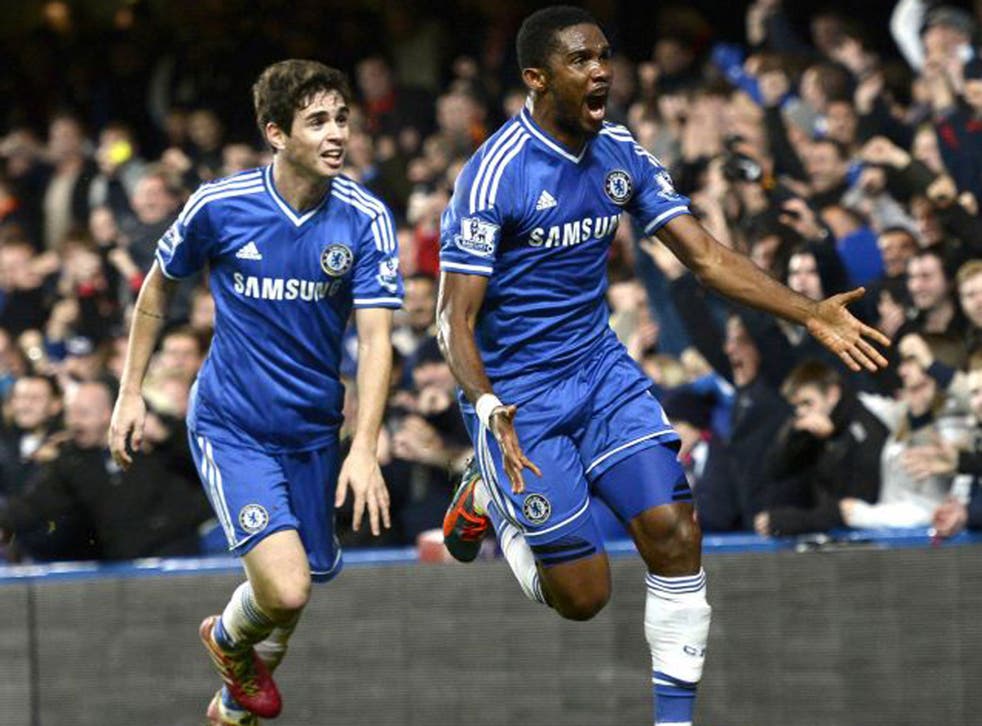 It was in the last few moments, when Oscar had chased yet another red shirt out to the touchline to win possession, that Jose Mourinho turned to the Chelsea supporters in the East Stand and exhorted them to roar their team on through the remaining seconds of a valuable victory.
This is starting to look like his Chelsea again. Dominant in midfield; straining every sinew to match their opposition from front to back – capable of squeezing out the kind of performances that do not so much elicit joy as a grudging respect. And there they are as the season reaches its halfway point, sitting solidly in third place and just two points off the leaders Arsenal.
In the final seconds, Oscar scythed down his fellow Brazilian Lucas Leiva, a connection which precipitated a brief tussle. That was a challenge you could not have imagined Oscar involving himself in until Mourinho took over his career. It is a spirit that is permeating the whole side and, whether you like it or not, it has proven effective.
That is not to say that Chelsea were not fortunate. The stand-out moment of the second half was the foul by Samuel Eto'o on Luis Suarez with seven minutes of the game remaining as the Liverpool striker pursued Cesar Azpilicueta out the area. "Streetwise" was how Brendan Rodgers described it and it was curious that Howard Webb, who saw the incident, waved play on when Eto'o stepped across the path of Suarez and fouled him.
It should have been a penalty, despite Mourinho's denials which, even he seemed to realise, given the haste with which he later changed the subject, were tenuous at best. Rodgers also picked out the foul in the second minute by Eto'o, studs up on the knee of Jordan Henderson that seemed to pass Webb by. The away team scored from the free-kick that followed but had the foul come later in the game, with cards already shown, it might even have been a sending-off.
The friendship between Mourinho and Rodgers precludes the kind of tension that once existed between the Chelsea manager and Liverpool during his first period in charge. Yet there was a hint of how far Mourinho is prepared to go when he raised, in relation to Suarez and simulation, "the cultural nature of the player", "People from that area," he said, "they like it [diving]".
It was dangerous territory and he corrected himself quickly, saying that it was the same in his "corner in Europe". Rodgers was able to laugh it off. The Liverpool manager conceded that two consecutive games against Manchester City and then Chelsea had left his team short of the energy required to break down such a high calibre of opponent, and they did look tired by the end.
Having taken the lead through Martin Skrtel, Mamadou Sakho hit the bar with a header seven minutes after half-time with Chelsea leading through goals from Eden Hazard and Eto'o. That was as close as they came in the second half. Suarez spent most of the game isolated from Raheem Sterling and Philippe Coutinho and was never able to produce a moment to turn the game.
It will take something special to end Mourinho's unbeaten home record in the league that now stands at 70. In terms of their nearest rivals, they have beaten City and Liverpool at home and secured points away at Arsenal and Manchester United with Everton the only team in the top six to have beaten them.
They came back from the early blow when Liverpool crafted a goal from the free-kick that Eto'o conceded. Mourinho was dismissive of the circumstances in which Liverpool scored, when in challenging Suarez, Branislav Ivanovic took all the pace off the ball and allowed Sktrel to finish from close range.
Later Ivanovic would find himself caught by Daniel Agger and unable to carry on past 30 minutes of the match. Rodgers' team tried to open up their opponents with the quick ball out to the wings but too often they just found themselves marginalised in midfield and unable to retain possession.
Mourinho selected David Luiz alongside Frank Lampard who went off injured at half-time. Mourinho had previously said that he could not imagine playing the Brazilian in a position in which he became familiar last season under Rafa Benitez. But he left himself a get-out in exceptional circumstances and, in the absence of the suspended Ramires, this was one of those times. Luiz and Lampard dominated Liverpool's midfield and, with Hazard the game's outstanding player they immediately looked dangerous.
There was a shaky start from Willian who found himself well-beaten by Sterling early on and then all at sea for a while. But he came into the game and played a part in Chelsea's equaliser on 17 minutes. Before then, Simon Mignolet saved brilliantly at full-stretch from a Lampard shot. There was not much he could do about Hazard's equaliser, struck across him from the left after the ball had gone from Willian to Oscar and ricocheted off Sakho out to the Belgian winger.
There was more Mignolet could have done about the second goal, which dribbled past him. Before then, Liverpool had their chances to clear, first from Azpilicueta and then Oscar before the cross came in and Eto'o nipped in ahead of Skrtel to put a weak, eminently saveable shot into the goal.
Before half-time, Joe Allen forced a good save from Petr Cech but after that they found chances more difficult to come by. At half-time Sakho sought out Eto'o to change shirts and Coutinho did the same with Oscar. Informed of it later, Rodgers said that he would be having words.
There was one further penalty appeal from Suarez in addition to the foul by Eto'o, when Terry jumped on top of him in the act of hooking the ball away. Even Rodgers was not convinced of that one. On another day, his side might have had better fortune, but every opponent that comes to Stamford Bridge will have to fight for every yard that is yielded by the home team this season.
Chelsea (4-2-3-1): Cech 7; Ivanovic 6 (Cole 5, 30), Cahill 7, Terry 7, Azpilicueta 6; Luiz 7, Lampard 6 (Mikel, ht); Willian 5, Oscar 7, Hazard 8; Eto'o (Torres, 86) 6.
Substitutes not used: Schwarzer (gk), Essien, Mata, Schurrle.
Liverpool (4-1-4-1): Mignolet 5; Johnson 5 (Aspas, 83), Skrtel 6, Agger 6, Sakho (Toure, 90) 6; Lucas 6; Sterling 6, Allen 5 (Smith, 61), Henderson 6, Coutinho 6; Suarez 5.
Substitutes not used: Jones (gk), Alberto, Cissokho, Rossiter.
Referee: H Webb
Man of the match: Hazard
Rating: 6/10
Register for free to continue reading
Registration is a free and easy way to support our truly independent journalism
By registering, you will also enjoy limited access to Premium articles, exclusive newsletters, commenting, and virtual events with our leading journalists
Already have an account? sign in
Join our new commenting forum
Join thought-provoking conversations, follow other Independent readers and see their replies