Chelsea fans call for Rafael Benitez apology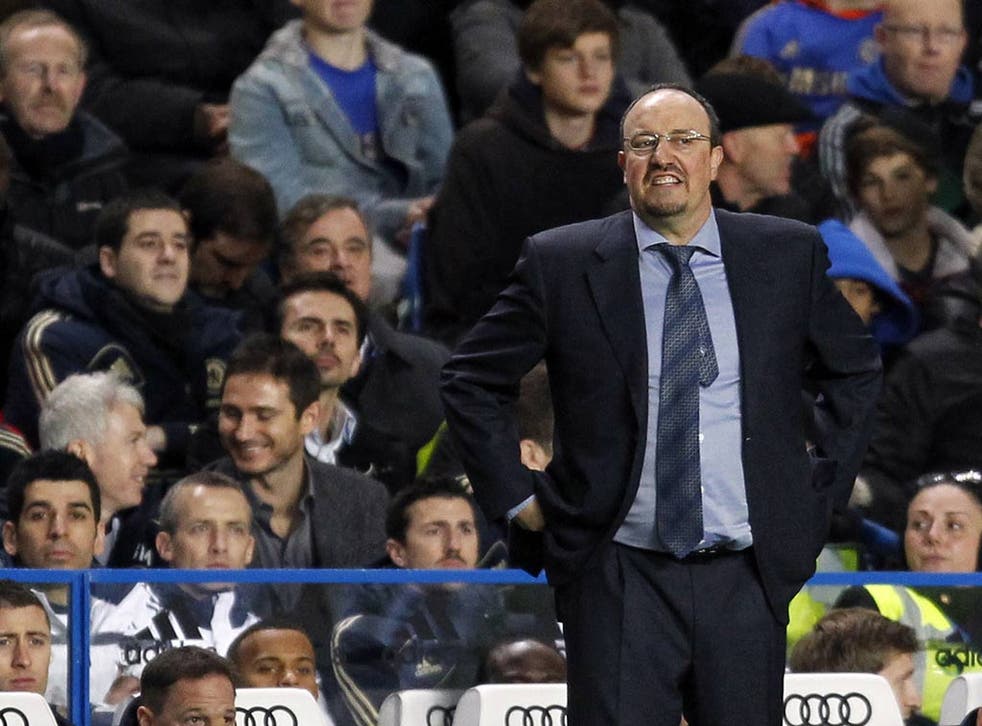 An apology from Rafael Benitez for his comments about Chelsea fans would go some way to healing the rift between them, according to the chair of the Chelsea Supporters' Group.
The former Liverpool boss was greeted with a chorus of boos and banners calling for him to leave when he walked out onto the Stamford Bridge pitch for his first match in charge against Manchester City yesterday.
The resentment stems from a fiery relationship between Liverpool and Chelsea when Benitez was at Anfield, with the Spaniard once saying he would never manage Chelsea and appearing to criticise Blues fans by saying they needed flags to get behind their team.
Trizia Fiorellino told Press Association Sport: "I think (an apology) would help for some fans. Even an acceptance of what was said would be a start.
"He's said he was trying to defend his club at the time but (then Chelsea boss Jose) Mourinho was the master of that and I don't think he ever directly ridiculed supporters of another club.
"It's quite a thing to try to undo but an acceptance could definitely bring some people back on board. I do think he's a tough sell, though."
Benitez was given a contract until the end of the season after the sacking last week of Roberto Di Matteo, who won the Champions League and FA Cup in May.
Di Matteo was also a hugely popular player at Stamford Bridge and Fiorellino even speculated that his departure in favour of Benitez may have been a message to the fans from owner Roman Abramovich.
"They don't listen to the fans," she said of the board. "I don't think Chelsea fans should be picking the manager or anything but it was pretty evident there were two people the supporters would not accept, and that was Avram Grant and Rafa Benitez.
"Some fans feel almost that it was a message to the fans to say, 'We pick who we want', almost spiteful."
Benitez won the FA Cup and the Champions League in six years at Liverpool before leaving by mutual consent in 2010 but he lasted only six months in his next job at Inter Milan and had been out of work for almost two years.
David Chidgey, from the Chelsea FanCast podcast, said: "There are massive footballing reasons why we didn't want him.
"He had not had a job for two years since destroying Jose Mourinho's treble-winning Inter Milan, he's questionable tactically with his rotation policy and he was on a downward curve at Liverpool.
"It's a mystery why Roman makes any of these decisions but it's not our club, it's Roman's. I think the vitriolic reaction was a whole accumulation of things."
Chelsea remain very much in the title race five points behind leaders Manchester United, but Chelsea Pitch Owners shareholder Tim Rolls does not think success on the pitch will be enough to win fans over.
"I think there'll always be a resentment," he said. "If he has a lot of success in winning games then I think there's likely to be a solemn acceptance but the supporters aren't going to sing his name.
"There's also the fact that he's a caretaker manager.
"It's clear that the guy Roman really wants is Pep Guardiola, and he'll want to get Guardiola in the summer, but we won't be the only club after him and the concern is, because Benitez is in situ, we'll be stuck with him."
Yesterday's game also saw Chelsea mark the death of former manager Dave Sexton, who led the club to the FA Cup and European Cup Winners' Cup in the early 1970s.
Rolls, a Chelsea supporter since the 60s, said: "It's such a contrast with Dave Sexton, who was a total gent and never criticised anybody.
"He built a team that's still revered 40 years on. And we've gone from that to Benitez. People will say it's the way football's gone but it's not good."
Not all Chelsea fans joined in the protests, and David Johnstone, a spokesman for the cfcuk fanzine, said: "I understand how people feel but I don't agree with it. I'd never boo a Chelsea player or manager, I'm there to support the club."
PA
Join our new commenting forum
Join thought-provoking conversations, follow other Independent readers and see their replies