Chelsea manager Jose Mourinho insists Premier League remains strong
English sides faltered in the Champions League this season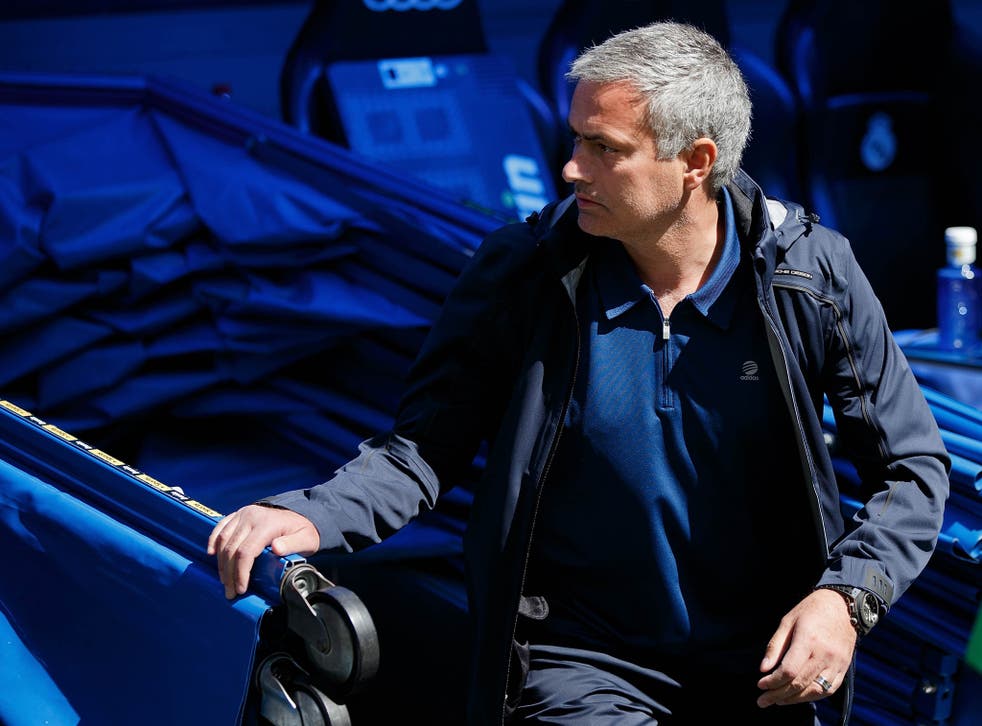 Jose Mourinho insists he is returning to a strong Barclays Premier League, despite the failure of English clubs in Europe's elite competition this season.
Chelsea ended Mourinho's six-year exile in Italy and Spain yesterday when they reappointed him manager and he will be officially unveiled at a press conference at Stamford Bridge next Monday.
While the Portuguese's first reign ended in acrimony after his relationship with owner Roman Abramovich soured, his arrival heralded the start of the most successful period in the club's history.
The summit of his achievements were Premier League crowns in 2005 and 2006, and his track record of domestic success - he has also won championships in Portugal, Italy and Spain - have raised expectations he will break the three-year duopoly of Manchester United and City.
But Mourinho believes that although no English team progressed to the quarter-finals of this season's Champions League for the first time since 1996, club football in this country remains highly competitive.
"The Champions League is a thermometer of world football and English football was out of the competition too early," he told Chelsea TV.
"People were speaking about the level of the Premier League going down compared with other countries, but I don't believe that. Sometimes things happen when there are no reasons.
"But the Premier League is still a fantastic competition and I believe five or six teams are very strong.
"When I was here before it was more about us, Man United and Arsenal and after that there was a gap to the other teams.
"Now you can put five or six teams in the same plan, aiming to reach the Champions League spots which is very difficult, with those with more ambition aiming to win the Premier League.
"The competition will be fantastic and I hope I can beat the other clubs."
Chelsea fans will expect Mourinho's return to be accompanied by a spending spree as Abramovich arms his manager with the funds to reclaim a title they last won in 2010 when Carlo Ancelotti was at the helm.
Forward reinforcements top the shopping list, with Andre Schurrle of Bayer Leverkusen, Manchester City's Edin Dzeko and Fiorentina striker Stevan Jovetic reported to be on Mourinho's radar.
But the 50-year-old insists that drawing the best from his existing squad will be his most pressing concern and refuses to prioritise any silverware.
"We have to improve the team, but when I say improve the team people are already thinking about how many millions Chelsea will spend. When I say improve the team, I mean through work," he said,
"My work has to improve players and improve the team. If I don't do that I am not happy with myself.
"If after that we can improve the team by buying a couple of players it is fantastic, but I have to improve the team and the players with my work.
"The priority is to improve. In the last two years we have struggled in the Premier League.
"If Chelsea didn't win the Champions League then the club wouldn't have been in the competition this year. This year we had to fight until the last match to qualify.
"We must improve individually, improve collectively and improve the structure of the club around the football team, and try to win the next match.
"Which one is the next match? The Premier League? Let's go for the Premier League. If the next match is the FA Cup, let's go for the FA Cup.
"It's difficult for me to say something is the priority. The priority is to work hard, work professionally and make the team better."
The grey hair that now covers Mourinho's scalp was not evident during his first spell in west London between 2004 and 2007, but he insists his capacity for hard work remains intact.
"I don't need a holiday, instead I'm sorry we don't start training tomorrow," he said.
"Victory makes miracles - when you win you are never tired. Happiness is much stronger than tiredness. Players need holidays, I don't.
"When we start the players will meet someone with great motivation. In spite of my white hairs, which I didn't have in 2004, I'm still very strong at work."
PA
Join our new commenting forum
Join thought-provoking conversations, follow other Independent readers and see their replies