Chelsea vs Manchester City: Jorginho needs N'Golo Kante, Sergio Aguero still firing and is football back to soon?
Chelsea 0-2 Manchester City: Sergio Aguero scored twice and missed other good opportunities as Pep Guardiola's champions proved too good for Maurizio Sarri's new-look Chelsea
Manchester City 2018/19 Premier League profile
Manchester City won the Community Shield at Wembley with the kind of confident performance which shows they will not be letting up this season following their 100-point haul last term.
Sergio Aguero scored twice and missed other good opportunities as Pep Guardiola's champions proved too good for Maurizio Sarri's new-look Chelsea, playing in a 4-3-3 with Jorginho at the heart of the side.
Here are five things we learned:
Sarri-ball will take time
The following is not Opta verified, but we are fairly certain no football match in the history of the English game has seen the ball so rarely airborne: there was the odd long pass from a defender and the occasional throw-in, but most of the game was played with the ball on the grass, as is the wont of these two principled managers.
What soon became clear, perhaps unsurprisingly, is that two-year-old Pep-ball is a little more refined than two-week-old Sarri-ball, as the Italian still determines exactly how to get the best out of his Chelsea squad. There is a long season ahead, with plenty of players still to return to both ranks, but on this evidence a title challenge may come too soon for this new iteration of the Blues.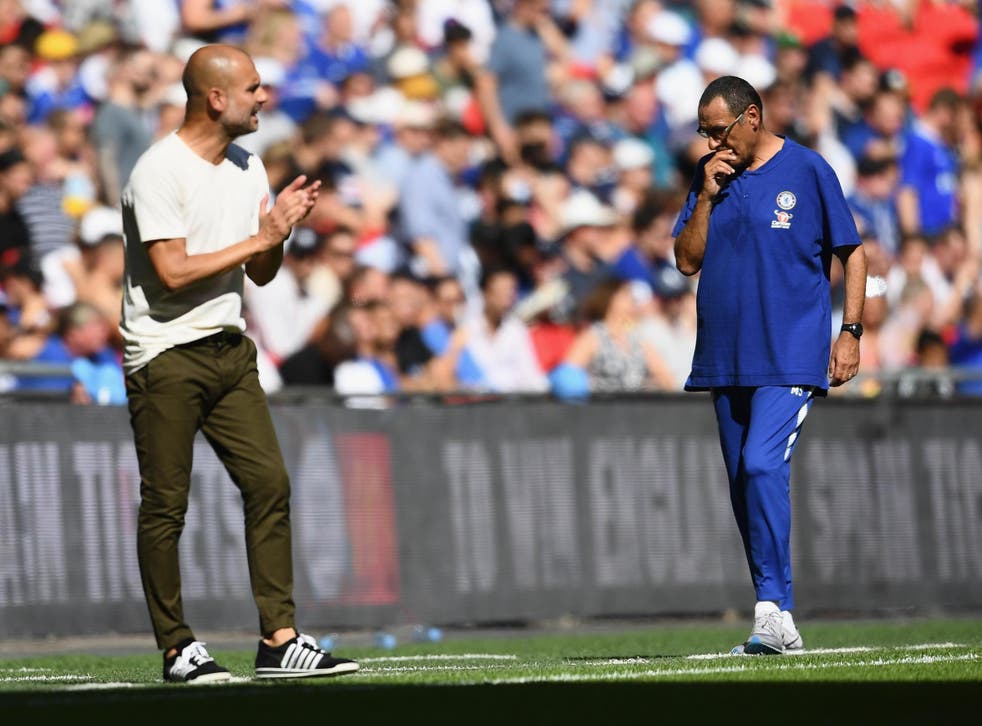 Jorginho needs Kante's protection
One of the most interesting things about how Sarri will approach this coming campaign is his use of the differing talents of N'Golo Kante and Jorginho.
Here Jorginho took up the same position as he did under Sarri at Napoli at the base of midfield, dictating play with more touches than any other Chelsea player. But he is not a fiercely combative midfielder and could be seen gently jogging back into the picture as Aguero scored City's opener, while the protection in front of him – Cesc Fabregas and Ross Barkley – was not adequate against this quality of opposition. It is not difficult to imagine the benefit of a player like Kante in this system, shuttling from box-to-box, winning the ball high up the pitch and covering to protect his Italian playmaker when required, and while it will be a different role for the Frenchman, it is one he has all the attributes to thrive in.
A boon for England's technical revolution
The more attractive football that Gareth Southgate worked hard to instil at the World Cup was a welcome change for England fans; it all would have been so different but for Sam Allardyce's sudden departure from the job. That progress is in no small part down to the influx of managers in English football who are committed to playing out from the back, coaching in styles akin to Guardiola and Sarri.
Here it was encouraging to see seven English players involved in this Wembley showpiece. With young talent like Callum Hudson-Odoi and Phil Foden set to be given more opportunities, they can benefit and blossom from progressive coaching just as John Stones and Kyle Walker have over the past few years.
Football's back, but it never really went away
It's 5 August. The World Cup has barely ended, plenty of players are still on holiday while the sun is on some furious rampage. This Community Shield seemed like even more of an exhibition game than normal, with reserve goalkeepers on show and Guardiola dressed like he'd reached London by sailing boat. All of this seemed a bit soon and while there is little option but to suck it up and embrace the wonders of the Premier League, starting next weekend, the obvious concern is that this season will begin in an underwhelming flux which takes too long to get going.
Aguero shows no signs of slowing
Another 20-goal haul this season would take Aguero into the top six all-time Premier League goalscorers. He needs only two goals to overtake Robin van Persie as the second highest foreign goalscorer, behind only Thierry Henry. It is extraordinary that he seems to so rarely feature in conversations about end of year awards, but his goalscoring efficiency should never be taken for granted, and this performance showed that the 30-year-old is not slowing down yet.
Join our new commenting forum
Join thought-provoking conversations, follow other Independent readers and see their replies