As it happened
ended
1522603407
Chelsea vs Tottenham, Premier League as it happened
All the action from Tottenham's win at Stamford Bridge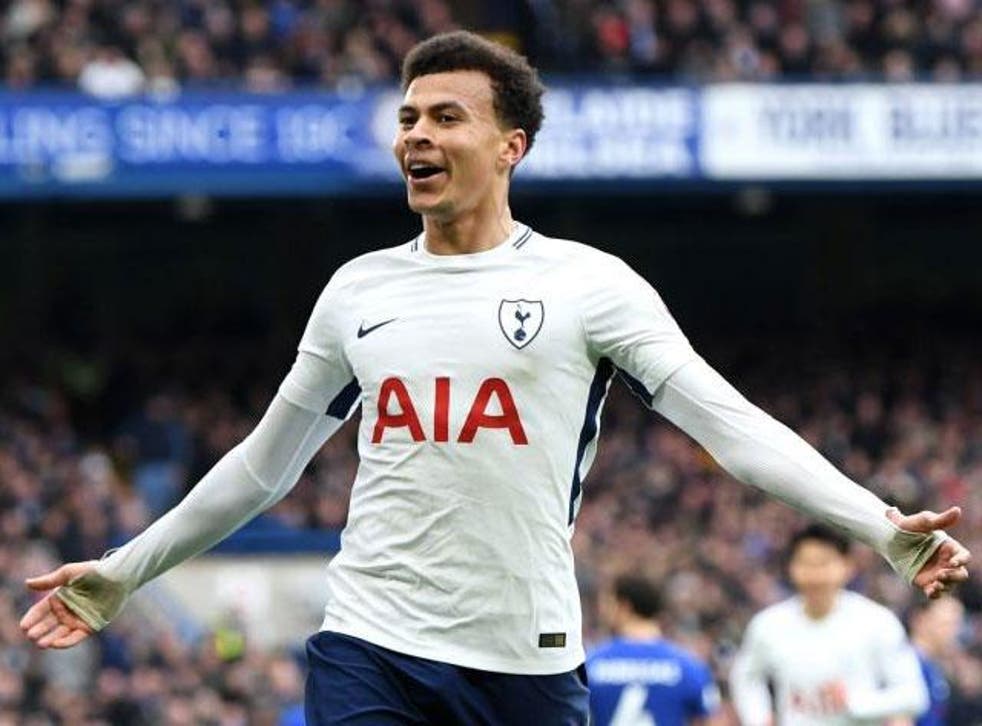 Chelsea and Tottenham meet in Sunday's second Premier League game and what a game it promises to be.
Both teams are in desperate need of all three points as the race for Champions League qualification hots up. Defeat today and the Blues' top four hopes could well be over but Spurs haven't won at Stamford Bridge for 28 years - can they finally break the hoodoo?
Follow all the latest in our live blog.
---
Please allow a moment for the live blog to load.
1522582182
Hello and welcome to our live coverage of the day's Premier League action.
First up we've got Arsenal vs Stoke (1.30pm kick-off) before Chelsea host Tottenham at 4pm.
Team news for the first match to come in just a couple of minutes.
Liam Corless
1 April 2018 12:29
1522582401
Arsenal vs Stoke team news
Liam Corless
1 April 2018 12:33
1522582906
Pre-match words from Arsene Wenger
On Petr Cech missing out: "He woke up yesterday with a sore groin. I hope he will be available for Thursday but he couldn't play today."
On the changes he's made to the team that beat Watford two weeks ago: "There's always a gamble when you change the team but if you look at the quality of our players, we cannot look for any excuse."
Liam Corless
1 April 2018 12:41
1522583313
Fans gather around the Emirates Stadium prior to kick-off 
Liam Corless
1 April 2018 12:48
1522583441
Arsenal vs Stoke - last five meetings
Stoke 1-0 Arsenal, Premier League (August 2017)
Stoke 1-4 Arsenal, Premier League (May 2017)
Arsenal 3-1 Stoke, Premier League (December 2016)
Stoke 0-0 Arsenal, Premier League (January 2016)
Arsenal 2-0 Stoke, Premier League (September 2015)
Liam Corless
1 April 2018 12:50
1522583677
Pre-match words from Stoke boss Paul Lambert
On whether yesterday's results aided Stoke's pursuit of survival: "Results went for us.
"We are still in a difficult position but yesterday's results were positive. We need to try and win the game and we will have a real go at it'."
Liam Corless
1 April 2018 12:54
1522584399
Thierry Henry is a big fan of Dele Alli, despite the Spurs man's struggles this season...
"Every young player goes through the same thing. You surprise people at the beginning, then you back it up, then other teams change their tactics because they respect you. That tells you how great he is."
Liam Corless
1 April 2018 13:06
1522584560
The Colombian comes in for Petr Cech, who misses out with a groin injury.
Liam Corless
1 April 2018 13:09
1522585002
The top four is surely now gone for Arsenal but the Gunners can take a step to securing sixth place today.
A win over Stoke will take them five points clear of Burnley in seventh.
The Potters have also had a disappointing domestic season and even a win won't be enough to take them out of the relegation zone.
Liam Corless
1 April 2018 13:16
Register for free to continue reading
Registration is a free and easy way to support our truly independent journalism
By registering, you will also enjoy limited access to Premium articles, exclusive newsletters, commenting, and virtual events with our leading journalists
Already have an account? sign in
Register for free to continue reading
Registration is a free and easy way to support our truly independent journalism
By registering, you will also enjoy limited access to Premium articles, exclusive newsletters, commenting, and virtual events with our leading journalists
Already have an account? sign in
Join our new commenting forum
Join thought-provoking conversations, follow other Independent readers and see their replies