Chelsea vs Arsenal match report: Jose Mourinho's midas touch over Arsene Wenger continues as Blues ease to victory
Chelsea 2 Arsenal 0
Sam Wallace
Monday 06 October 2014 12:28 Comments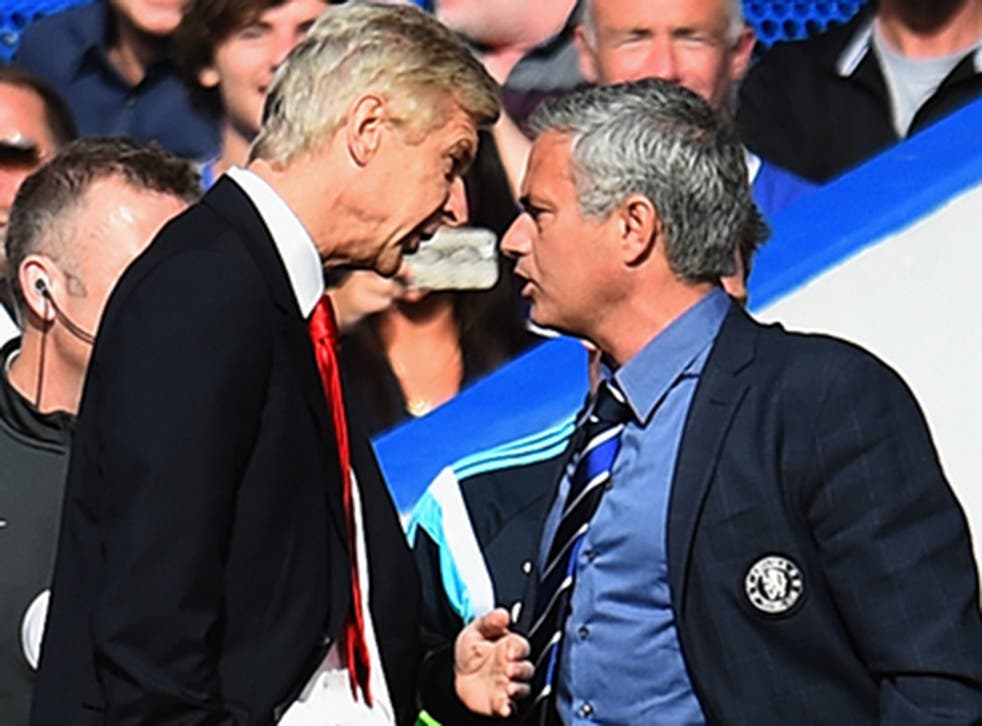 In the end it was much like all the other disappointments that Arsène Wenger has suffered against Jose Mourinho teams over the years, with the exception that this time one of his favoured sons was pulling the strings for the club the Arsenal manager has long considered to represent the dark side of English football.
Of course it had to be Cesc Fabregas who dispatched the ball over the top of Arsenal's defence with 12 minutes left; the ball that Diego Costa chested down and lobbed over Wojciech Szczesny to seal victory. The former Arsenal midfielder was the game's outstanding player, the chief architect of Chelsea's victory and generally just as good as the away fans will have feared he would be.
As in the previous 11 meetings between Wenger's Arsenal and Mourinho's Chelsea, in which the former has also not recorded a single victory, there was a familiar outcome to this contest. Last season it was a humiliating 6-0 scoreline; on this occasion the performance was better and the margins tighter but still you wonder when, finally, one of Wenger's teams will find a way to beat Mourinho's Chelsea.
Chelsea 2 Arsenal 0 player ratings

Show all 22
Seven times Chelsea under Mourinho have beaten Wenger's Arsenal – in 12 meetings over the last 10 years – and perhaps that was partly to blame for the Frenchman's extreme reaction to his counterpart in the first half. In the aftermath of a bad foul by Gary Cahill on Alexis Sanchez for which the Englishman could have been dismissed, Wenger placed two hands on Mourinho's chest and shoved his smaller adversary.
Mourinho responded by flicking Wenger's red club tie. All that was missing was the schoolyard headlock and knuckle rub on the top of the head.
Ordinarily, Wenger jokes his way out of these awkward situations in the post-match press conference but this time it got a little awkward. Having caustically invited the assembled press to give him a "moral lesson" when the talk turned to the incident, he responded to an amiable further question on the shoving with a hint of petulance. "You would see if I really try to push [you]," Wenger said to the reporter concerned. "Come on."
As for Mourinho, he simply said that he had stood his ground as Wenger had invaded his technical area. The Chelsea manager had no interest in continuing the feud on the day, but this incident will surely be stored away for use further down the line as evidence of what he regards as Wenger's general bad behaviour. We certainly have not heard the last of it.
It obscured a more serious issue – Chelsea goalkeeper Thibaut Courtois going to hospital with concussion having originally played on after a blow to his head in the 12th minute. He took one of Sanchez's thighs to the right side of his head and had treatment for less than a minute before playing on. Subsequently he sat down on the pitch and was replaced by Petr Cech.
It looked like there might have been blood coming from the ear of the young Belgian as he was attended to on the pitch. At the very least it will raise questions about the Premier League's new concussion guidelines which stipulate the presence of an independent doctor in the tunnel area to make judgements about whether players should be allowed to continue to play.
The Courtois incident passed in a blur as the two managers were at one another's throats. Wenger believed that a Fabregas handball from a Jack Wilshere shot should have been a penalty and that Cahill should have been dismissed. Chelsea could point to a possible second yellow card for Calum Chambers and a wild lunge by Danny Welbeck on Fabregas, in time added on at the end of the game.
Wenger had decided early on that his team were not getting what he considered a fair hearing from referee Martin Atkinson and had no hesitation in letting the fourth official Jonathan Moss know at every opportunity. When Cahill launched a right boot studs-up into Sanchez, the situation escalated and very soon we had famous football managers shoving and flicking one another.
Even a stern talking to from Atkinson and the threat of being sent to the stands did not deter them. For a while it rattled on between their assistants Rui Faria and Steve Bould, a mismatch if ever there was one. Later in the first half, Mourinho began giving Wenger his "shut-your-mouth" gesture – thumb pressed to his first two fingers. Only after half-time did they seem capable of moderating their behaviour.
By then Chelsea were ahead after a great run from Eden Hazard. His burst on 27 minutes took him past Santi Cazorla and Chambers before either could decide whether to foul him or not. Laurent Koscielny had no choice. Hazard had the ball past him in an instant and then tumbled over the French defender's leg. It was a clear penalty and Hazard deceived Szczesny to beat the Arsenal goalkeeper.
Arsenal's grievance was legitimate: there was a case that Cahill should have gone off for his foul on Sanchez. From Chelsea's point of view, Chambers, already booked, pulled André Schürrle on the edge of his area and escaped a second yellow card.
With the managers a little more calm after half-time, Arsenal pursued the equaliser. In the first half they had done a good job of denying Fabregas time and space on the ball. Concentrating their resources there, however, meant that Hazard became a problem. Wilshere's shot on 63 minutes flicked off the hand of Fabregas and Arsenal's appeals went unheeded.
Costa had made a chance for Hazard just minutes before the naturalised Spain international scored the second. On that occasion he broke between the two Arsenal centre-backs just as Fabregas sent the ball over the top and it took one touch with Costa's chest to guide it into his path before he beat Szczesny.
The victory leaves Chelsea unbeaten in seven games and five points clear at the top of the Premier League. At full-time, Mourinho went down the tunnel without waiting for Wenger to shake his hand. The Chelsea manager had already got what he wanted.
Chelsea: Courtois (Cech, 23); Ivanovic, Cahill, Terry, Azpilicueta; Matic, Fabregas; Hazard, Oscar (Willian, 87), Schurrle (Mikel, 70), Costa.
Substitutes not used: Luis, Zouma, Salah, Remy.
Arsenal (4-2-3-1): Szczesny; Chambers, Mertesacker, Koscielny, Gibbs; Wilshere (Rosicky, 83), Flamini; Cazorla (Oxlade-Chamberlain, 69), Ozil, Sanchez (Podolski, 79); Welbeck.
Substitutes not used: Martinez (gk), Monreal, Campbell, Coquelin.
Referee: M Atkinson
Man of the match: Fabregas
Booked: Chelsea Ivanovic, Cahill, Schurrle, Oscar Arsenal Chambers, Koscielny, Welbeck
Rating: 8
Register for free to continue reading
Registration is a free and easy way to support our truly independent journalism
By registering, you will also enjoy limited access to Premium articles, exclusive newsletters, commenting, and virtual events with our leading journalists
Already have an account? sign in
Join our new commenting forum
Join thought-provoking conversations, follow other Independent readers and see their replies