Chelsea vs QPR: Chelsea fans hit back at Jose Mourinho's 'ill-advised' criticism at quiet Stamford Bridge claim
Blues boss Mourinho was unhappy despite 2-1 win over QPR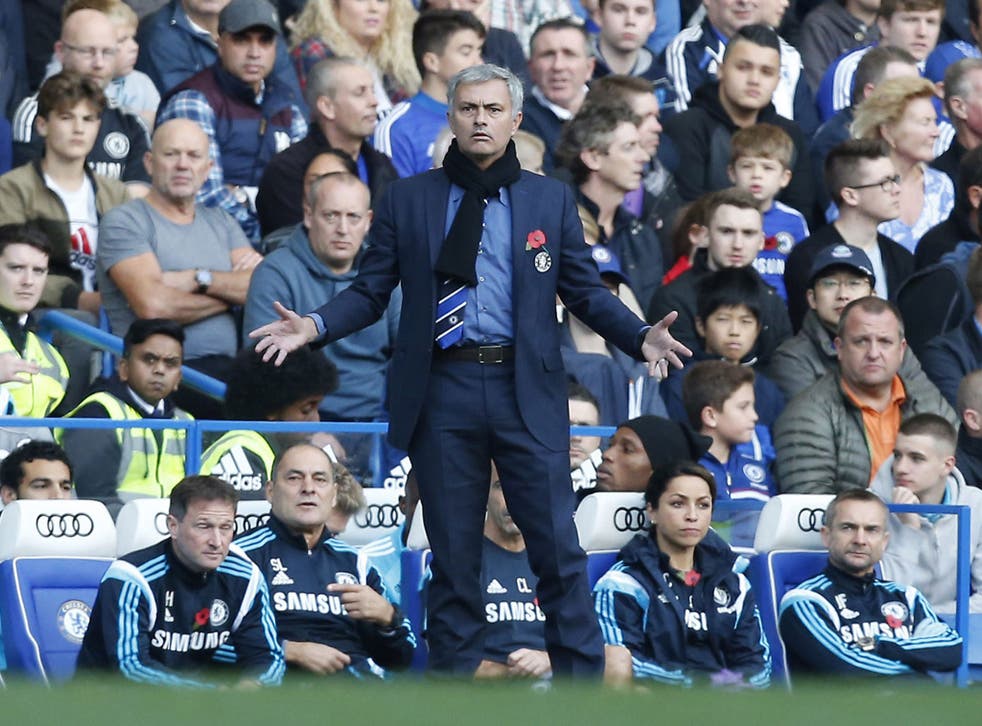 Jose Mourinho was criticised by his own supporters yesterday for questioning their passion and commitment to the cause in the wake of Chelsea's 2-1 win over Queens Park Rangers on Saturday.
"At this moment it's difficult for us to play at home," Mourinho said on Saturday, "because playing here is like playing in an empty stadium."
Tim Rolls, the chairman of the Chelsea Supporters' Trust, responded yesterday: "I think the manager's criticisms were slightly ill-advised because the fans pay good money to watch highly-paid footballers," he said. "I don't think criticising the fans when the team is top of the league helps.
"Maybe the team didn't play particularly well and he was seeking to deflect attention. Mourinho will have alienated some people. Others will have agreed with him.
"On pricing, it's £50 a game, give or take. So an awful lot of young people can't afford to go very often, clearly that's a problem across the Premier League. In fact, the atmosphere issue is not just a Chelsea issue either. We were at Old Trafford the other week and the atmosphere wasn't what it was, just as it isn't at Liverpool.
"Home fans are made to sit down, but away fans can stand up. Home fans who stand up and sing at the Bridge have received letters from the club saying a repetition could mean their season ticket or membership being revoked. That doesn't help."
Mourinho reiterated his opinion yesterday. "When comparing my previous time I think it's getting worse," he said. "I don't question the passion and the love – I'm nobody to question that and I know that's clearly not true. Chelsea fans show us their passion for this club every day, but there is a certain line of living [way of behaving] at the matches at Stamford Bridge. I can clearly say we are a team to get less support in home matches."
Mourinho's criticism was not just reserved for the supporters. "We have to be far more consistent and play better," he said. "We tried but the individual performances weren't there and neither was the collective performance."
Chelsea - the latest match pictures

Show all 166
Chelsea midfielder Willian admitted that Mourinho was far from happy and did not hold back during the half-time break.
"We didn't play well. At half-time the manager wasn't happy and told us we hadn't played well and had to do better," Willian said. "It was dangerous for us, to be only 1-0 up. So we had to improve. He was right because even then QPR came on the pitch for the second half and scored their goal to draw level.
"But at least we reacted. We had to. We had to run more, keep the ball better, get at them more. Thankfully, Eden Hazard ended up making that great dribble and winning the penalty."
Join our new commenting forum
Join thought-provoking conversations, follow other Independent readers and see their replies