John Terry leaves Chelsea at the right time for both player and club
Terry brought a brilliant Chelsea career to an end on Sunday, but it was a necessary parting in order for the club to embark on a new, exciting chapter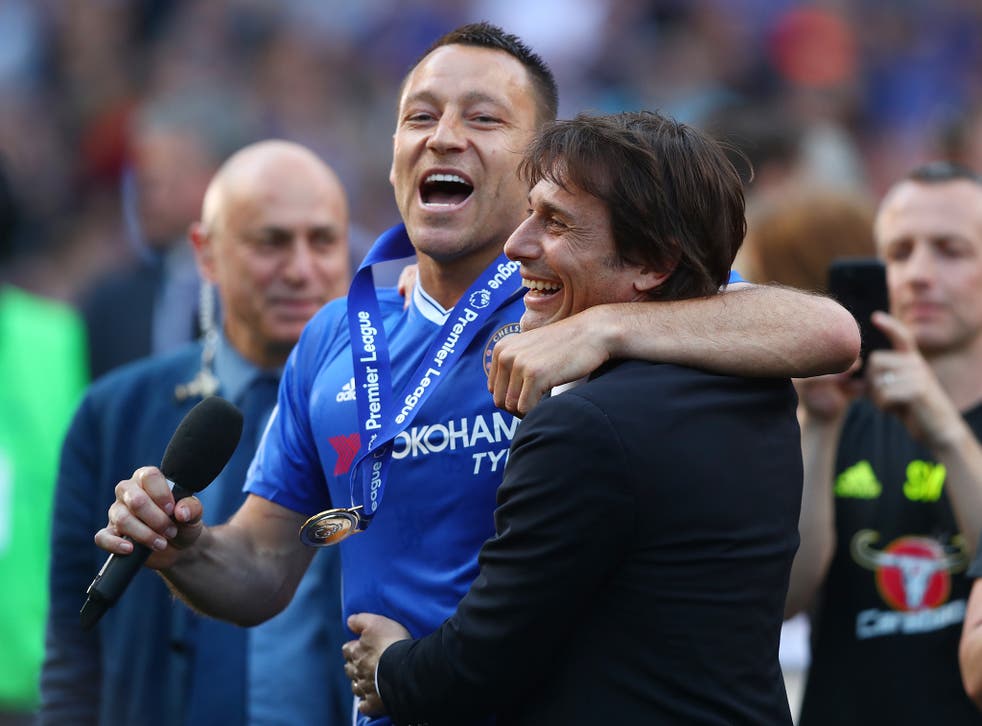 Eventually, after the trophy was presented and medals were handed out amid so many cheers, the tears came too. John Terry couldn't hold it in any longer, as his voice cracked, towards the end of a long speech on his last appearance at Stamford Bridge as a Chelsea player. The outgoing captain - who naturally lifted the Premier League trophy with his successor Gary Cahill, in one last moment of glory - thanked the fans, thanked his teammates, thanked owner Roman Abramovich, made sure the departing assistant coach Steve Holland was also acknowledged, and then led the entire stadium in a chant of "Antonio, Antonio" as he put his arm around the club's victorious manager.
That was the thing about this carnival of a day at Stamford Bridge, too, that ended with the players' younger children playing chasing amid the blue and silver confetti with David Luiz and Diego Costa right in amongst them. So much of it might have been to commemorate Terry's trophy-laden Chelsea career, but it was also about celebrating what they have done this season so far, and the club's future.
There can be no doubting who one of the most important figures in that future is, as it has got to the point that Antonio Conte now seems as loved at the club as any of his predecessors.
The 5 key moments that won Chelsea the title

Show all 5
He showed precisely why, by immediately showing the kind of mentality that has propelled the club back to the top. Amid so much celebration, and when he had of course raised a glass of champagne to the season and apologised to the media for the amount of times he was late for press conferences, he still said it was important not to get too carried away - there is still an FA Cup final to be won, a double to be secured.
"This is the real danger for us," Conte said, his smiling face turning serious so quickly. "To think that this season is finished and if you win or lose it doesn't change the situation. We must think as winners, not as losers. It's important to celebrate as we did today, enjoying this moment with our families and fans, and celebrate this title because it wasn't easy, this season. But as of tomorrow, I'll try and push a lot to explain that this season will be great. If we hadn't won the title, this season would have been good. Having won it, it's become great. Now I think this season can become fantastic if we are able to win the FA Cup. We must find the right motivation… it's important for us to celebrate but, then, to find the right fire in our soul to work very hard this week and 'feel' this game. It's a great opportunity to win and do the double."

It won't get any easier for Conte's players, then, although Terry found things tough in a different way. He said that this farewell was "one of the most difficult days of my life", and it was difficult for many in the stadium not to be touched, as images on the screen showed his finest moments in a blue shirt and even his children began to cry.
"I'd like to thank my wife and my kids," Terry said. "The support you've given me is amazing. Thank you, I love you. Lastly, you guys the fans, the best supporters in the world without a shadow of a doubt. You've given me everything from the age of 17 when I first started out. You picked me up when I was down, sung my name when I've had bad days and disappointed you as well. Thank you will never ever be enough, but I'll tell you what: I'll be back here one day. I'm going to be supporting the players and the club from the bottom of my heart. Thank you so much, I love you all."
As fitting as it was that Terry will end his Chelsea career lifting a trophy, it can't have been too easy a season either; not when a competitor like him has been so sidelined. The captain is not retiring, after all, but is leaving in search of regular football. For all that Conte praised Terry's contribution off the pitch, too, the reality is that he was essentially one of those players whose influenced had to be reduced so Chelsea could finally move onto a new era; to properly herald the future.
That future looked very positive on Sunday but, for all the debate and controversy over the years, the images of Terry shown on the big screen at Stamford Bridge proved that past often looked so good too.
Register for free to continue reading
Registration is a free and easy way to support our truly independent journalism
By registering, you will also enjoy limited access to Premium articles, exclusive newsletters, commenting, and virtual events with our leading journalists
Already have an account? sign in
Register for free to continue reading
Registration is a free and easy way to support our truly independent journalism
By registering, you will also enjoy limited access to Premium articles, exclusive newsletters, commenting, and virtual events with our leading journalists
Already have an account? sign in
Join our new commenting forum
Join thought-provoking conversations, follow other Independent readers and see their replies