The compelling contrast of styles at the heart of Chelsea vs Manchester United
Two sides with a fundamental difference in approach meet on Sunday in a match that could go a long way into deciding the make-up of the top four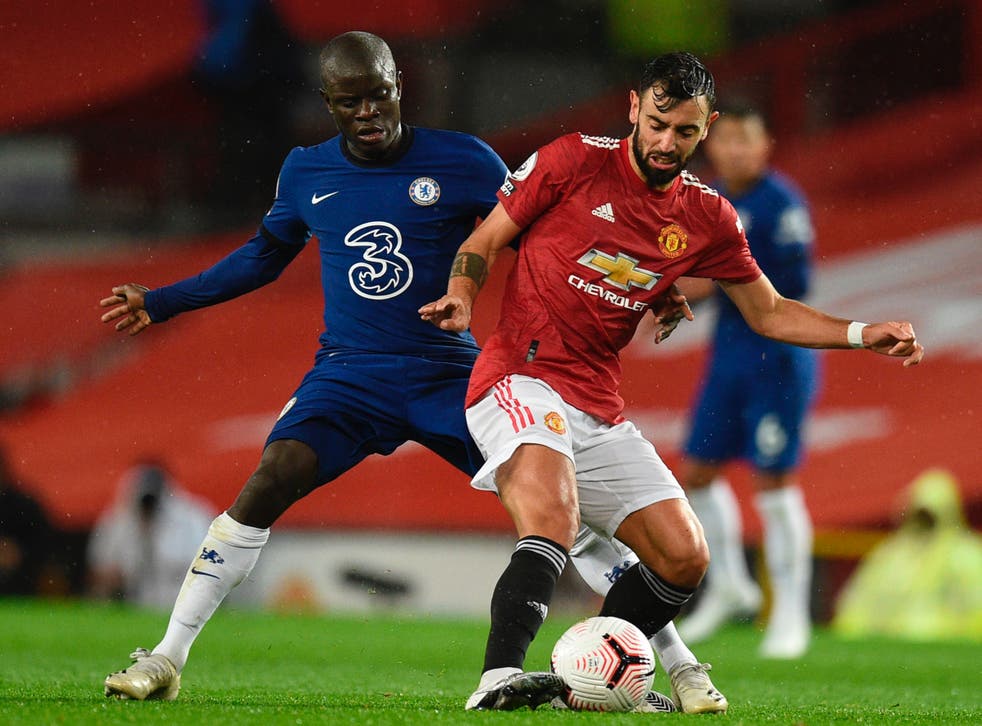 As Thomas Tuchel has tried to prepare Chelsea for this Sunday's match against Manchester United, the priority has been clear. That is how to crowd out and stifle Bruno Fernandes. The Portuguese is that good. He's that central to United's approach. That was only emphasised in how he still started their Europa League game on Thursday, despite the huge 4-0 lead they enjoyed over Real Sociedad.
Ole Gunnar Solskjaer has a bit less time to prepare, but maybe that bit more to figure out.
That is not just because of Chelsea's array of attackers, since you might even say they have at least three or four potential Brunos. It is the variety of ways Tuchel uses them. The ideal for how he works is extreme mobility, and any number of attackers suddenly arriving in any position to hurt the opposition.
It is a fundamental difference in approach between the two teams, that could enliven this game, and go some way to deciding the top four.
It is essentially collectivism against individualism, a team where the system is the primary playmaker against one where specific players are, and the manager looks to moments of inspiration.
It is true that Tuchel's approach is cutting-edge, while one recent Premier League manager remarked to The Independent how Solskjaer's dependence on a playmaker is closer to something out of the 1980s. This doesn't necessarily mean Chelsea are going to be better for this game, or for the rest of the season. While Solskjaer's approach requires players to be in the right mood on any given day - or minute - Tuchel's requires training and drilling over time.
One is just more dependent on the quality of the players, the other on the quality of the comprehension.
It would be wrong to say United's game is totally laissez-faire, though. There is a looser structure around it, designed on getting the ball to the most dangerous players quickly.
The figures actually reveal a lot in this regard, and almost outline the shapes of the teams.
Fernandes has predictably created the most "big" chances in the Premier League at 17, and the second most chances overall, at 71. Only Jack Grealish - another old-fashioned playmaker - is ahead of him on the latter with 75.
After that, though, there is quite a drop in scale to United's next most creative players. The impressively resurgent Luke Shaw is responsible for 45, showing how United try to get it in quick from the left, with Rashford then on 27.
Chelsea's stats are skewed by the managerial change, but the figures since Tuchel took over are revealing. There are chances created from everywhere, and everyone.
Cesar Azpilicueta and Hakim Ziyech are responsible for five each in six games, Reece James, Timo Werner and Marcos Alonso six each. Jorginho is on eight, Mateo Kovacic on nine, and Callum Hudson-Odoi 10.
Mason Mount has reasserted his place as Chelsea's most creative player, and the 14 chances he has supplied in Tuchel's six games so far actually match Paul Pogba's number for the entire season so far.
It points to how the game is going to go.
Chelsea are going to try and probe United and speed from all angles, United are going to try to feed it into Bruno to orchestrate - or just do something special.
It creates a compelling contrast, that will also inform the future of the sides.
Chelsea have probably bought their side for the future, now, but would maybe add a striker. They are one of a number of clubs in for Erling Braut Haaland.
United would still like to sign him, but sources close to the Norwegian say they are not high on the list due to previous tension with Mino Raiola. Haaland himself would prefer to go to Spain next.
One of the biggest signings for United would actually be Fernandes agreeing a new deal. He is willing to do so, but does want the club to buy players he feels can make them compete. Joao Felix is a player he loves playing with, and has mooted.
This is likely to be a relatively restrained summer for United, though. They have not currently made in-roads on any transfers, as they are still deciding on targets, and some sources believe the best they will do - if they do much at all - is three purchases.
Some of that is dependent on Champions League qualification.
It shouldn't be forgotten that that is no foregone conclusion. The top end of the table below Manchester City remains volatile enough.
Neither side has yet found their feet completely.
The hope is it makes for a volatile game, with a lot of chances. Those are the merits of both approaches.
Join our new commenting forum
Join thought-provoking conversations, follow other Independent readers and see their replies