Superb West Brom stun Chelsea as Thomas Tuchel suffers first loss in charge
Chelsea 2-5 West Brom: Thiago Silva's red card saw Sam Allardyce's side expose the hosts with doubles from Matheus Pereira and Callum Robinson
Vithushan Ehantharajah
Sports Feature Writer
Saturday 03 April 2021 15:21 Comments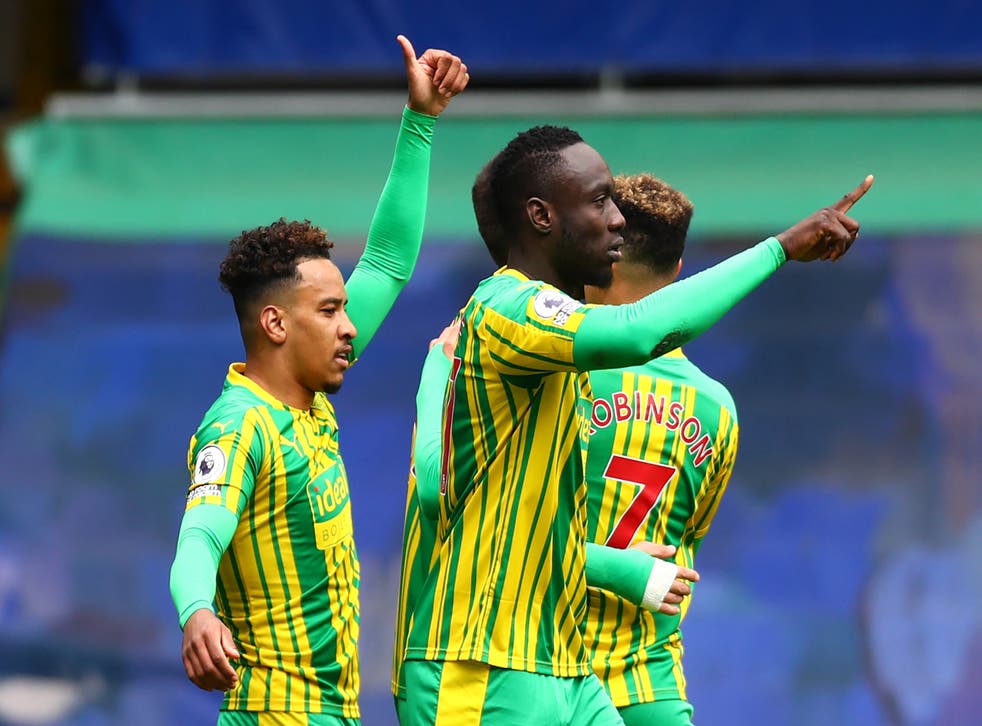 As the Premier League began its home straight, with no further international breaks to come, West Bromwich Albion produced arguably the standout result of the season as they beat Chelsea 5-2 at Stamford Bridge. 
There will be a temptation to rework this in the memories as the 19th-place side, 10 points from safety before kick-off, profiting from circumstance. The majority of Thomas Tuchel's squad had spent the last fortnight on international duty and were setback on 29 minutes when Thiago Silva was sent off for a second bookable offence. With that, a system that had conceded just twice in Tuchel's 14 previous games in charge were stretched and then slapped for five. The German coach was always going to lose one eventually, but not in his wildest nightmares would he have imagined something quite as dispiriting as this. Defeat is an opportunity spurned to create distance between them and those nipping at their heels just outside the top four.
Yet that should not understate a sterling performance from all of Sam Allardyce's charges, typified by a virtuoso outing from Matheus Pereira who scored two and assisted two, who were fully deserving of their fourth win of the season. The winger's shift was complemented by a neat cameo from Callum Robinson who bagged a couple himself, with Mbaye Diagne also getting on the scoresheet to cap off a selfless shift from the lone frontman. 
Victory in the grand scheme of things has merely dialled up West Brom's survival hopes to "slightly less impossible". Nevertheless, it was a welcome boost to Allardyce, whose position had come under intense scrutiny in the last few months. He may not be able to preserve his record of never having experienced relegation from the Premier League. But here at least, he became the first manager to win at Stamford Bridge with three different clubs after previous successes in west London with Bolton Wanderers and Crystal Palace. 
The aim at first was fortification over flair. Allardyce's 5-4-1 of three centre backs with Conor Townsend and Darnell Furlong operating as wing-backs to cover a Chelsea line-up that was picked on freshness but stilled boasted the likes of Timo Werner, Christian Pulisic and Hakim Ziyech in a three-pronged attack. 
Read more:
A sluggish Chelsea start gave West Brom an early opportunity to flex their attack wares. Quicker and more robust in the middle, they had the first shot on goal of this tie when they won possession high and fashioned a chance for Pereira which went straight at Mendy.
As that control was ceded, there was a sense West Brom would rue coming out of that period without a goal. However, it did bring Silva's first yellow: Jorginho inexplicably passing straight to Pereira who was about to enter the Chelsea box before the Brazilian defender intervened. 
It was the opening contribution of a trio of errors from Jorginho. The second saw off Silva: this time losing the ball under greater pressure from yellow and green shirts, resulting in Okay Yokusulu striking at goal. The shot was awry, but Silva's desperate block to atone for his teammate's mistake a second time caught the midfielder in his follow-through and saw referee David Coote produce his red card. The glow of going 1-0 up a minute earlier, as Christian Pulisic followed up a Marcos Alonso free-kick that struck the post, dulled in an instant. 
Tuchel rejigged his set-up, replacing Hakim Ziyech with Andreas Christensen to cover the loss. And with the extra man, Allardyce urged West Brom to shift that little bit further forward.
That meant when Sam Johnstone hoofed the ball forward, there were enough West Brom bodies to distract Chelsea's backline and allow Pereira to run beyond them from deep to lift over an advancing Edouard Mendy to make it 1-1. Similarly, when Jorginho completed his hat-trick of first-half mistakes with a duffed header, Diagne was in position to hold up and offload to Pereira, who then used Matt Phillips to screen him as he made his way from left to right on the edge of the box. A cut-back opened up the far corner only for Pereira to slide into the near one instead. In the space of two extra minutes at the end of the first half, 1-0 had become 1-2. 
Even the use of two substitutes in the opening 37 minutes would work in West Brom's favour. Philips' accidental tackle on teammate Dara O'Shea saw former Chelsea stalwart Branislav Ivanovic enter the fray. But just 13 minutes into his appearance, a chase with Timo Werner asked too much of his 37-year-old hamstrings and he, too, needed replacing. 
The man advantage meant Allardyce went to a back four and brought on Robinson to give Chelsea something else to worry about. And the man who notched a brace when these two sides meant in a thrilling 3-3 at the Hawthorns in September arrived late to meet Furlong's driven cross with a sweet side-footed volley beyond a static Mendy on 63 minutes.
Pereira continued to be a nuisance and should have completed his hat-trick moments before Robinson's strike. But he was key to the fourth, breaking into space in behind once more, checking back and finding Diagne arriving late to slot into the far corner. 
The difference from the earlier meeting this season was that West Brom did not totally relinquish this three-goal lead. Chelsea's storm back from 3-0 down took the second-half to its very limit with Tammy Abraham equalising in the third minute of added time. Here, when Mount had cut the deficit to two, tapping into an empty net after Werner had taken a touch from Alonso's cross to wrong-foot both Kyle Bartley and Johnstone, a repeat seemed to be brewing even if there were only 19 minutes to do it. 
Perhaps if Kurt Zouma's had converted his half-volley from a corner on 76 minutes this would have been different. But West Brom were able to hold out defiantly, rounding off in empathic fashion when Robinson was set through by Pereira in added time and produced a classy dink over Mendy to cap off a glorious Saturday afternoon.
All five of Robinson's Premier League goals (the two in September, and one for Sheffield United last season) have come across Chelsea. Both he and West Brom will need more of everything from today to instigate one of the greatest escape acts this division has seen. On paper, that does not look plausible. On the pitch, though, specifically this one at Stamford Bridge, who's to say they won't be in with a shout if they can wed engaging forward play with a few more outlandish scorelines in their favour?
Register for free to continue reading
Registration is a free and easy way to support our truly independent journalism
By registering, you will also enjoy limited access to Premium articles, exclusive newsletters, commenting, and virtual events with our leading journalists
Already have an account? sign in
Register for free to continue reading
Registration is a free and easy way to support our truly independent journalism
By registering, you will also enjoy limited access to Premium articles, exclusive newsletters, commenting, and virtual events with our leading journalists
Already have an account? sign in
Join our new commenting forum
Join thought-provoking conversations, follow other Independent readers and see their replies