Inside the formidable football brain of Christian Eriksen: The creative genius who makes Tottenham tick
Exclusive interview: Few players can rival the Dane's intuition, his mastery of space, demanding the ball, running the game, knowing when to play slowly, or fast, when to pass, when to shoot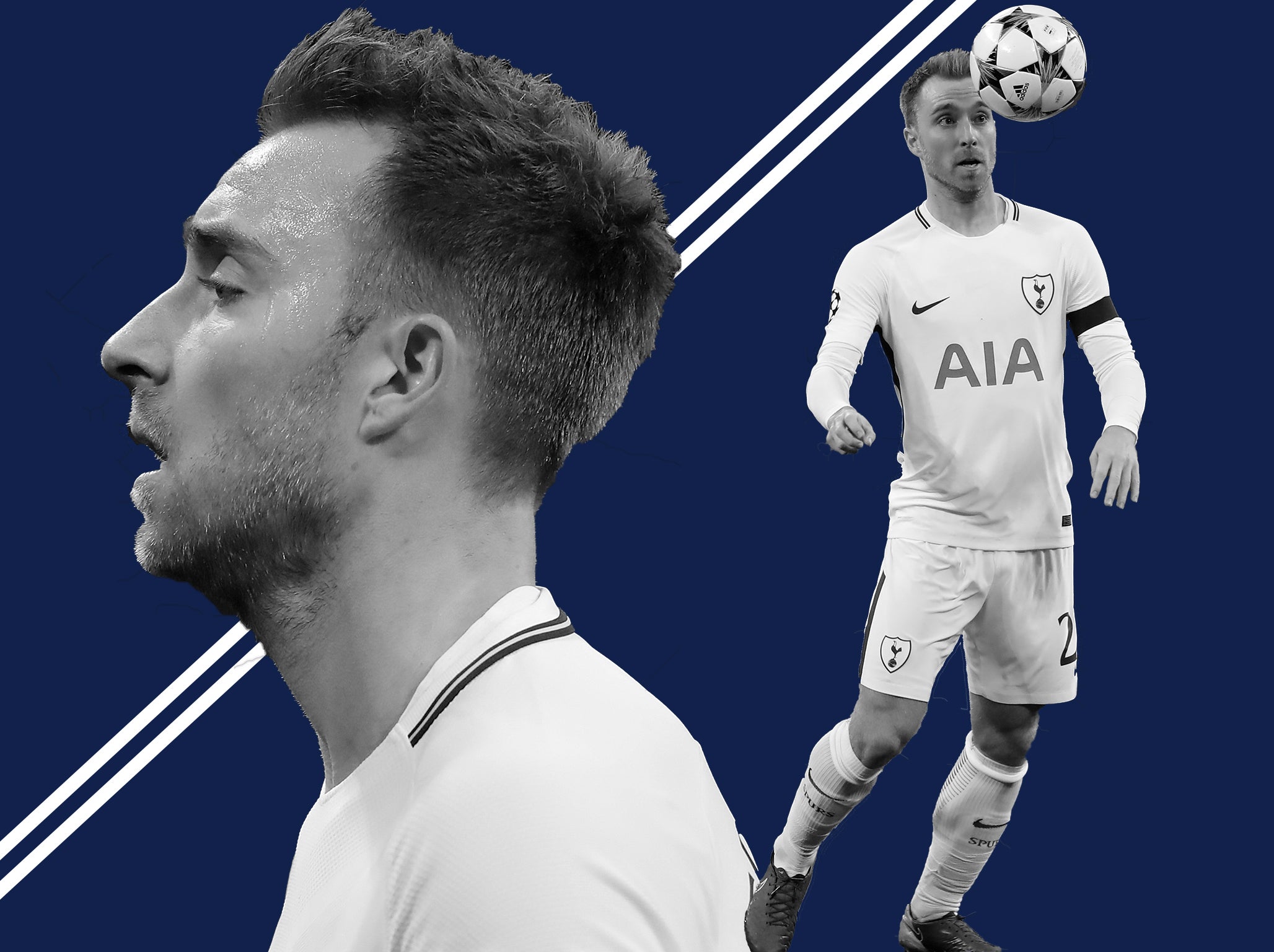 Christian Eriksen loves to talk football but when asked for his best performances of another special season, he is too modest to choose. He points to how often the whole team has played well and says he would not even know which one to pick.
So what about Juventus away, where he ran the game and scored a 30-yard free-kick? Or Manchester United at home, when he snatched it away from United after 10 seconds and never gave it back? He shrugs and accepts that people notice him more in those occasions with the world watching. "Of course that's how people see the game."
But how does Eriksen see it himself? He is, at least outside Manchester City, the Premier League's most intelligent, imaginative midfielder. He has been Tottenham Hotspur's creative director for the last four years: finding space, demanding the ball, running the game, knowing when to play slowly, when to play fast, when to turn, when to pass, when to shoot. Just to watch him play is to instantly realise that he understands football better than almost anyone else currently operating.
So when Eriksen thinks about his game, as he does often, he knows by his own internal standards whether he has played well or not. His understanding of performance is instinctive, rather than measurable. He does not diligently watch games back, he does not obsess over his statistics. He just knows.
"It's mostly just in my head", he says when asked how he evaluates his own game, speaking at a William Hill media day. "I think everybody knows if they played a good or a bad game. From the outside it looks very different, [than] from on the inside, on the pitch. How I feel, compared to how other people might feel, is different, playing on the pitch. It's mostly just me, personally looking it, thinking about it after the game."
There are plenty of statistics to show how good Eriksen is. Even beyond the fact he was Spurs' fans' player of the year in his first season and last season, ahead of 35-goal Harry Kane. Eriksen, according to Opta, has 46 Premier League assists since he arrived in England in 2013, second only to Mesut Ozil in that timeframe, and is racking up more every year. In the last two seasons, when Eriksen has hit a new level of performance, only Kevin De Bruyne (39) and Neymar (37) from the big five leagues have more all-competition assists than him (32). And for chances created in that time, a metric that does not rely on the quality of your team-mates, only De Bruyne (255) is ahead of him (250).
But while we viewers can all admire Eriksen's impressive numbers, the player himself has little interest in them. They are just a by-product of his playing well, never a target in themselves. Does he judge his performance by statistics? "Not at all." He wants to be "as influential as possible, as involved as possible". "The most important thing is to try to do your best. And if that is a pass to someone, who then gets the assist, or creates something else, that should be the aim for every game." So, is a performance good because it delivers goals and assists? "No, no, no, no, no."
When you have mastered a game, playing it well is its own reward. "Of course it will help if you make a goal or assist," Eriksen explains. "I think mostly for people on the outside, it's a lot about numbers or stats. More or more. That's how the football world is going, in that direction. But I'm not really looking into it. I'm just trying to be the best I can, to create as much as possible. That's just how it is."
Creating as much as possible is certainly a lofty goal, but Eriksen talks about it with the simplicity of someone who has always found it easy. You might hope that Eriksen has a special formula to understanding football that he can share, a key to unlock the puzzle and explain the game, but he does not. There is nothing secret to what he does on the pitch, as difficult as it all is.
"I don't know if there is anything that I do that you don't see," Eriksen says. "Of course you see the game, of course it's similar. I don't think I do anything hidden. I am open, of course. I am trying to be involved in the game as much as possible. To create spaces, trying to connect with the players around you. I don't think people miss anything."
This season Eriksen's creative work has been difficult to miss, as he builds on the new standards of consistent excellence he set last year. Like at Bournemouth last Saturday where he directed the whole game from a central midfield role and won the ball and played in Heung Min Son to score Spurs' fourth, giving a typically complete, controlling display. Eriksen has only missed one league game all season, coming down with flu before Southampton away in January. It was Spurs' worst performance all year, a lifeless 1-1 draw.
But if being creative is so simple, why have almost no other footballers in the world got as good at it as this one? As ever: a mix of nature and nurture. Yes, he has remarkable natural gifts of vision, balance and co-ordination. But they have also been very well honed. His parents, Thomas and Dorthe, were both football coaches at his local club and Eriksen was playing games against four year olds from the age of two. He was a teenage star in Denmark who has thought hard and worked hard at every step of his career, deciding to take his education first to Ajax 16 and then to Tottenham at 21.
One year after Eriksen arrived, Mauricio Pochettino showed up and he started to inject Tottenham with the organisation, intensity and focus they had been missing here for years. And the more Eriksen has played with Harry Kane, Dele Alli and the rest, the more he has learned their games, their runs, and how to find them. Eriksen says that creativity "has always been with" him, but it needs the familiar feel of experience to flourish.
"I think it's a bit of both," Eriksen explains. "You can definitely train your awareness to be even better than it is. Of course, you start with a certain point of feelings and awareness on the pitch. But I think the more you get in positions, the more you get used to it, the more you get used to the tempo of your team-mates, everything. It feels more and more natural, and quicker and quicker. Now it's taking off."
That is what has happened, the benefit of this young Spurs team growing up together. That is the edge Tottenham have over richer rival sides who keep changing manager and players, without realising that stability, team-work and trust are still the surest ways to play the best.
"It's something that you can learn with more games you play, and the more situations you've been in. We've played so many games together, we know what we can expect from each other. You can expect the ball in behind from me. You can expect Dele to run. You can expect Harry to be ready for the second ball or the first ball."
"It's about recognising the players around you. Before you get the ball, knowing where your team-mates are. Or where the opposing players are. Then making and taking a decision really quick. So it's really just instinct in the game. We have really instinctive players who take the decision really quick and in the game. That's the most important."
Then, when Eriksen senses that forward run and makes that instant decision, his job is to execute. Even if that risk might mean losing the ball. "It's literally just in the moment," he says. "You have the feeling that someone is open, your body shape is right, your first touch is right, and then you know you can go for it. Turning the right way might mean you have one more second to make a decision. And when you trust the guy to run it, it's really just putting the ball where he thinks it will be, where he thinks it will end up. Most of it is instinct."
In a team built on coordinated movement, Eriksen is Spurs' free spirit, and revels in his freedom to intuit where the space is on the pitch. Spurs' best goal of the season was a 13-pass move, involving every player on the pitch, at home against Everton. The fourth pass was Eriksen popping up on the left side, at the half-way line, to pass the ball first time back to Ben Davies. Nine passes later, Eriksen burst into the box to convert Alli's backheel. "I think, when we have the ball, I am probably the guy who has the most freedom in the team to run around," he says, "and try to help wherever the spaces are."
But when Spurs lose the ball, even Eriksen's freedom is rescinded. Pochettino has very clear ideas about pressing and defensive shape, ideas which Eriksen has embraced. Last season he largely played as one of two number 10s in a 3-4-2-1 but this year he has been out on the right of a 4-2-3-1, meaning he has to track the opposition left-back. Which he does with enthusiasm and selflessness. "Of course you have to be aware of the left-back more than if you're playing in midfield," he says. "Some people don't really mind, but I do mine, of course. You want to help the team that way."
It is very different from the football played by Eriksen's childhood heroes, Michael and Brian Laudrup and Francesco Totti. They were creative players who came alive in possession but could then switch off, catch their breath and watch their team-mates do the defending. But modern teams like Pochettino's Spurs are coordinated, integrated pressing machines, where every man must pull his weight. No passengers allowed.
"Of course it's a new era, new times, a new way of playing football compared to back then," Eriksen says. "They [Laudrup and Totti] were different types, even more second strikers, than I am. Then they had even more freedom than I have."
So Eriksen, like City's Kevin de Bruyne, is the ultimate 21st century attacking midfielder. Technically brilliant and able to decide games, but also with the athleticism and selflessness to defend for the team too. In modern football, these are the players who thrive.
"That's what it's turned into. Everyone is so sharp. Everyone is so fit. Every team is well organised, fighting for everything. Even the midfielders, the creative players, the number 10s, who have a bit of an easier role, that's changed. You need to have a guy in there who can work for the team, but also help forwards. It has changed. Of course you still have freedom as a no10, but it's different because you know you still have duties to work for the team as well."
But as good as Eriksen and his team-mates are, and as much as Tottenham are improving, they are still a team waiting to take that last step. Eriksen was brilliant when Spurs drew 2-2 at Juventus, but when the tie came back to Wembley Spurs took the lead and were 25 minutes from the quarter-finals, before everything collapsed. Eriksen looks back with some frustration at how the game got away from them.
"Juventus were waiting for it, I think," he says. "I think we were almost over-confident that it couldn't go wrong. We were in a good position, almost a perfect position, to go through. We know they were more used to the bigger stages, they don't need the ball as much."
But at least Eriksen now knows what Spurs have to do differently next time. "The clinical part. We know that in the knock-out stage of the Champions League, it can be just three minutes. They had two shots and scored two goals. That's the three minutes we need to be even more aware of, so it doesn't happen again, to give ourselves a better chance to go through."
That can wait until next year but tomorrow [Saturday] Spurs have an FA Cup quarter-final away at Swansea to play. Win that and they are back at Wembley, a ground they have mastered, with none of the hang-ups they showed last year.
"We are really close now," Eriksen says. "We've lost a final, a semi-final, we've been in important games, and haven't got the results we wanted. It's been a curve for the club. Every player who comes here now wants a trophy. It wasn't like that when I came. Now, you come here to win something. Now, we're playing to win something. That has changed a lot."
William Hill is the proud European betting partner of Tottenham Hotspur. For all of the latest Premier League odds and specials visit williamhill.com
Join our commenting forum
Join thought-provoking conversations, follow other Independent readers and see their replies