Claudio Ranieri: A look at the Italian manager's career with the people who worked with him along the way
Once unfairly lampooned in British football, the Leicester boss has proved himself a brilliant man-manager this season. But, as Simon Hart reveals, his leadership qualities were there from the very start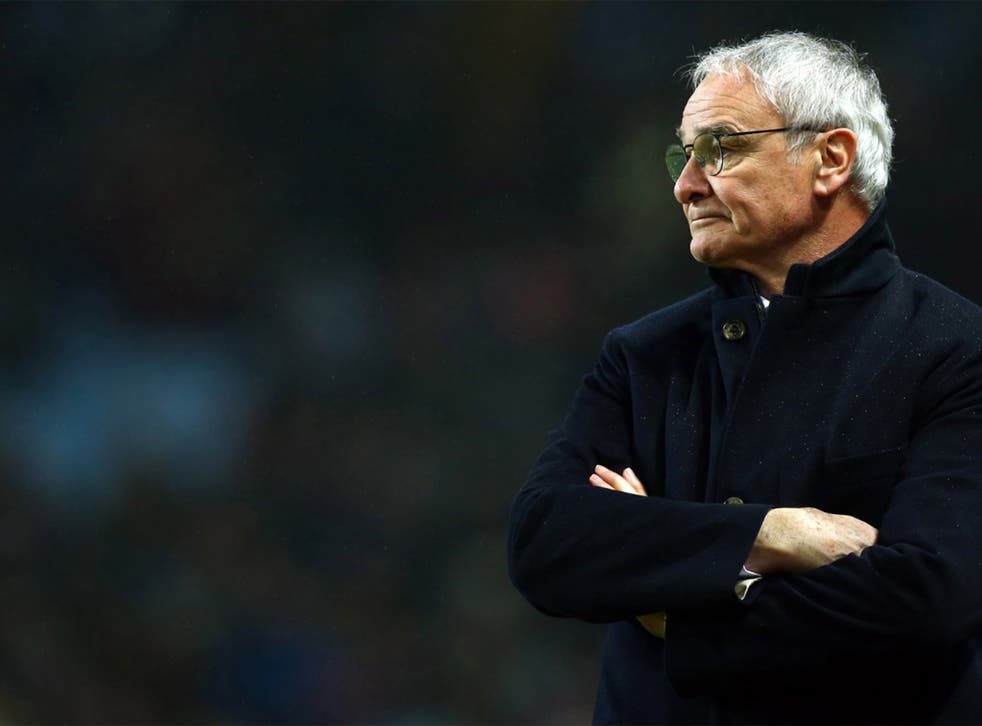 As Claudio Ranieri prepares his Leicester City team for Monday's home meeting with Newcastle United, the man in charge of the Premier League leaders could be forgiven a wry smile about the vagaries of being a football manager. The Italian's qualities as a leader of men are being celebrated across the footballing world just now but it was not so long ago that he was being portrayed as a sporting fool. Sixteen months in fact.
That was in November 2014 when the Greece side he was coaching suffered the humiliation of a 1-0 home defeat by the Faroe Islands in a Euro 2016 qualifier. It was such a damaging blow to the morale of the Greek game that Giorgos Sarris, president of the Hellenic Football Federation, offered a full apology for appointing Ranieri – before sacking him. "I take full responsibility for the most unfortunate choice of coach, which has resulted in such a poor image of the national team being put before the fans," he said.
The news of that embarrassment was still lingering in many minds when Leicester appointed the 64-year-old last July, hence the distinctly underwhelmed reaction. Gary Lineker, Leicester's favourite sporting son, summed up the response when saying: "Claudio Ranieri is clearly experienced, but this is an uninspired choice by Leicester."
Here, his managerial reputation had been largely defined by his four years in charge of Chelsea more than a decade ago. He had arrived in London in 2000 with no English. He failed to win a trophy but, in that pre-Roman Abramovich era, he did succeed in taking Chelsea to the Champions League in a campaign where his only pre-season recruit had been free signing Enrique De Lucas. With Abramovich's subsequent huge influx of cash came greater expectation and greater scrutiny. As the pressure grew so did his inclination to make changes and so the nickname "the Tinkerman" was born.
Yet, if there has one thing Ranieri has not done this season, it is tinker with his team. Nine of his players – more than at any other top-flight club – have made more than 25 League appearances in this campaign. So much for managerial stereotyping. That said, by digging a little deeper into Ranieri's career, all the way back to his time as a journeyman defender, it is clear to see that many of his traits – ones that offer real insight into his success this season – have remained constant: the focal role in fostering team spirit, the attention to detail and tactical nous, the toughness behind his twinkling eyes. Here, then, are the witness statements of those who know Claudio Ranieri best.
Gianni Di Marzio
Ranieri's coach as a player at Catanzaro and Catania in late Seventies and early Eighties
Ranieri was my favourite pupil as a player. At Catanzaro, we spent two years together. In the first season, we lost a play-off final and the following season, we won Serie B. On the pitch we were intense, we had players like Jamie Vardy who were constantly aggressive. We never gave up. With that team, Ranieri was my coach on the pitch and when I went to Catania and won Serie B, Ranieri was with me again.
He played either at right-back or as a central defender. He was the captain and he gave his heart and soul out on the pitch. Off the pitch, he was a very open, expansive guy. He used to crack jokes all the time. At Catanzaro we had a really strong group because I managed to gel people together and not only the players but their wives and children.
We used to have dinners together and celebrated birthdays and saints' days. I wanted the players to spend holidays together so Ranieri in the summer would invite all his team-mates and their wives onto his boat at his own expense. Then he sold the boat and bought a country house in Tuscany where he kept hosting all his team-mates and their families.
I'm not surprised to see him doing well at Leicester despite what happened with Greece. I think Ranieri is a club manager rather than a national team one. He loves to be training daily on the pitch. He is adored in Italy and everybody is sorry he has left, but I speak with him every weekend and he is always teasing me. He says: "Have you seen, Boss? I did it like at Catanzaro!"
Gianluca Festa
Won two promotions when Ranieri was the Cagliari manager between 1988 and 1991
For me, Ranieri has been like a father. I started my professional career with him in the third division. I was 19 and we got promoted to Serie B and after that we got promoted again to Serie A. There was a fantastic atmosphere and the whole island was with us. It was probably the best time of my life because I come from Sardinia and Ranieri was like a king there for the Sardinian people.
He was a really good psychologist – he was really good preparing us on the football side but also very good at speaking to the players. He created the right atmosphere and spoke about sports psychology. This was over 20 years ago, now everybody is doing it. He is a great communicator but he is very smart too and sometimes he can be very hard. In football sometimes you must be strong with players, you have to be firm with them.
I was a central defender. We used to play with a sweeper and we man-marked. It was a 3-5-2 system and that season we had 21 clean sheets in 38 League games, which shows he was very good at organising us defensively. Because I was young he would speak to me after training and we'd do specific defensive work, individually and also as a team. Sometimes it was him and me, and sometimes three or four defenders doing specific work.
He was also very, very good at building team spirit. Once a week the whole team would have dinner together. We would go to a restaurant where the owner was a big Cagliari supporter. He stayed with us for dinner and after that he left us to go out on our own.
Luis Milla
Won the Spanish Cup with Ranieri at Valencia in 1999
He came into a very difficult situation, after the sacking of Jorge Valdano. He brought totally different ideas from Valdano and it took time for him to adjust to the dynamics. He might have been sacked after three months but from there the team stepped up and we qualified for the Champions League and we won the Copa del Rey. He had a very clear Italian philosophy where they play on the counterattack but with time he adapted to the players and with time we weren't so Italian. We were able to counter-attack but we were also able to play a combination game and a game that people like in Spain – controlling the ball. He adapted because he is an intelligent coach and he adapted to the attitude here. He had a good relationship with the players and understood the hierarchy in the dressing room, but he was very strict when it came to work.
In the Spanish Cup, we beat Barcelona in the quarter-finals, then in the semi-finals we destroyed Real Madrid 6-0. We were brilliant. They had a man sent-off early on but we were very good. In the final we beat Atletico Madrid 3-0. It was the first Cup we had won in 19 years. After those two years with Ranieri, Hector Cuper came in and took the team to two Champions League finals. He definitely benefitted from the work Ranieri had done. Ranieri had done a good job because he gave us a lot of solidity. It became a team that was well-organised and hard to beat.
Carlo Cudicini
Finished second in 2004 Premier League with Ranieri at Chelsea and reached the Champions League semi-finals
The best moment for us was when we qualified for the Champions League in the final game against Liverpool in 2003. At the beginning he struggled with the language but the fact many of the players in the dressing room spoke Italian or Spanish helped him to settle more easily.
What I really appreciated about him is that he always played the players who did the best in training, regardless of their name, age or status. John Terry was only 20, Sam Dalla Bona was only 19 and Frank Lampard was very young too and had to make the transition from West Ham to Chelsea. In my case as well, he picked me ahead of Ed de Goey.
Ranieri definitely has his serious side. In Italy he was different because of the culture and the atmosphere you breathe day in, day out. There is always someone who wants to criticise you so you feel the pressure more, whereas in England, especially now at Leicester, he is enjoying an ideal situation.
Bogdan Lobont
Goalkeeper who was in Roma squad that finished league and cup runners-up in 2010
He was very calm, and he knew how to handle the tough moments. I remember the last day of the season when we played Chievo away and were winning 2-0 and Inter were winning 1-0 at Siena. It was the 90th minute and three minutes' injury time went up on the board and he said, 'No, no, no, I still believe'. He kept believing to the end. Afterwards he congratulated everybody. He didn't show his disappointment, but I think he felt it. This is another of his qualities. If he was disappointed or upset, he didn't show it to anyone. He had this capacity to handle the dressing room without screaming and shouting.
Wes Morgan
Captain of Leicester
"If the boys need anything they come to me to ask the manager so I am always knocking on the manager's door and he is like, 'Wes, what do you want now?'. 'I just need two minutes,' I say and explain what the boys want [such as extra work on the training pitch]. From his point of view, if he has something to tell the boys he sometimes tells the group or passes it through me [including the news the Italian was giving them a full week off after they played so well in the February games against Liverpool Manchester City and Arsenal]. He is quite funny. He has a few one-liners, and the relationship between him and Vards is the best – there is a lot of swearing involved but both give as good as they get. At the same time there is definitely that fine line of how far to push him and he has made us know who is boss when it is time to be the boss."
Join our new commenting forum
Join thought-provoking conversations, follow other Independent readers and see their replies