Leicester vs West Ham: Claudio Ranieri remains calm as Foxes close in on remarkable Premier League triumph
The title could be sealed next Sunday - but Ranieri insists there is still a race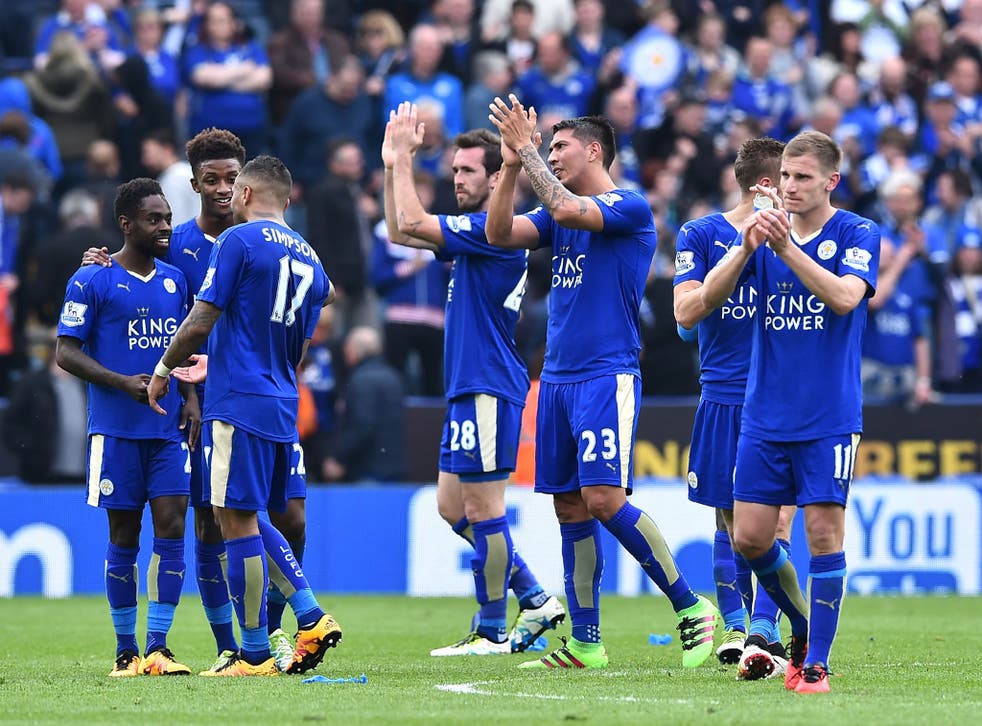 It is little wonder that Claudio Ranieri has stolen the hearts of a nation by guiding Leicester City to the brink of the Premier League title.
After all, Sir Alex Ferguson never shed a tear during Manchester United's annual processions to the championship and, even if he did, he would probably find a better excuse than Ranieri for the brief episode of waterworks which followed Leicester's 2-0 victory at Sunderland last Sunday.
"I was stable, but when you see so many old ladies who come to Leicester, it is unbelievable," Ranieri said. "That moment, I thought about them and I was so happy. I am happy when the people who follow us are happy.
"But I didn't cry. My eyes were a bit shiny but I didn't cry."
So it was the 'old ladies' who tugged at Ranieri's heart-strings rather than the realisation that, regardless of what Tottenham Hotspur achieve over the final weeks of the season, nine points will secure Leicester's first-ever championship and complete the most remarkable football story for a century.
Whether it the hotel reception bell he uses to attract the attention of his players, the pizzas he orders when his team keep clean sheet or gentle prodding of those managerial rivals who have spent hundreds of millions but still sit beneath Leicester, Ranieri has become a master at saying the right thing to deflect the focus away from his team.
As such, there is no sense of anyone at Leicester being afflicted by the pressure of the title run-in and, with West Ham due at the King Power Stadium on Sunday, Ranieri is at it again, focusing solely on incremental gains rather than the big prize.
Leicester secure Champions League qualification last Sunday, but only for the qualifying rounds, so this weekend is all about confirming their place in the group stages. Not bad for a team who were billed as relegation favourites last August.
"I love to hear the Champions League music, but now we have to fight again," Ranieri said. "We are only in the previews (qualifiers), so we have to fight again to achieve the Champions League. We don't achieve anything yet.
"I want to play six matches (in the Champions League). The preview is two matches and two matches is not the Champions League. I don't think there is the music and I love the music.
"From the dream arrives the reality. But wait!"
The title is close, however, and could even be sealed next Sunday, at home to Swansea City, if Tottenham lose at Stoke on Monday.
But having previously gone close to titles with Valencia and Roma, only to miss out at the death, Ranieri insists that there is still a race to be run.
"Football is very strange," the Italian said. "If you weren't here in Leicester, but somewhere else, maybe City or United, with seven points more, you would say 'it is finished'.
"At this moment, you don't think this. Why? Because we are Leicester. We have to fight and we have to be focused and strong.
"Are we history makers? Not yet. We have made a good story, but to make something you will remember in 30 or 40 years, we have to win.
"We have to fight and smile because our job is done. We are safe and this is a miracle. We are safe.
"Remember, in the first match, Ranieri was first to be sacked and Leicester were first to be relegated. I remember it well."
West Ham pose the challenge for Leicester tomorrow, with Ranieri acknowledging the unique threat of Andy Carroll and the quality of Slaven Bilic's team.
But with the title so close, and every game now screened live on television as the finale approaches, Ranieri has urged his players to ignore the distractions and focus solely on getting the job done.
"It is important to clean everything (from minds)," he said. "Don't read, don't watch and think only of the next match, because a lot can go wrong.
"A lot of people are dreaming and believing Leicester can win the title, but we have to fight for the next match.
"I love this pressure on my players and everybody, but it is important that we learn and we work with this pressure."
They have brushed it off so far, however, and Leicester are threatening to win it at a canter, treating the pressure and nerves as little more than issues only for those who make up the numbers.
Join our new commenting forum
Join thought-provoking conversations, follow other Independent readers and see their replies