Crystal Palace vs Arsenal: Roy Hodgson believes Selhurst Park crowd will be key in festive clash
Palace thumped Arsenal 3-0 on their last visit south of the river and Hodgson knows a repeat would help pull his side clear of relegation trouble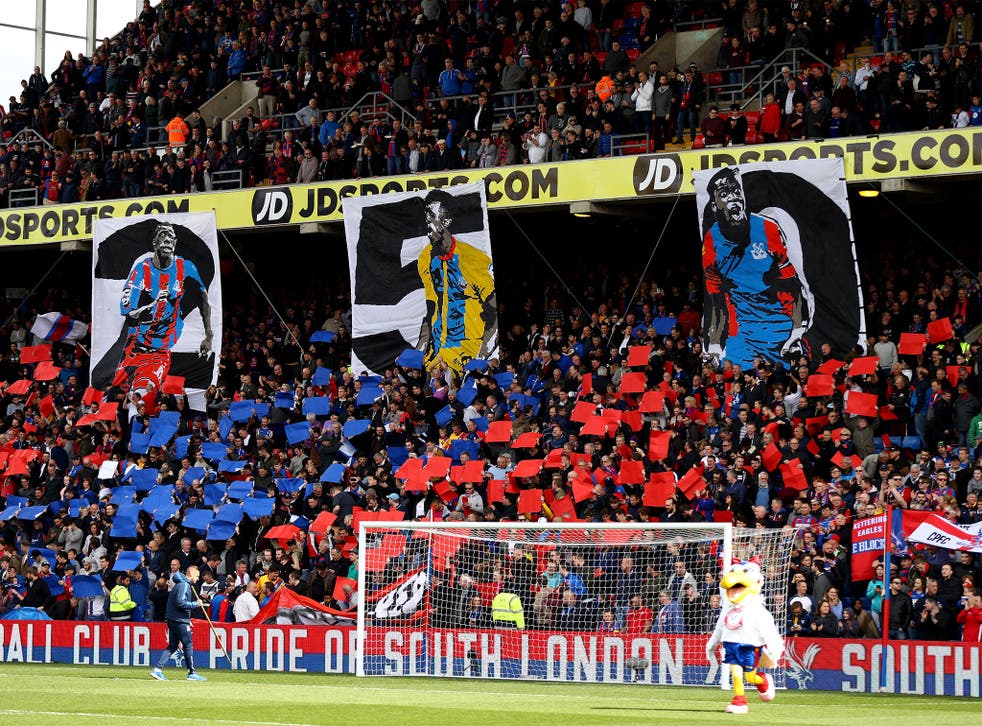 Roy Hodgson believes the Selhurst Park crowd can help his Crystal Palace side get another shock victory over Arsenal.
The Eagles stunned the Gunners back in April with a 3-0 victory - arguably their best ever performance in the Premier League - and can stretch their club record eight-game unbeaten run to nine if they repeat that.
While Palace boss Hodgson, who has hauled his side out of the bottom three after they lost their first seven games of the season without scoring, isn't expecting much he believes his team still have a chance if the fans turn up.
"The only advantage we have is the fact that it is at home where our fans do give us enormous support," he said. "They're sensible fans, they realise that we have got a big job on our hands.
"They will be expecting us to give our all against Arsenal but they won't necessarily be expecting that we are going to go out there and take them apart because they know what wealth and riches they possess compared to us; a much more modest Premier League team.
"I watched the game on Friday night and thought Arsenal were extremely good - as were Liverpool. I watched their game against Manchester United which they lost but I thought they played exceptionally well, their attacking play was stupendous. We know that's what we've got coming, that's what we've got to try to find a way of trying to deal with.
"I'm afraid that you don't get coaches admitting to easier fixtures whether you are playing the team actually at the bottom of the league or the team at the top. It's going to be an equally difficult task because the Premier League now - because of the wealth and the money that Sky and BT have brought into the game - every team has got quality players.
"When we were bottom of the table I thought we had some good quality players so there are no games like that. I listen to those statements: 'You've played United and City and Chelsea and it will be easier now' but I've honestly never believed it would be frankly. Sometimes when you're a bottom team you've got just as much chance of stealing a point or two against the top ones as you have against the bottom ones."
A pragmatic approach in south Wales saw his Eagles side come away with a point to keep them out of the bottom three having climbed out last weekend with an impressive win at Leicester. Luka Milivojevic converted a penalty to give Palace the lead before Jordan Ayew equalised from distance. Hodgson expects his team to be similarly pragmatic against the Gunners in Thursday's live TV game.
He added: "There was no question of us rolling over or making life easy for Swansea and there was no chance of us underestimating them of the challenge. We've got 18 points, another 18 would give us 36 and that would put you somewhere in with a chance and if you think that we got those 18 points not in 19 games, we got them in 12 games, then it does give us some hope.
"We are definitely in a better place [than when I took over] but I again think we are all very pragmatic reasonable people here. We've got a group of players who know that their only chance of survival is working their socks off and making the most of any qualities we possess. I'm lucky at the moment the players who can make a difference for us are playing very well; Zaha and Loftus-Cheek were extremely good at Swansea and we have Benteke up our sleeve hopefully fully fit and raring to go [against Arsenal]. In that respect it gives me some hope that we are going to be a handful for a lot of teams in the future."
Palace have more points now than they have had in three of their previous four seasons in the top flight, which is some feat given their record-breaking poor start to the season, and Hodgson admitted the turnaround has happened quicker than he expected. "I suppose I am [surprised]" he said. "Turnaround is a nice situation going into Christmas day - a rare day off for us - to be out of the bottom three. But I know that we could so easily get back into that bottom three so I don't really talk to the players in terms of turning anything around we just talk in terms of well we know what we can do.
"We know what we've got to do; to try and keep getting points on the board so let's not get too carried away when we get a great away victory like last week [at Leicester] and let's not get too downhearted if in one of the games coming up now we lose, after playing well.
"Our important thing now is to make certain every performance we give is a performance that the players can look in the mirror afterwards and say 'I did my best, I gave the sort of performance that my team-mates expect of me'. If we keep getting that we've got a chance."
Register for free to continue reading
Registration is a free and easy way to support our truly independent journalism
By registering, you will also enjoy limited access to Premium articles, exclusive newsletters, commenting, and virtual events with our leading journalists
Already have an account? sign in
Register for free to continue reading
Registration is a free and easy way to support our truly independent journalism
By registering, you will also enjoy limited access to Premium articles, exclusive newsletters, commenting, and virtual events with our leading journalists
Already have an account? sign in
Join our new commenting forum
Join thought-provoking conversations, follow other Independent readers and see their replies