Wilfried Zaha an ascending star as Roy Hodgson hints Crystal Palace are ahead of schedule after Chelsea heroics
After seven defeats in seven games and not a single goal Palace outplayed the reigning champions to earn a well-deserved first victory of the season on Saturday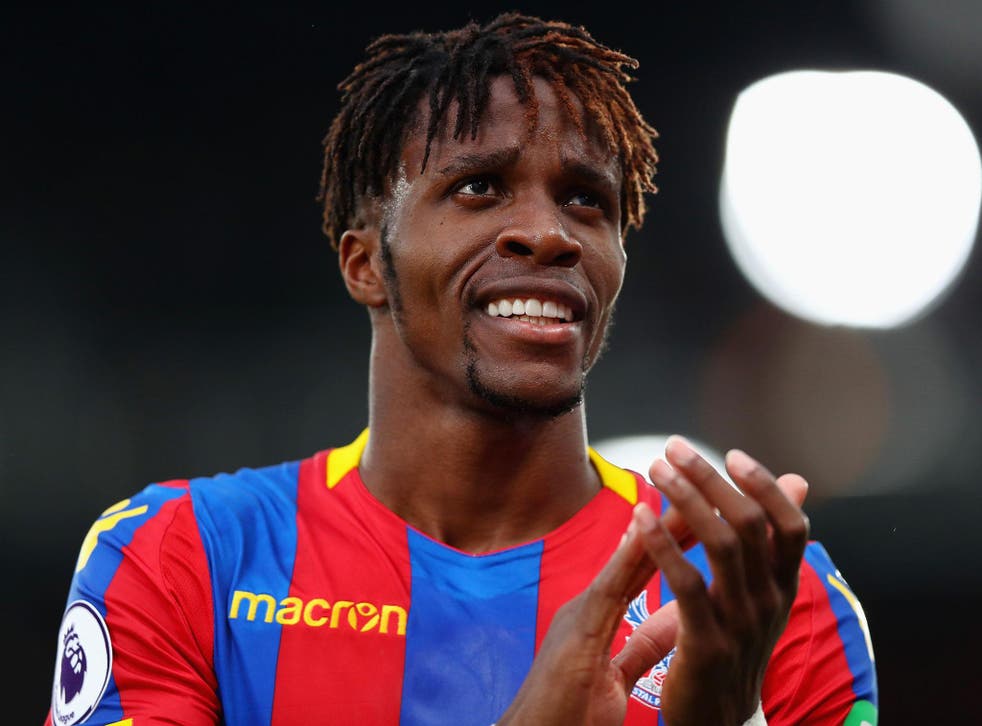 There was always a feel with Roy Hodgson, a local man, that he is as perfect a fit as Crystal Palace could have hoped for right now.
But Hodgson is more than just a calm, steadying influence after a wild, albeit brief, Dutch summer.
The 70-year-old out-thought one of smartest coaches in the Premier League and set his team up perfectly to beat the defending champions on Saturday, overcoming the lack of a recognised striker in the squad, an injury to the number one goalkeeper and a lack of confidence stemming from seven games in which they had suffered seven defeats and not scored a single goal. And Hodgson believes that his side could even be ahead of schedule in their efforts to avoid Premier League relegation.
"It took us a long while to get anything like this sort of team performance at Fulham; we didn't do it after a month," Hodgson said of the quick turnaround in fortunes.
"We'd have been into two or possibly three months before we could say 'Yeah, this is what we want, what we're looking for'. It took a bit longer; this has come quicker than I expected, and perhaps we've been unlucky that the players haven't got credit for what they've tried to do because we've played such good teams and they've beaten us.
"Hopefully now the players know that they can do it, because they've done it against the champions of England, so they've got to feel now, that with 30 games to go, we're never going to go into a game not feeling that we can get something out of it."
Palace were far more dangerous in attack than Chelsea all afternoon, with the returning Wilfried Zaha performing well as a sort of 'swing' forward. Zaha and Andros Townsend, both wingers, were effectively up front in a 4-4-2 but afforded freedom to roam. Their only instructions were to occupy Chelsea's three central defenders, which they did excellently, and to get in the penalty area if the other one had the ball in a wide area. Townsend set up the first in exactly that manner and Zaha scored the second, Palace's winner, all on his own.
The Ivorian was once selected for Hodgson's England as a spindly, inconsistent wideman but on the evidence of his 2017 performances is now evolving into a complete forward player.
"Over the last couple of the years he's come back to the club, that was his club, buckled down and become a very different player. Now he's a much more all-round, physically-stronger, aware of what's required in position than he was six years ago.
"He deserves a lot of credit for that. He was very strong: that's a strong back three. Gary Cahill's very strong, Luiz is, Azpilicueta is, and yet they didn't manage to knock Wilf off the ball on the several occasions he was wrestling with them. That's a very different kettle of fish to the winger I had against Sweden."
But for all Zaha's brilliance on Saturday, Palace as a whole looked like a completely different team. Defensively they kept Eden Hazard, Willian and Michy Batshuayi quiet while they outfought Chelsea in midfield. How, then, did Hodgson conjure this performance from a team shorn of confidence and key players?
"You preach the same things all the time; words are cheap. I would like to think most times when I speak to them, most of what I'm saying is relevant, sensible, it's got a lot of truth to it.
"But it's one thing saying the words, another transforming into actions, individually, what you know needs to be done. We have talked about playing and having confidence: we're a passing team. We've got to be a passing team because we've got the players who can pass, can receive. Milivojevic, Cabaye, McArthur, Schlupp, Riedewald, Puncheon: these are footballers, not just cloggers, or people who run around trying to win the ball back and knock people over.
"You've got to dare to pass, to receive it, you've got to look forward, not knock it back to your goalkeeper. We're still working on that, but there was a lot of positive signs.
"At the moment it's a question of getting the best players on the field, and then trying to give them a role they understand and can do. That's what happened, and obviously what we'll be trying to do against Newcastle, but Newcastle will pose very different problems."
Register for free to continue reading
Registration is a free and easy way to support our truly independent journalism
By registering, you will also enjoy limited access to Premium articles, exclusive newsletters, commenting, and virtual events with our leading journalists
Already have an account? sign in
Join our new commenting forum
Join thought-provoking conversations, follow other Independent readers and see their replies