Danny Higginbotham: How will Leicester City cope without Jamie Vardy?
If Foxes play Ulloa they must support him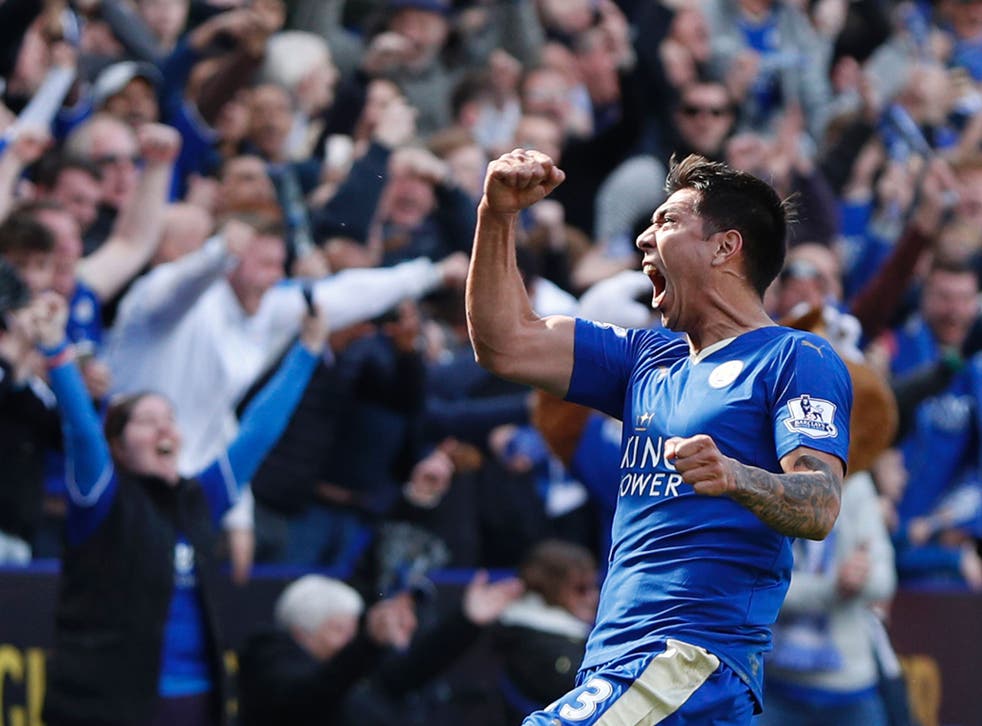 So, we know Jamie Vardy will be missing on Sunday for Leicester when they take on Swansea and seek to get back to winning ways and ease the pressure following last weekend's dropped points in this thrilling title race. They will be desperate for a win to maintain the distance between themselves and Spurs, who are flying as they showed against Stoke on Monday night. They are chasing hard.
It's fair to say Vardy is vital to Leicester and as such is a tough act to replace. He has started every single League game this season and has scored 22 goals and made six assists. His defending from the front should not be overlooked either as it is a crucial part of how the Foxes play. The way he harries and chases the defenders, particularly the centre-halves, means that the opposition can rarely settle on the ball and are often forced to play long, ceding possession.
So who will replace him and how will Claudio Ranieri's team adapt? Jeffrey Schlupp and Demarai Gray are possibilities but the most likely option is Leonardo Ulloa. The Argentinian has stared five League games this season and his side have won four and drawn one of them. Good stats - but the key to these matches was that Vardy played alongside him.
More importantly statistically for Leicester, is that they have scored only two goals in the League with Ulloa on the pitch but without Vardy. These two goals were against West Ham at home - last weekend's controversial penalty - and against Spurs away, which was from a corner. In other words, both these goals were not scored in open play.
Ulloa is a back-to-goal player, he holds the ball up or flicks it on for runners and brings other players around him into the action. But this is the point: he has to have other players around him to be effective. Vardy, on the other hand, doesn't. He can chase long balls into the areas vacated by the opposition full-backs, win it and hold it up and wait for runners - or he can do damage himself by chasing a ball over the top and scoring - as he has done frequently this season, but Ulloa cannot run the channels as effectively.
If you look at our Opta graphics that show average position of players over 90 minutes, they illustrate the point perfectly. Graphic 1 is when Leicester lost 2-0 against Tottenham at the King Power Stadium in the FA Cup this season. You can see that the home team failed to get any runners beyond Ulloa (No 23) often enough to have an impact on the game. Yes, they played a weakened team but it doesn't matter - you still have to have a gameplan. Ulloa was isolated and that gave Leicester no out-ball - so Tottenham kept coming back at them.
Graphic 2 shows the average player positions for Leicester against Swansea away where they won 3-0 and you can quite clearly see that Ulloa is not the furthest forward player - Marc Albrighton (No 11) and Vardy (No 9) are both ahead of him and Riyad Mahrez (No 26) is almost up alongside him. This plays to his strengths and is key.
On Sunday, Leicester will be forced to play up to Ulloa as their out-ball with passes that are straight at him - rather than in the channels. For it to work they must support him and not leave him isolated or else they will need him to take four or five touches to wait for help - and that is a big ask every time.
Doing this, however, could cause problems for Leicester defensively. When they play with Vardy, he can be detached as discussed and they can sit deep as a team. Vardy can be a lone wolf up front chasing balls down the channel. With Ulloa, if Leicester go deep they will leave him isolated so may have to play a higher line to get up to support him. In turn, that could leave them susceptible to the ball in behind their central defenders, Robert Huth and Wes Morgan. They are not blessed with pace so could get caught out. Goalkeeper Kasper Schmeichel must be on his toes and think about sweeping.
So, how do Leicester get more players around Ulloa? One option that could work really well is to ask the two quick wide players (usually Albrighton and Mahrez) to tuck in and play more narrowly than normal so they can then link with Ulloa. Also, the second centre forward (possibly Shinji Okazaki) needs to get beyond Ulloa.
The knock-on effect of the wingers tucking in is that there is more space for Leicester's full-backs to get into and this could actually be a positive because they can then hit more crosses into the box where they have the more physical presence of Ulloa, who is great in the air.
However they go about it, it will be fascinating to watch.
What sets Spurs apart from other teams that have fallen at the Britannia?
Stoke have had two great performances at home this season, against the Manchesters City and United, by playing 4-3-3 with Bojan Krkic as a false No 9 dropping deep and dragging the centre-halves higher up the pitch. This created space for Xherdan Shaqiri and Marko Arnautovic to come inside and do damage. However, one of Tottenham's many strengths is their defensive side and when Stoke tried to pull this trick on Monday night it did not work because every time Bojan dropped off, Erik Dier picked him up. He is a defensive midfielder with the nous of a centre-back and his reading of the game allowed the Spurs central defenders to stay compact and minimise the space for Shaqiri and Arnautovic to run in to. Spurs were brilliant going forward - but they also did the unseen dirty work that nullified Stoke.
Join our new commenting forum
Join thought-provoking conversations, follow other Independent readers and see their replies