Defiant Sunderland manager Paolo Di Canio jokes he's 'the unique one'
Martin Hardy witnesses controversial Italian's first press conference as Sunderland manager which is part bravura, part self-defence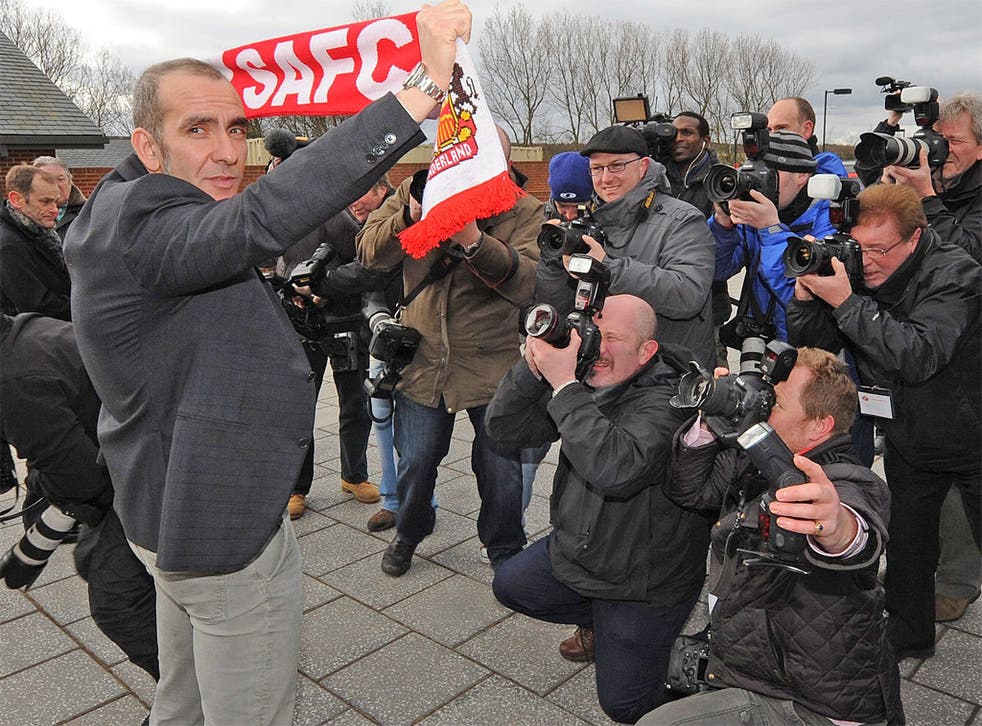 At half past six this morning, snow fell at Sunderland's training ground. By half past seven, a glorious sunrise was bathing Cleadon village, where the Academy of Light stands. To that backdrop arrived Paolo Di Canio, along with assistant manager Fabrizio Piccareta, in a black Ford Focus. The rest of his back-room staff, Domenico Doardo, Claudio Donatelli and Giulio Viscardi, were in the car behind. The five men were waved through the security gate that stands at the training ground entrance. Cold and warmth. Winter and summer. A barrier and an entrance. Polarisation. It felt appropriate. "I love the British weather because it is so unpredictable," Di Canio once said. "It is beautiful, it can change at any one moment. I enjoy clouds." He will enjoy the North-east, then, where it varies between cold and really cold.
"The new head coach will be available for a brief introductory media opportunity," had read an email sent out by Sunderland on Monday evening, by which time there was already turmoil. Anti-racist groups around Europe had asked for clarification of comments previously made by Di Canio in support of fascism. Durham Miners Association had released a statement saying they wanted their banner, which adorns a wall inside a stadium whose name is a tribute to the mining industry, removed.
At 10 past eight this morning Di Canio made his media bow as Sunderland's new manager, first to the written press. At 10 to 10, he was still forcibly reassuring local journalists that he was the man to save the team from relegation. But he declined to answer questions relating to fascism. When he later went in front of the TV cameras, he was asked again about it, specifically to retract a reported statement from a 2005 interview that he was a "fascist but not a racist", something he says was taken out of context. But the rebuttal did not come. With the offer still hanging uncomfortably in midair, Di Canio walked out. His conversation with the written media ended the same, but there had been much to digest before that point.
"Are you, like Jose Mourinho, the special one?" he was asked, and with a mischievous smile, replied: "I am the unique one. I am joking, actually I'm not. We are all different, but it's obvious that some traits of our characters are similar. I always speak what I think. Sometimes I have a strategy. Sometimes in the past people have said that my press conferences after the game come from my rash moments, but that's only because of the things I have said before. Maybe we were giving out specific messages to get certain things out of people.
"I remember that media in England were very enthusiastic about him because people like Mourinho give you the chance to always get a big headline, but also many, people said he was arrogant. He has a very high belief in himself, but that is all and perhaps I am similar. I believe in my knowledge and myself. I am confident I can deliver the best job for this club. It is obvious that I'm not trying to imitate him because I'm Paolo Di Canio."
And there is no doubting his self-confidence. "Paolo Di Canio is young," he added. "He has only been in League One and Two, but over the next few games they are going to change their ideas because the team will win and get themselves out of the situation at the moment.
"Then they will say Paolo Di Canio is the best manager we could have. It was the same issues 21 months ago at Swindon, but after two months they were remaining five minutes after the game to celebrate a victory. They were singing the names of the players and manager. They will do the same here. I will bet all I have got I have a winning mentality."
However, Sunderland, from boardroom level down, have been taken aback by the level of hostility to the appointment.
Di Canio was asked if he would meet the miners who want their banner back. "I don't understand what the problems are," he added. "I am a manager, a normal man, a family man. I will work so hard for this cause. I will work 24 hours a day."
But he took a shot at David Miliband, who resigned from the Sunderland board because of Di Canio's "past political statements".
"He has probably left in a period where we will have the most success. I am sorry for him," was the Italian's response.
Some of the anger will dissipate if Di Canio's energy seeps into the tepid veins of his players who sit just one point above the Premier League relegation places. And certainly, he talked more happily of "kicking my player's bottoms" if they need physical motivation. "If one of my players behaves really well until a day before the game and is really focused, with a very high determination, then he will start. I like to be with my players every single minute on the training field. If you do that you can realise something has happened in the last few hours to change things."
Certainly, things have changed at Sunderland, who perhaps will never be the same football club again. Because despite Di Canio's attempts to steer the conversation towards football matters, he could not escape being repeatedly asked if he is a fascist.
"I don't have to answer this any more," he said. "I can't state every three weeks or three months. So 21 months ago, some of you picked up some lines from a long interview. You are not offending me, but you are offending my family. I do not permit anyone to offend the values I have received from my parents. If you want to talk about football then we can start to work."
And, after the flashing lights of the cameras had faded, that was what he did, as he entered the manager's changing room at the back of the Academy of Light and emerged wearing shorts and a blue club top to take his first training session.
There was no snow anymore, which after the blizzard of questions he had just faced, was a start.
Join our new commenting forum
Join thought-provoking conversations, follow other Independent readers and see their replies