Dominant Liverpool leave Bridge in ruins
Chelsea 1 Liverpool 2: Villas-Boas admits team have mountain to climb in Premier League as defeat leaves them 12 points adrift of leaders Manchester City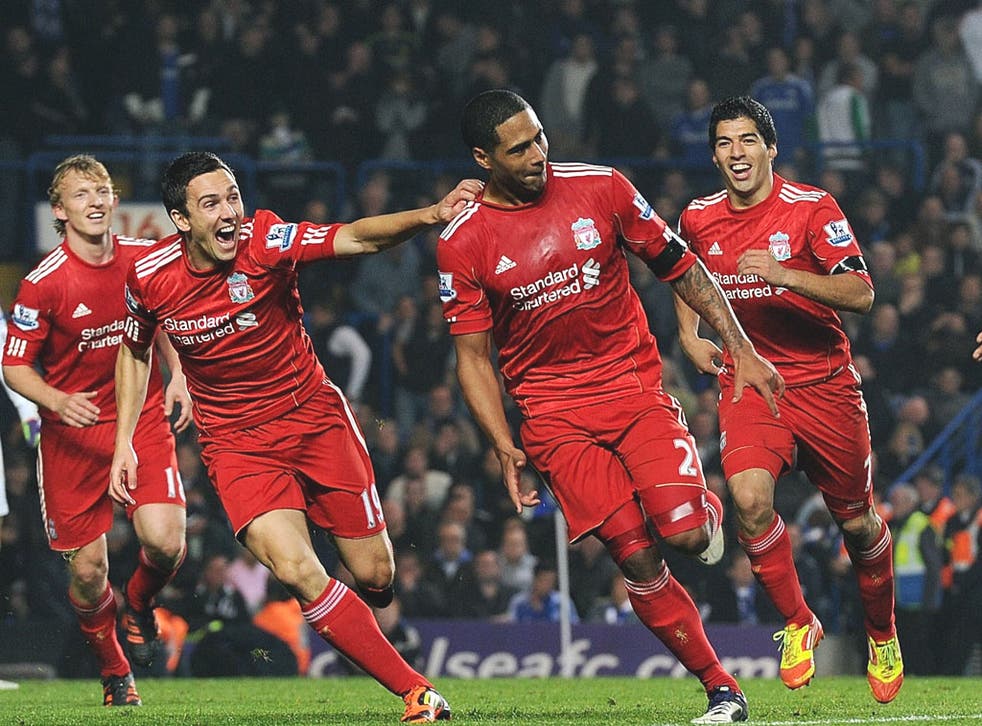 When Andre Villas-Boas first arrived at Chelsea this summer, he joked that such was Jose Mourinho's part in the club's history that it was as if his mentor was sitting in the chair beside him. Watching Villas-Boas at times yesterday, it was not hard to imagine the questions being asked by the voice of Mourinho playing in his head.
He would surely have started with the state of Chelsea's defence, under pressure and ragged in the first half. He might have queried whether David Luiz has the temperament for these big occasions. He would have wondered at the wisdom of relying so heavily on Didier Drogba, back for the first time since his sending off against Queen's Park Rangers on 23 October. And, last of all, he would have asked what the hell has happened to Chelsea's once formidable record at home.
Villas-Boas needs no reminding that Mourinho never lost a league fixture at Stamford Bridge in more than three seasons. His protégé has now lost two in a row – to Arsenal and now Liverpool – and the team is starting to wobble.
This was a strange game, one which Liverpool dominated in the first half before the home side resolutely fought their way back into after the break. Then, after Villas-Boas sent on Fernando Torres and Raul Meireles, there was an instance of sloppiness in his defence and Glen Johnson ran through to score an unlikely winning goal.
It felt a little hard on Chelsea but this kind of misfortune tends to befall teams that are in a state of change and uncertainty. First, the 5-3 home defeat to Arsenal; now this result and, with the defeat to QPR, Villas-Boas find himself looking at three defeats in his side's last four league games.
Already, he was being asked yesterday whether he believes he has the backing of Roman Abramovich. That is hard enough for any manager to deal with, let alone one aged 34 with just one full season in management behind him. He will want to be judged on three years, not three months, but this is Chelsea, so who knows what will happen?
As for Liverpool, Kenny Dalglish said that it was no less than his team deserved, although they were much more convincing in the first half when Chelsea's defence was pressed into chaos, especially in the build-up to Maxi Rodriguez's opening goal. In the later stages, Jordan Henderson was introduced to great effect and his presence in midfield, as a replacement for Craig Bellamy, galvanised Liverpool.
Dalglish's problem is that Liverpool have suffered for their inability to see off the league's lesser lights. Had they beaten Norwich City and Swansea over the last four weeks, they would find themselves sitting in third place in the table. In the first half, Liverpool looked formidable but Villas-Boas's decision, at half-time, to switch to a 4-2-3-1 formation, with Frank Lampard and Ramires holding and Daniel Sturridge in place of John Obi Mikel, changed the game.
It was Sturridge who scored Chelsea's goal, coming in at the back post to finish a shot from Florent Malouda on the left that was so badly struck it ended up as a decent cross. The less said about Sturridge's celebrations the better – this young man certainly does not lack for confidence – but he does have a nose for goal.
It is those instincts that Villas-Boas could do with among the rest of his team. As Chelsea's domination increased in the second half, there was a bad miss by Malouda at the back post from Branislav Ivanovic's cross. As for Drogba, he barely had a shot worthy of the mention.
For a game that had been billed, in some respects, as a comparison between Torres and Andy Carroll, it was telling that the two players who made such significant moves in January played a total of seven minutes of the 90 between them. Torres was obliged to warm-up yards from the away end, who, unsurprisingly, chanted at him, 'Are you happy on the bench?', before he was given just six minutes.
There was even less time for Carroll, who was only sent on with a minute left and Liverpool leading the game. His touch looked ropey. Amid all the excitement, it did not go unnoticed that Jamie Carragher was also stuck on the bench; Dalglish preferring Martin Skrtel and Daniel Agger in central defence.
There was, however, no quibbling with the quality of the winning goal. It began with Charlie Adam, one of Liverpool's most influential players, who hit a pass from left to right out to Johnson. He ran inside Ashley Cole, who never got a tackle in. Malouda's attempt to catch the full-back was risible and as the space opened up, Johnson tucked his shot past John Terry on the line.
It was another bad day for the Chelsea captain, his worst moment coming on 25 minutes when a ball across the pitch caught him out. Dirk Kuyt took it away from him and suddenly the Chelsea defence were running back towards their own goal. It took Luiz's intervention to get them out of trouble.
The goal for Rodriguez was much the same. Adam hassled Mikel off the ball deep in the Chelsea half and Liverpool proceeded to cut the home side open. Bellamy exchanged passes with Suarez and, with Chelsea's defence in bits, the Welshman put it on a plate for Rodriguez to score.
There was not enough from the likes of Juan Mata, Drogba and even Lampard going forward in the first half for Villas-Boas to be satisfied. It must be hard for a young manager to abandon his approach at half-time, as he was forced to yesterday, but if Chelsea are serious about Villas-Boas then he needs time. By the looks of it, he will need longer than this season with Chelsea now 12 points adrift of the leaders, Manchester City.
As for Liverpool, level on 22 points with Arsenal, Spurs and Chelsea, there was evidence to suggest they could be in the Champions League places at the end of the season and it sets them up nicely for City's visit on Sunday. It may even be a relief for Villas-Boas that Chelsea are away to Bayer Leverkusen on Wednesday, but the familiar voice in his head will be telling him it should not be that way.
Substitutes: Chelsea Sturridge 7 (Mikel, h-t), Torres (Drogba, 84), Meireles (Ramires, 84). Liverpool Henderson 6 (Bellamy, 66) Downing (Rodriguez, 77), Carroll (Suarez, 89).
Booked: Chelsea Luiz, Ramires, Ivanovic. Liverpool Lucas, Kuyt.
Man of the match Adam.
Possession: Chelsea 54% Liverpool 46%.
Attempts on target: Chelsea 5 Liverpool 3.
Referee L Probert (Wiltshire).
Attendance 41,820.
Join our new commenting forum
Join thought-provoking conversations, follow other Independent readers and see their replies