Drogba brushes past Arsenal's feeble challenge
Arsenal 0 Chelsea 3: Powerful striker continues fine record against Gunners Chelsea move 11 points ahead of their London rivals after ruthless performance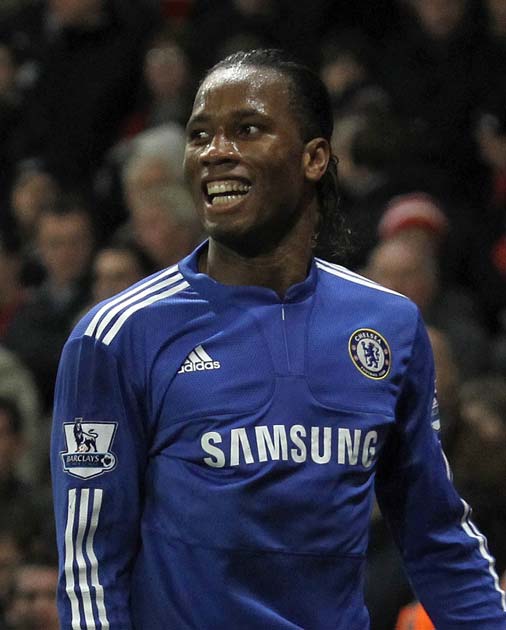 Sitting on the bench at the end of the game, having wreaked havoc on Arsenal, Didier Drogba spent the last five minutes signing autographs for the home fans. And if you think that was humiliating for Arsenal, it was nothing compared to the game itself.
Carlo Ancelotti was the manager who wore the embarrassing pixie hat for most of the game but the little people were the ones wearing the red shirts. To say it was men against boys would be putting it mildly. Chelsea looked superior in every department, brushing aside their opponents with the kind of ease they might swat away a team from much lower in the league.
This dominance was embodied in Drogba more than anyone else and not just in the two goals he scored. There was a moment late in the second half when Armand Traoré tried to body-check Drogba off the ball as they came together on the left flank. The full-back simply bounced off and ended up on the turf: that was Arsenal's afternoon in one moment. They barely laid a finger on Chelsea.
When Arsène Wenger said on Friday that this game would give him a clear idea of his team's position in English football, he was entirely accurate, although he would have hoped the answer would not prove so painful. Wenger's team trail Chelsea by 11 points and in terms of yesterday's performance they are light years behind. They lost to Chelsea by the same margin in May – 4-1 at the Emirates – and nothing has changed since then.
It was not just Drogba who proved so outstanding for Chelsea, their back four was also dominant. Ashley Cole made both the first-half goals, the second turned into his own net by Thomas Vermaelen, and by the time Cole was substituted it had become an effort for the home fans to boo his every touch. Cole had been excellent and everyone at the Emirates knew it.
While Vermaelen scored an own goal and William Gallas lost Drogba at the crucial moments, at the other end John Terry and Ricardo Carvalho never looked as though Eduardo da Silva would get the better of them. Branislav Ivanovic fought a running battle with Andrei Arshavin and it was the Chelsea full-back who had the better of it. Was there one positive element for Arsenal? The free T-shirts given to the fans at half-time went down well.
It does Wenger no favours when he tries to wriggle out of what was painfully clear to everyone else at the Emirates, or at least the 20,000 or so Arsenal fans who hung around until the final whistle. He claimed that his team were denied a goal when referee Andre Marriner penalised Eduardo for kicking the ball out of Petr Cech's hands four minutes after half-time, just before Arshavin volleyed in the loose ball.
Wenger said that decision had changed the course of the match and that Drogba had done little of note. It was wild and whirling stuff from the Arsenal manager. He would find few among his own fans who would agree, especially not the bloke who kept asking Drogba to sign his programmes. The kindest thing we can say about such an intelligent football man is that Wenger was simply traumatised by what he had seen and was temporarily incapable of facing the truth.
A more reasoned approach would be to accept that Marriner had a good game but this was not about the referee. This match was about Arsenal's sorry inability to live with Chelsea. Cesc Fabregas was decent enough in the opening stages, in which his side competed, but he disappeared after that. Of course Arsenal missed Robin van Persie but the Emirates crowd yesterday was not interested in excuses.
In the way the trickle to the exits turned into a full-scale evacuation when Drogba's second goal hit the net five minutes from time, you could tell what the Arsenal support thought of this performance. Fabregas had been mugged by Joe Cole in midfield around the hour-mark and after that Wenger's side seemed to slump. They did not give up, but they no longer seemed to believe they could win this match.
Nicolas Anelka might even have had a penalty on 19 minutes when Bacary Sagna tried to tackle him from the wrong side and brought the striker down. By then Chelsea were well on top and the two killer goals came in the six minutes before half-time. First Terry played a perfect ball past Arshavin to release Ashley Cole on the left. His cross was guided beyond Almunia by Drogba.
When Cole put in an identical cross at the end of the half, Drogba did not even have to apply the finish because Vermaelen did it for him. Gallas, who was completely out of sorts, seemed to want nothing to do with the job of stopping Drogba.
The only time Chelsea looked under any danger was when someone among the Arsenal fans lobbed a camera at Frank Lampard when he went to take a corner. At this genteel stadium you normally expect the missiles to be of a decent certain Islington quality – an olive ciabatta perhaps, or a guidebook to Tuscany – and this one missed Lampard and struck the linesman.
Drogba's third was a beautifully-executed free-kick, struck with the instep inside Almunia's right post. It was Drogba's 10th goal in 11 games against Arsenal and you can see why. He is the kind of player they cannot contain in so much as he has the pace and skill of the prototype Arsenal player and then the aggression and strength on top of it. He has become Arsenal's nightmare. And also exactly the kind of player they need themselves.
Arsenal (4-3-3): Almunia; Sagna, Gallas, Vermaelen, Traoré; Fabregas, Song (Walcott, h-t), Denilson; Nasri (Rosicky, 66), Eduardo (Vela, 57), Arshavin. Substitutes not used: Ramsey, Silvestre, Fabianski (gk), Eboué.
Chelsea (4-1-3-2): Cech; Ivanovic, Carvalho, Terry, A Cole (Ferreira, 72); Mikel; Lampard, J Cole (Deco, 67), Essien; Drogba (Malouda, 85), Anelka. Substitutes not used: Ballack, Zhirkov, Kalou, Hilario (gk).
Referee: A Marriner (West Midlands).
Booked: Arsenal Traoré, Fabregas Chelsea Drogba, Mikel.
Man of the match: Drogba.
Attendance: 60,067
Join our commenting forum
Join thought-provoking conversations, follow other Independent readers and see their replies