Enner Valencia interview: The striker takes whirlwind way to West Ham
Striker has enjoyed a rapid rise to fame via winning the title with 'The Blue Ballet' in Ecuador, moving to Mexico and shining at the World Cup – but is now happy helping fire Sam Allardyce's high-flying Irons, he tells Sam Wallace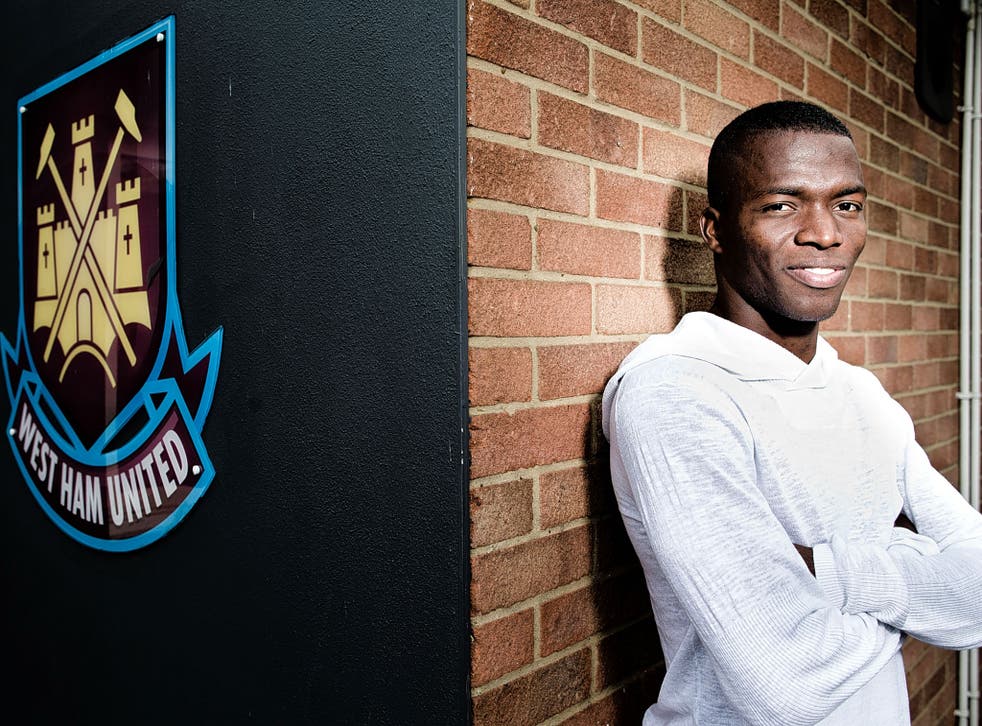 This time last year, Enner Valencia was playing for his first professional club in Ecuador, in the process of building a career that began in the far northern reaches of the country, near the border with Colombia. In the last 10 months his life has changed beyond recognition, via Mexico, Brazil and now east London, a good story of football's extraordinary power to propel a young man to great heights.
Valencia is slight, and softly spoken when he presents himself at West Ham's training ground this week, still very much the new boy. He has not yet learnt much English and his car keys still have the garage's cardboard tag on them. After he leaves our interview he has to pick up his wife to shop for some new baby clothes – their second child is due on Christmas Day.
Life is good for Valencia, 25 on Tuesday, a key player in West Ham's excellent start to the season. His partnership with Diafra Sakho has been a crucial part of the success but Sakho is struggling to be fit for Saturday's Stoke City match so it may be another new experience for Valencia, a player who has had to learn fast in the Premier League. He has thrived so far, blessed with pace and a remarkable spring that makes him a threat in the air.
He smiles when it is pointed out that not every West Ham season tends to go this well. "They have told me that it is not always like this, but that is where we are," he says. "The objective we have is to keep on going up, right until the end of the league."
As for the club itself, he says he feels a natural affinity with the place. "The fans are spectacular. They are always supporting. You are away from home and you feel like you're at home, and for a player that is really good. The supporters in South America sing a lot more, they are always singing. But the West Ham fans are a bit South American. There is always one song here, another there, they are always singing."
Valencia arrived at West Ham following a fine World Cup, in which he scored three goals in Ecuador's first two group games, having first scored against England in one of the two warm-up matches in Miami. As far as putting himself in the frame for a move to Europe, there is not much more he could have done – and so it was West Ham paid £12m for him.
He had only joined the Mexican side Pachuca in January, where he was the league's leading goalscorer. "After the World Cup, Pachuca said there was an English club who were interested in me," Valencia says. "They did not want to tell me the name of the team. I don't know why they didn't want to tell. That's what directors are like. They're always watching something. They had to reveal it eventually and here I am at a marvellous club."
Before joining Pachuca he had won the league title at Emelec, one of the leading Ecuadorean clubs, based in the city of Guayaquil. He had waited a long time for his opportunity there, having originally been spotted playing near his hometown in the Esmeraldas province.
"The truth is that it never even occurred to me that I would be a professional footballer, never," Valencia says. "I am from a small town. I always just liked playing. Then one day a director from a club in the east of the country came to my town and saw me play. I was 15. He said he wanted to sign me for Caribe Junior, in Lago Agrio – the town that Antonio Valencia is from – and I spoke with my parents and I decided that yes, I would go. I had a year in the Oriente, and from there I went to Emelec."
Was it a risk, placing so much importance on his football career? "Yes, but one I had to take. It cost a lot. I cried every day I was there. My first two months were so hard. I missed my family so much. But all the effort at the end was worth it."
He eventually flourished at Emelec under Jorge Sampaoli, the manager of Chile, and after three runners-up medals won the league title in his last season there. Emelec, who play in blue, were originally the works team of Ecuador's national electricity company, and they have two of the best nicknames in football. They are known as El Ballet Azul, "the blue ballet", for their playing style, or, for rather more obvious reasons, El Bombillo, "the lightbulb".
Valencia's roots, however, lie nine hours' drive to the north of Guayaquil in Esmeraldas, where he grew up and returns to when his job allows. "In Ecuador, it is very famous. It has beaches that are very touristy. The majority of players in the Ecuador team are from Esmeraldas. It is the football zone. The big teams are in Guayaquil and Quito but the players come from Esmeraldas.
"Almost all of the national team now, and it has been the same thing throughout history. There are a lot of players from Valle del Chota [an area that lies partly within Esmeraldas]: Agustin Delgado, Ulises de la Cruz, Edison Mendez. It has always been the same. The majority come from Esmeraldas. I don't know why. It is a good profession for people in a poor province, so football helps a lot.
"As a kid, there were competitions between parroquias – little villages – a championship between all of them. I did not play against other famous players in those competitions, but I was very small. The only people who knew me were my family."
West Ham - the latest match in pictures

Show all 113
He is conscious of the fact that everyone loves a classic South American football rags-to-riches story but wants to point out that he had a happy childhood. "My family run a farm, with animals and pigs. There was fruit as well, bananas, everything. The people in my town they are used to this life, to living like this, and they live well. My family are still on the farm and they do not want to leave. My mother came with me to Guayaquil but the remainder don't want to leave.
"There is always a lot to do on the farm. But the days went quickly. For me, they went very fast. I went to the farm with my dad and then from four o'clock in the afternoon I went to play. Going back there is very important. I support them in any way I can. At Christmas and in the religious holidays, there is a tradition in Ecuador of giving out games and sweets to the kids. In my parish, this year will be my third when I have given them out to people to help."
Behind him on West Ham's indoor pitch, the players are browsing through the clothes and shoes on offer that Harvey Nichols have brought to the training ground – truly, these days the mountain comes to Mohamed so far as the modern footballer is concerned. It is a world away from most people's working day, not least a young man, one of six siblings, from a farm in northern Ecuador.
Yet, if there is one thing to which Valencia has become accustomed it is change, even if the last 10 months have been remarkable. "From the start it has been crazy. So many important things have happened: winning the title in Ecuador with Emelec, going to Mexico, where they play a very different football to us, and then the Premier League, the most important league in the world. I think things are going well. There are always things to improve, but it has been good."
As I walk back with the photographer to the car, parked a street away, Valencia passes, pulls over and asks if we need a lift. You get the feeling that he will be just fine.
West Ham United half-season tickets are on sale now. Visit whufc.com or call the ticket office on 0871 529 1966.
Register for free to continue reading
Registration is a free and easy way to support our truly independent journalism
By registering, you will also enjoy limited access to Premium articles, exclusive newsletters, commenting, and virtual events with our leading journalists
Already have an account? sign in
Register for free to continue reading
Registration is a free and easy way to support our truly independent journalism
By registering, you will also enjoy limited access to Premium articles, exclusive newsletters, commenting, and virtual events with our leading journalists
Already have an account? sign in
Join our new commenting forum
Join thought-provoking conversations, follow other Independent readers and see their replies