Chelsea doctor Eva Carneiro axed from matches in aftermath of Jose Mourinho criticism
First-team doctor has been handed an effective demotion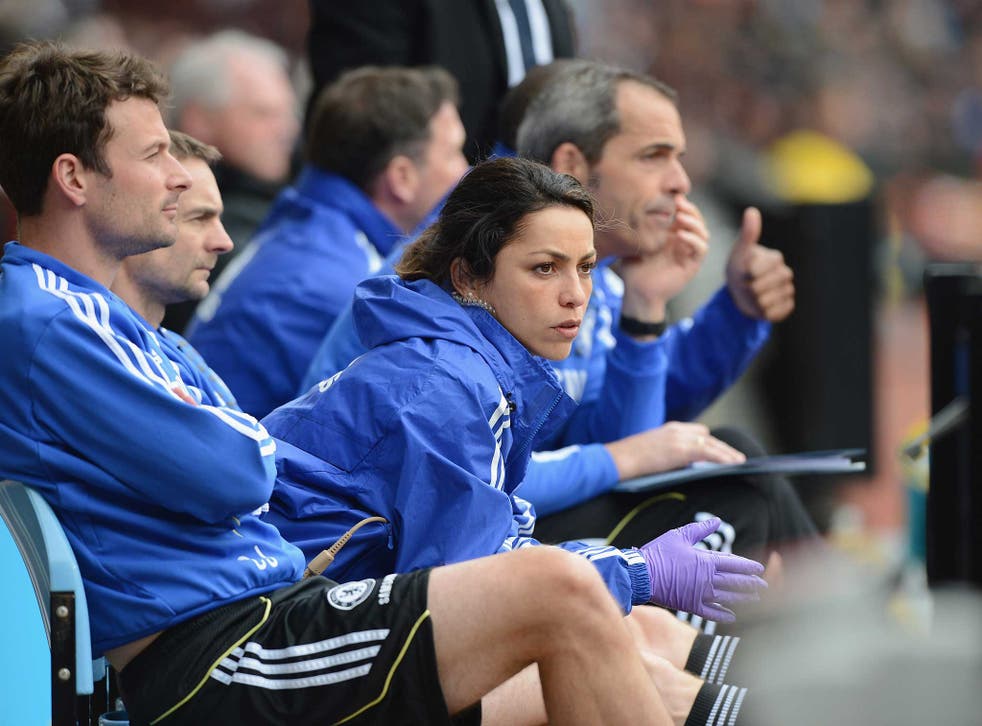 Eva Carneiro, the highest-profile woman doctor in the Premier League, could be on her way out of Chelsea after Jose Mourinho radically downgraded her duties, including her removal from the bench on matchday, just three days after his trenchant criticism of her and head physiotherapist Jon Fearn.
Carneiro, 41, of Spanish and British parentage, will continue to be the first team doctor but now will only work from the club's Cobham training base. She will not travel with the team to games, home or away, nor will she attend training sessions outside on the first team pitch at Cobham.
Chelsea refused to comment on her specific situation today. A spokesman for the club said: "We don't comment on internal staffing matters." Whether Carneiro continues in her new more limited role, is debatable especially given the high regard in which she is held in her profession and the very public nature of her demotion.
The decision comes three days after Mourinho criticised his on-field medical team of Carneiro and Fearn for being overzealous in treating Eden Hazard in the closing moments of Saturday's draw with Swansea at Stamford Bridge. It is understood that there will be some minor changes to the role that Fearn plays in his position as head physiotherapist, and it is not clear whether he will continue as one of the on-field team. He was the first of the two medical staff who ran onto the pitch to treat Hazard on Saturday, provoking a furious reaction from Mourinho.
The decision on Carneiro asks serious questions of just how Mourinho reacted to her subsequent response to his public criticism of her. Having been criticised by Mourinho for her and Fearn's lack of understanding of the game in ruling Hazard out the next phase of play, Carneiro posted on Facebook on Monday thanking people for having sent supportive messages over the weekend in light of the incident.
Chelsea keep a tight rein on any public statements from their backroom staff and they have previously refused any interview requests for Carneiro. Her only major public speaking engagement, at a seminar for the Swedish football federation last year, was approved by the club first.
The club's medical director Paco Biosca will continue to run the Chelsea medical department. He joined from Shakhtar Donestk in 2011 and has oversight over the whole department. Carneiro's role was to monitor treatment of injuries and administer medicines. The club were not able to say who will be their pitchside doctor when the team play Manchester City on Sunday.
The changes are equally surprising given that they come just days after Mourinho praised his medical department's work on Friday when he was discussing Diego Costa's ongoing injury problems. Then Mourinho said: "There is nobody to blame [for Costa's problems] and that is very important. I can't blame the player, because the player works hard and the medical department, I completely trust in them."
On Saturday Mourinho was angry that Fearn and Carneiro's entry onto the pitch had ruled Hazard out the subsequent phase of play when the number of Chelsea players had already been reduced. Following the game, Mourinho said that his staff had to be sure that players who went down "had a serious problem" before they treated them and necessitated the player's removal from the pitch until permitted to come back on by the referee.
Mourinho said then: "I wasn't happy with my medical staff because even if you are a medical doctor or secretary on the bench, you have to understand the game."
Carneiro, appointed by Andre-Villas-Boas to first team duties in 2011, has never given an interview to a British newspaper since joining Chelsea. On Monday she posted on Facebook: "I would like to thank the general public for their overwhelming support. Really very much appreciated."
Register for free to continue reading
Registration is a free and easy way to support our truly independent journalism
By registering, you will also enjoy limited access to Premium articles, exclusive newsletters, commenting, and virtual events with our leading journalists
Already have an account? sign in
Register for free to continue reading
Registration is a free and easy way to support our truly independent journalism
By registering, you will also enjoy limited access to Premium articles, exclusive newsletters, commenting, and virtual events with our leading journalists
Already have an account? sign in
Join our new commenting forum
Join thought-provoking conversations, follow other Independent readers and see their replies