Eva Carneiro: Chelsea doctor planning legal action against the Blues after Jose Mourinho froze her out of first-team duties
Carneiro and physio Jon Fearn have not appeared on the Chelsea bench since opening day row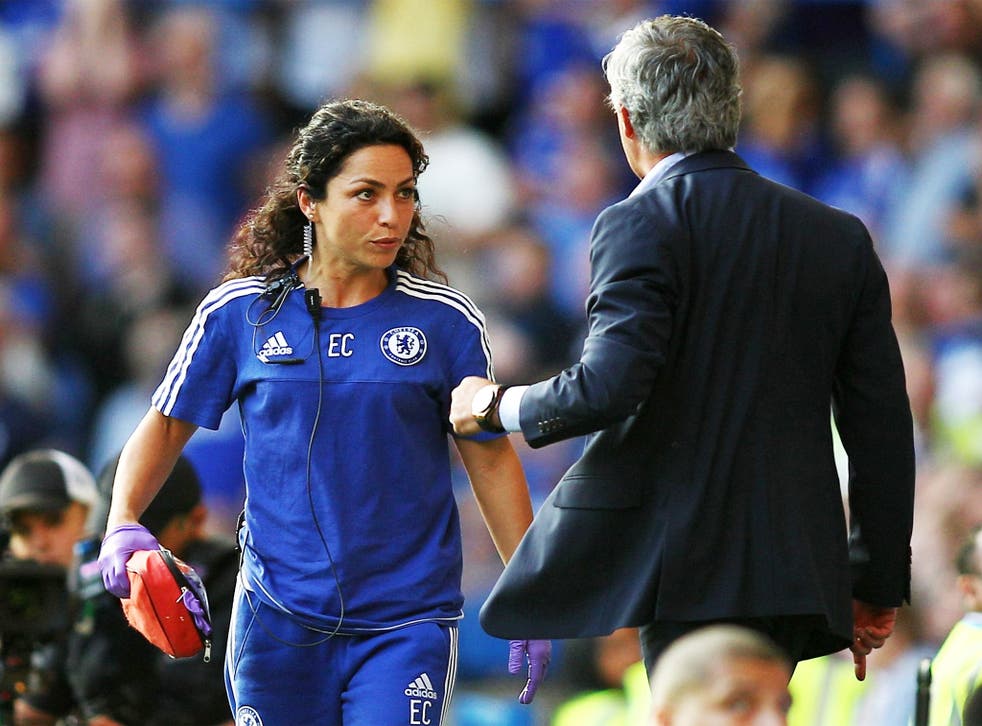 Chelsea's suspended club doctor, Eva Carneiro, is preparing legal action against the club. The 41-year-old has not worked for the Premier League champions since coming on the pitch – against the wishes of manager, Jose Mourinho – to treat Eden Hazard on the opening day of the season.
Mourinho, who did not think Hazard seriously injured enough to be taken off, has not permitted her to attend the club's training centre at Cobham or the team hotel.
Carneiro and the club physio, Jon Fearn, who has also been suspended since the 2-2 draw with Swansea, are anxious to return to their place on the Chelsea bench. It is a place Carneiro has occupied since Andre Villas-Boas appointed her head doctor four years ago. The case is due to be reviewed by Fifa's medical committee on Friday.
If no offer of reinstatement from the club is forthcoming, she is likely to issue legal proceedings against the club and it is understood sexism could form a key part of her case. She alleges that Mourinho referred to her as "a secretary" in his post-match comments.
Mourinho, who had seen goalkeeper, Thibaut Courtois, dismissed earlier in the match, alleged that Carneiro and Fearn should have realised that bringing Hazard off would have reduced his team to eight outfield players.
He said: "Even if you are a kit man, a doctor or a secretary on the bench, you have to understand the game. I was sure he hadn't a serious problem. He was very tired but my medical department, on an impulse, was naïve and left me with eight outfield players on a counter-attack."
To Mary O'Rourke, a QC and one of the country's leading legal authorities on sports injuries, Mourinho's remarks could only be regarded as sexist. She represented the Harlequins club doctor, Wendy Chapman, in the Bloodgate scandal and pointed out that while the club coach, Dean Richards, is now back in rugby, Chapman has not worked in the sport since. She is very anxious the same does not happen to Carneiro.
Speaking at Manchester's Soccerex Convention, she said: "Ninety-five per cent of secretaries are women. Everyone listening to that would have taken it as a comment that women don't know anything about football. If you put that statement out to 100 people, 99 of them would interpret it the same way."
O'Rourke, who has studied the Carneiro case in depth, believes the doctor would not want a formal apology from Mourinho as part of any settlement. An offer of reinstatement would be enough. One of O'Rourke's achievements in a previous case was to establish the principle that once a player is injured he ceases to be an employee of the club and becomes a patient, which will be a cornerstone of any legal case Carneiro brings against Chelsea.
"I think you will find Fifa saying that on Friday," she said. "The medical team did nothing wrong because their duty was to the player as their patient. Their job in the club is to look after the players, not to run the team and be tactically aware.
"As soon as Eden Hazard waves he wants medical assistance, he turns himself from being a player to being a patient. As far as the referee (Michael Oliver) is concerned, he is not medically qualified so he has to trust the player and get medical advice to discharge his duty to the player.
"The courts of appeal have confirmed that the medical team owe a duty to the player to look after him as a patient. If you have a manager barring them from coming on, you are preventing them doing the duty they are obliged to do.
"The manager in the heat of the moment has not thought it through. Much as one understands the passion of the manager, you have to prioritise the player because, apart from anything else, if a player sues (for negligence), he does not sue the manager. He sues the doctor, the physio or the club itself."
O'Rourke said that one of the disappointments of the case had been the lack of intervention by the FA. "What is the point in getting the best-trained doctors and physios on the bench as they have done, setting up St George's Park and then not allowing them to do their job?" she said. "The FA may be spurred into action to say something now if Fifa comes out against it. The head medical officer at Fifa has already given his view – and done so quite strongly."
Having been involved in the case where the West Bromwich Albion footballer, Michael Appleton, successfully sued his surgeon, O'Rourke argued the greatest problem was that football clubs regard their players as their property rather than employees. "In the court of appeal, West Brom likened Michael Appleton to a racehorse they owned," she said. "The court did not like that one bit."
Join our new commenting forum
Join thought-provoking conversations, follow other Independent readers and see their replies