Everton ban The Sun after Kelvin MacKenzie's 'racist' comments on Ross Barkley
MacKenzie, the newspaper's editor between 1981 and 1994, compared Barkley, who is of Nigerian descent, to a 'gorilla' in a column on Friday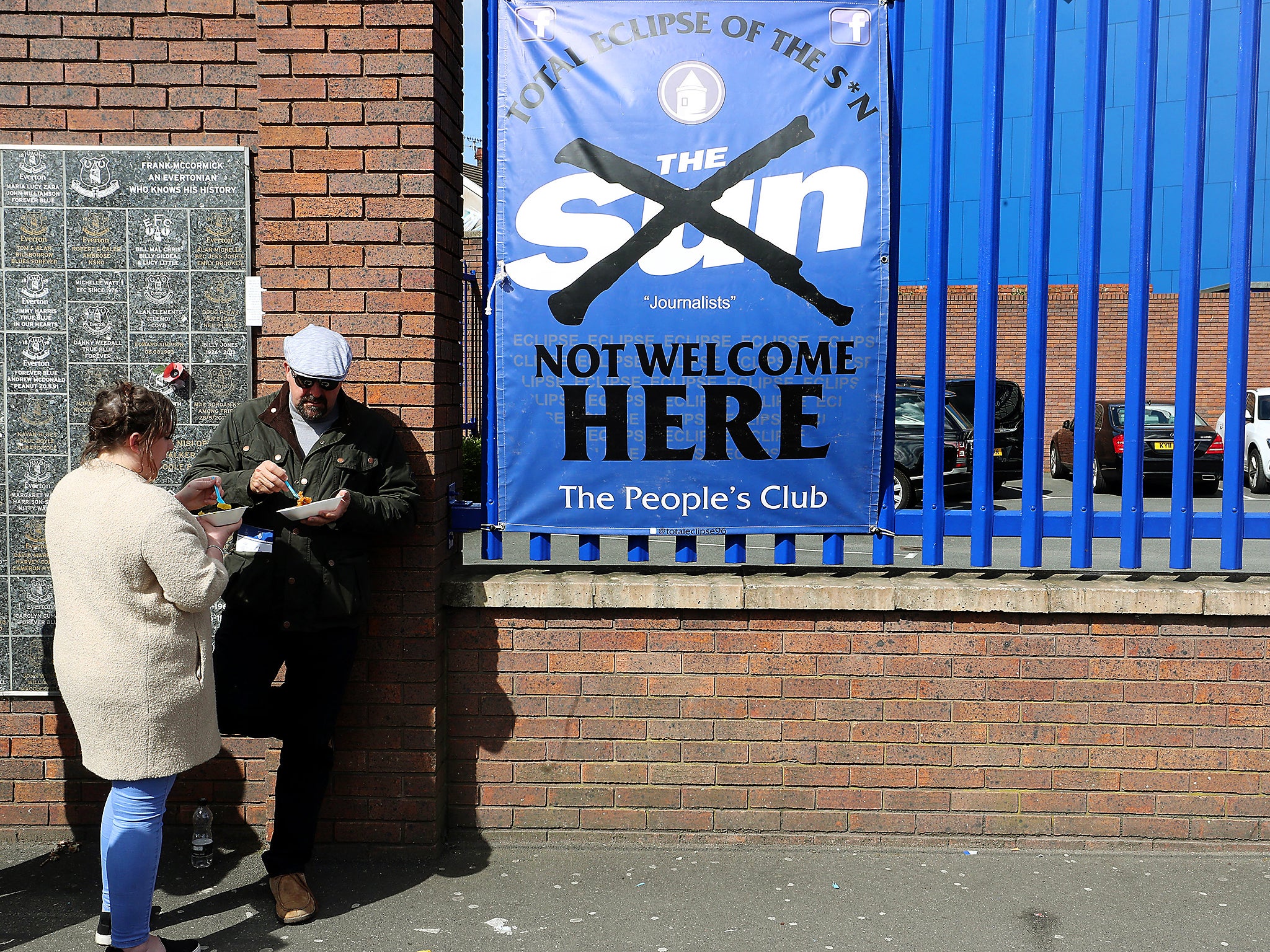 Everton have banned reporters from The Sun from attending the club's matches and their training ground following columnist Kelvin MacKenzie's comments regarding midfielder Ross Barkley.
On Friday, MacKenzie compared Barkley, who is of Nigerian descent, to a 'gorilla' after the youngster was attacked in a Liverpool nightclub earlier this week.
Mackenzie, the newspaper's editor between 1981 and 1994, made several other disparaging comments against Barkley and the city of Liverpool in his weekly Sun column. He has since been suspended by the newspaper, who apologised for causing offence and claimed to be "unaware of Barkley's heritage".
Hillsborough disaster: in pictures
Show all 20
In a statement released on Saturday, Everton announced that The Sun would no longer be permitted to report from "all areas of the club's operation", though they chose not to reference MacKenzie by name.
"Yesterday Everton Football Club informed The Sun newspaper it was banned from Goodison Park, the USM Finch Farm training ground and all areas of the club's operation," the statement read.
"Whilst we will not dignify any journalist with a response to appalling and indefensible allegations, the newspaper has to know that any attack on this city, either against a much respected community or individual, is not acceptable."
In the column, MacKenzie claimed Barkley's eyes make him "certain not only are the lights not on, there is definitely nobody at home," then added: "I get a similar feeling when seeing a gorilla at the zoo."
MacKenzie continued: "The reality is that at £60,000 a week and being both thick and single, [Barkley] is an attractive catch in the Liverpool area, where the only men with similar pay packets are drug dealers and therefore not at nightclubs, as they are often guests of Her Majesty."
Merseyside Police opened an investigation into MacKenzie's comments on Friday after receiving a complaint from a member of the public. Joe Anderson, the mayor of Liverpool, also reported MacKenzie to the police for a "racist slur" against Barkley.
Barkley has a Nigerian grandfather and was eligible to represent the country in international football, but opted to play for his nation of birth. The 23-year-old has made 22 appearances for England to date and was named in Roy Hodgson's squads for the 2014 World Cup and 2016 European Championships.
Earlier this year, Everton's cross-city rivals Liverpool banned The Sun from reporting on matches at Anfield and attending the club's training ground due to its coverage of the Hillsborough disaster.
Four days after the tragedy, in which 96 people were unlawfully killed, MacKenzie's Sun claimed that Liverpool supporters "picked pockets of victims" and "urinated on brave cops".
The announcement of Everton's decision to ban The Sun coincides with the 28th anniversary of the disaster, which occurred during an FA Cup semi-final against Nottingham Forest on 15 April 1989.
Join our commenting forum
Join thought-provoking conversations, follow other Independent readers and see their replies