Everton vs Crystal Palace: Five things we learned as Richarlison shines and Jordan Pickford wavers
Everton 3-1 Crystal Palace: Brazilian duo Bernard and Richarlison took the game away from the visitors who remain in dire straits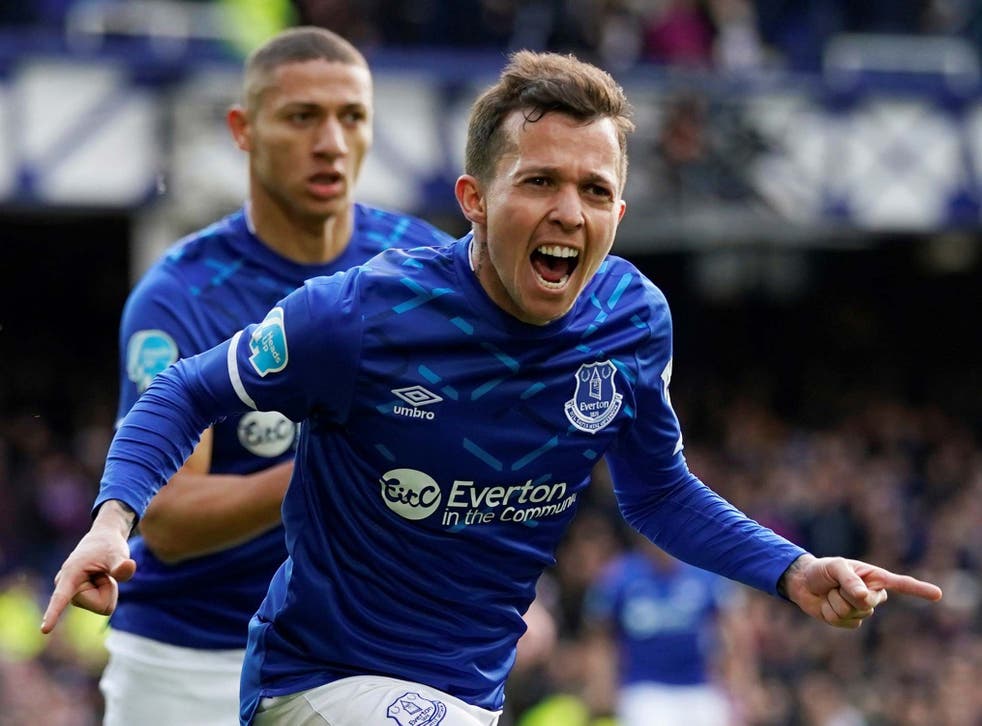 England's No 1?
As Christian Benteke unleashed a shot from the right side of the box, expectations were low. It's not just that it was Benteke; his angle was quickly narrowing, a defender was homing in and Jordan Pickford was well positioned to cover his near post. Yet Benteke's shot found an imperceptible gap beneath Pickford's body, rushing through his fingertips and into the net to pull a Crystal Palace equaliser from nothing. Whichever angle you viewed it from, Pickford's attempt at a save made for ugly viewing.
That made it 1-1, yet about 10 minutes later Everton were ahead again, and Benteke was in on goal again. This time expectations were much higher: this was the Belgian's bread and butter, a header from close range which just needed angling home. Yet somehow as Pickford threw himself into the air he managed to cover off all routes to goal, making the impossible save with some rogue part of his left side.
These few moments neatly encapsulated Pickford's season as a sometimes woeful and sometimes wonderful goalkeeper. The question that Gareth Southgate, watching on in the stands at Goodison Park, must figure out is whether someone this inconsistent can be relied upon in a major tournament this summer. The lack of an outstanding competitor still plays in his favour, but with goalkeepers like Burnley's Nick Pope and Sheffield United's Dean Henderson quietly impressing, Pickford cannot afford to keep making avoidable mistakes.
Bernard adds end product to endeavour
Bernard has enjoyed a more prominent role in the team since Carlo Ancelotti's appointment, winning the battle with Alex Iwobi for a spot on the left side of midfield. For the most part that has been down to his work rate. In a free 4-4-2 formation, Carlo Ancelotti's wingers have plenty of running to get through and in Bernard he has a willing worker, someone who can scurry back into position to protect his full-back seconds after joining in an attack. And while Bernard offered plenty of endeavour against Palace, he also served up a reminder of what he can offer in the box, with a brilliantly guided volley to open the scoring. It was only his third goal of the season, but if he can begin to add to that tally under Ancelotti's tutelage then he can become much more to Everton.
Ratings: Everton vs Palace

Show all 24
A snip at £85m?
OK, perhaps £85m was a little wild, if the rumoured Barcelona bid really was that high. But Richarlison showed exactly why the Nou Camp club would be interested in him here, scoring a well-taken goal at the end of a winding run which ultimately settled the match. This has been a productive year for the Brazilian who now has 11 goals to go with his four assists, and playing off Dominic Calvert-Lewin he looks to be really enjoying some freedom to go and play. At 22, he is only going to get better, and it is on days like this when that price tag doesn't seem quite so ludicrous.
Hodgson's reign at threat
Is time nearly up for Roy Hodgson? Crystal Palace are on a dreadful run without a win in their past seven, and after such a strong start to the campaign, relegation has gradually become a real fear. Hodgson has certainly got some credit in the bank for what he has achieved at Selhurst Park with limited resources, and Palace fans only need to look at the appointment of a manager like Frank de Boer to see how pear-shaped things can turn under a new direction. Yet right now it is hard to see how and when they get out of this rut.
Sock up
Djibril Sidibe was about to come on for the injured Theo Walcott when, on reaching down to pull up his socks, discovered he was only wearing one. The French full-back looked a little sheepish as he dashed back down the tunnel and into the dressing room for his missing garment, doing his bit for the perception of the average footballer's IQ.
Register for free to continue reading
Registration is a free and easy way to support our truly independent journalism
By registering, you will also enjoy limited access to Premium articles, exclusive newsletters, commenting, and virtual events with our leading journalists
Already have an account? sign in
Register for free to continue reading
Registration is a free and easy way to support our truly independent journalism
By registering, you will also enjoy limited access to Premium articles, exclusive newsletters, commenting, and virtual events with our leading journalists
Already have an account? sign in
Join our new commenting forum
Join thought-provoking conversations, follow other Independent readers and see their replies