Everton vs Aston Villa: Rémi Garde sees Villa's survival fight going down to last game
Villa's game plan had clearly been to defend deep and hope to strike on the break but it took Everton only 17 minutes of patient possession to find a way through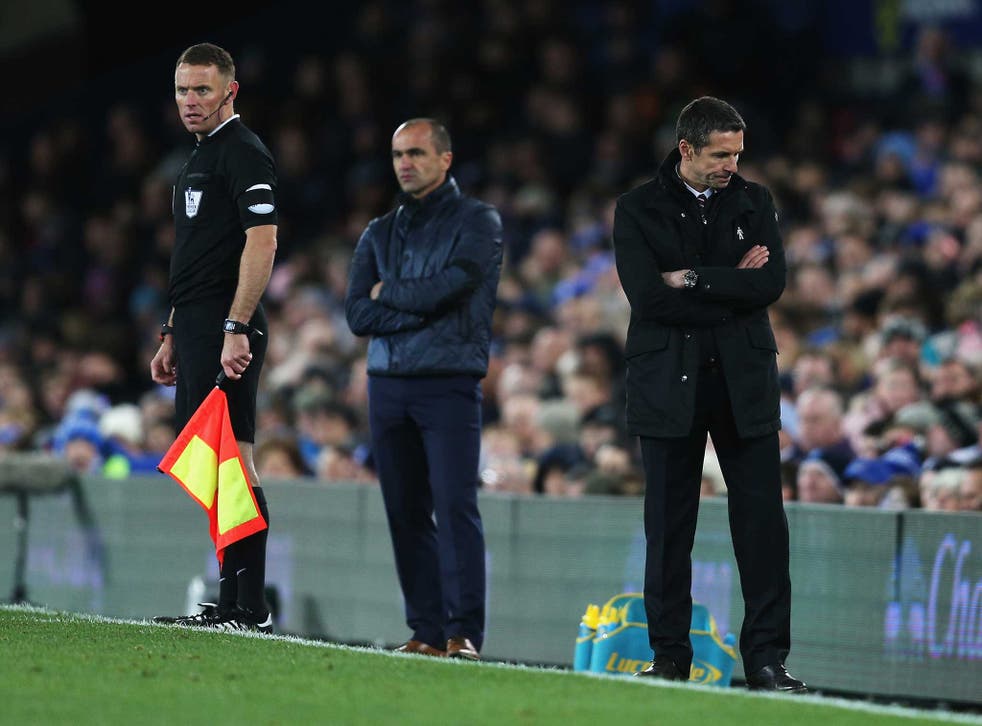 After the optimism stirred by a clean sheet against Manchester City in his first game in charge, it has taken only one more match for reality to reassert itself in Rémi Garde's assessment of Aston Villa's survival prospects.
With the season barely a third of the way through and Villa bottom of the Premier League table, five points from safety after just one win in 13 fixtures, Garde can only see a long fight ahead, probably running until the last day of the season.
They barely competed with a confident Everton and Garde did not apply even a hint of sugar-coating to a woeful performance which resulted in a 4-0 defeat.
"We got a good point against Manchester City, but we knew it would change nothing," Garde said. "Nothing will change until the last day we have to play a game in May, because probably the last game on the last day will be crucial for Aston Villa, and for other sides too.
"It's a long way, and maybe some days will be good, and some will be bad – it's a very bad day today. The confidence is not very high, but it hasn't been. We knew that.
"I have to find different words, I have to instil more confidence by offering a different approach, because the previous one didn't give points."
Villa's game plan had clearly been to defend deep and hope to strike on the break but it took Everton only 17 minutes of patient possession to find a way through and, as Garde admitted, Villa's confidence was "too fragile" to withstand the home side's assured, incisive football, in which Ross Barkley and Gerard Deulofeu stood out even among several impressive individuals.
Barkley's energy enabled him twice to apply the finishing touch to moves to which he had already contributed and all four goals owed something to Deulofeu's dynamism, vision and speed of execution. Romelu Lukaku scored the other two.
Roberto Martinez, the Everton manager who has seen his side score 10 goals from open play in their last two home matches, believes Barkley and Deulofeu, both 21, are reaping the benefits of accepting responsibility for their own performances.
"The big turning point for Ross was last season," Martinez said. "He wanted to take responsibility of not getting a good level of performances whether that was because of the Europa League, or the demands we had that season.
"And with Gerard we are seeing a different player from the one we had two years ago. He was a young man with incredible potential and now he is a complete performer.
"Sometimes a player can blame every manager, every team-mate or every fan but it is down to you and how consistent you can be in your work. Gerard this season has been pristine in everything he is doing. On the pitch you see the results."
Register for free to continue reading
Registration is a free and easy way to support our truly independent journalism
By registering, you will also enjoy limited access to Premium articles, exclusive newsletters, commenting, and virtual events with our leading journalists
Already have an account? sign in
Register for free to continue reading
Registration is a free and easy way to support our truly independent journalism
By registering, you will also enjoy limited access to Premium articles, exclusive newsletters, commenting, and virtual events with our leading journalists
Already have an account? sign in
Join our new commenting forum
Join thought-provoking conversations, follow other Independent readers and see their replies