Exclusive interview: Jan Vertonghen spurred on by Tottenham's fight for fourth
After a fascinating journey Spurs' new defender is loving life at the Lane, having settled quickly into the team... and he sees no reason why they can't make a push for a European spot
Sam Wallace
Saturday 15 December 2012 01:00 Comments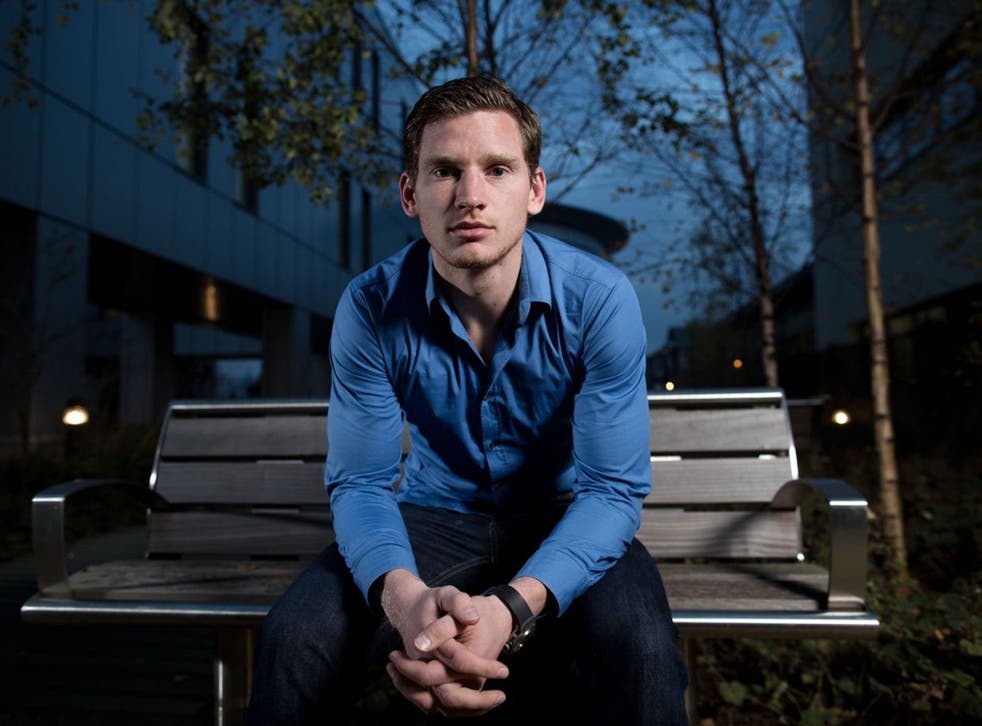 When it came to selecting the Tottenham players who would hand out Christmas presents to children in the North Middlesex Hospital's Rainbow ward, Jan Vertonghen was the ideal candidate. If only because the Belgium international was born in the East Flanders town of Sint-Niklaas, which for many years claimed to be home to the biggest Christmas tree in Europe.
Vertonghen, 25, is a small-town boy at heart. He was quite happy living in the village of Tielrode playing football with his brothers Ward and Lode until his talent marked him out as a footballer who deserved a greater stage. First he went to Beerschot, the Antwerp club that nurtured Thomas Vermaelen, and then, at the age of 16, to the fabled Ajax academy in Amsterdam.
Last season, he was voted the footballer of the year in the Netherlands, some achievement when you look at the past winners – Ruud Gullit, Marco Van Basten, Dennis Bergkamp and Luis Suarez among them – and was signed by Tottenham for £10m. He has come a long way since he was the boy who reluctantly left Tielrode to move to Antwerp, 16 miles away, all those years ago.
Some things have not changed. When Vertonghen arrived at Beerschot he made friends with a kid from Antwerp with remarkable natural ability. Thirteen years on, that same boy, once again a team-mate, was alongside Vertonghen in the hospital ward this week. Mousa Dembélé was, Vertonghen says, always going to be a star. Even when he was 11 years old, Dembélé played a year above his age group. For Vertonghen it did not come as easily.
"Mousa and I have always stayed in contact and we play together in the national team as well," Vertonghen says. "I had read in the papers he was moving to a bigger club. I spoke to him about Tottenham. Two or three weeks before the end of the transfer window I called him and said: 'What are you doing? You are still at Fulham! When are you going to move?' He said, 'I'm talking with Tottenham' and next day he was there."
The pair of them are part of the Spurs side under Andre Villas-Boas which in many respects looks very different from the team that developed under Harry Redknapp. Injuries have limited Dembélé's involvement so far but Vertonghen is already a regular, albeit in his less-favoured left-back position, a necessity following the injury to Benoît Assou-Ekotto.
Ask Vertonghen if Tottenham, who play Swansea City at home tomorrow, can finish fourth this season again, under Villas-Boas and he is blunt. "Yeah, we can. Still we need to do a lot of work but we can get fourth." This, however, was a player with a lot of interested suitors in the summer, so why Spurs?
"They showed me they really wanted me. They invited me, they said to me, 'You are going to play in your favourite position!" He pauses for effect, because he is not playing in his favourite position, centre-back. "I'm joking! They played the same attacking football that I played at Ajax and I think there is a big future at the club. I'm convinced of that so I'm happy with my decisions. I think we can do things."
He readily compares Villas-Boas with his former manager at Ajax, Frank de Boer. "He [Villas-Boas] loves attacking football. I think we have the ability to do that. I like him as a man, I think he's a very good man and he is good for the players. He shows the same ambition. He talks with me. I think he is a good manager. We have a normal relationship.
"We play four attacking players at the moment so it is very difficult for the holding midfielders. When everybody plays the way they want to play and everybody works for the team we can be, well, put it this way, when the opposition see our team sheet they will be thinking 'Oh no'. That's what we want to achieve."
All three Vertonghen boys have played football to a decent level with younger brother Lode a regular at Sportkring Sint-Niklaas, a second-tier Belgium side. Their father, Paul, who worked in a bank, and mother, Ria, insisted that Jan finish school as well as continue his football education. That was completed at Ajax's famous academy De Toekomst – "The Future" – one of football's most prolific talent factories.
"At first it was a completely new world to leave everything behind at 16 and move in with a family for three years in Amsterdam and go to school in the city," Vertonghen says. "The people who looked after me were nice and I went to a school in the 'ghetto' neighbourhood, Bijlmer. It was the school nearest to De Toekomst.
"In the end the OSB [Open Schoolgemeenschap Bijlmer] was the best school of my life, the best school ever. I learnt a lot of things. How to be social with people. How to talk. How to defend myself, not physically, but with words. I was always a shy little guy and I think it helped me grow up as a person. People in Holland are famous for having big mouths! So in Holland you've got to have a big mouth to defend yourself."
He was picked out by Johan Cruyff, the club's most influential figure, as a player to watch and eventually made his senior Ajax debut at the age of 19. It took him a while to establish himself, including a loan at Waalwijk, but he ended up playing under the likes of Marco van Basten, Martin Jol and De Boer, winning two Eredivisie medals along the way. The first, in 2011, was the club's first in seven years.
Yet when he looks back now, it is a surprise that so few of those extravagantly gifted young players with whom he lived and trained made the grade. Yet here is Vertonghen, the current Dutch player of the year, an international in the exciting young Belgium team and a regular at one of the top Premier League teams.
"From my age group at Ajax, it is strange. In the year above me were seven or eight players, who have made it in the Eredivisie and others at Ajax like Kenneth Vermeer, Ryan Babel. Then it was me. Nobody else. Our team wasn't the best but then I wasn't the best player in my team. Not at all. I was never the best player in the teams I played for. I always needed time for development. When I played with Mousa as a kid he was the top. He always played one year higher up."
Vertonghen is also famous in the Netherlands as the man who dropped the Eredivisie trophy not once but twice during end-of-season celebrations. The trophy is described as a shield – it's basically a silver platter – and Vertonghen readily admits it is a remarkable coincidence he has been so clumsy with it twice.
"First time I was on top of the bus with [former Ajax goalkeeper] Maarten Stekelenburg. It wasn't an open-top bus because you have a lot of tram cables in Amsterdam. I was so happy and I was looking behind me and I didn't see the cable. A policeman down below shouted 'Hey, watch out!' We turned around. We touched the cable and with the speed of the bus we had to drop the trophy. I just have a little scar on my wrist from the incident. You can watch it all on YouTube.
"The second time I came out the bath, and was told 'You have to do an interview'. I was thinking 'Let me go, please' and then – f***! – all of a sudden I dropped it on my toe. The shield is still broken but they don't want to fix it because they think it's a nice story. It's in a room now at Ajax and you can see it with the broken piece."
As a member of Belgium's golden generation it is a natural question to ask how the hell a country of 11 million people with a hitherto modest reputation in football has produced so many good players. Having interviewed, Christian Benteke and Eden Hazard in recent weeks, I point out that every Belgian prodigy, Vertonghen included, seems to have taken a different developmental route.
"Why are there so many good players? I think because we are a little bit lucky," he says. "Yes, seriously. After this generation in the last two or three years no one has come through. The last one was Hazard and he has already been there for two or three years. Benteke is getting stronger and stronger. I think we just got lucky. Guys like Vincent Kompany, Vermaelen and Marouane Fellaini did so well, everybody felt, 'I want to be there too. The Premier League, amazing, we have to go.'"
"We have to qualify for the World Cup first but confidence is there to do well. We are getting stronger and stronger. The formation used to be changed every game and now there are seven or eight players who always play. Everyone feels we can do something. But because we haven't qualified for five tournaments, the first thing is, 'Please, qualify'. After we see what we can do."
He is off that evening to meet up with Dembélé and friends for dinner. "I love London. It's an amazing city and Mousa shows me where to eat. He knows everything about the place."
Jan Vertonghen was speaking at one of the club's annual Christmas visits to a children's ward at North Middlesex Hospital. Gifts for the children are paid for by money from the players' fines pot and delivered by the players themselves at four local hospitals.
My Other Life
I used to go to a pub quiz every week in Amsterdam. Just to have some food with friends and do a quiz. I love to do it because I can't really go out. It's my version of going out. I don't go to drink beer. My best subject is sport but I think I also know something about the world. I haven't found a pub in England which does a good quiz yet. At the moment, I think the questions might be too English-based for me.
Register for free to continue reading
Registration is a free and easy way to support our truly independent journalism
By registering, you will also enjoy limited access to Premium articles, exclusive newsletters, commenting, and virtual events with our leading journalists
Already have an account? sign in
Join our new commenting forum
Join thought-provoking conversations, follow other Independent readers and see their replies