Exclusive: Manchester City bid to gatecrash world elite using Manchester United blueprint
Champions seek partner clubs in China, US and Mexico as they mount drive to become global brand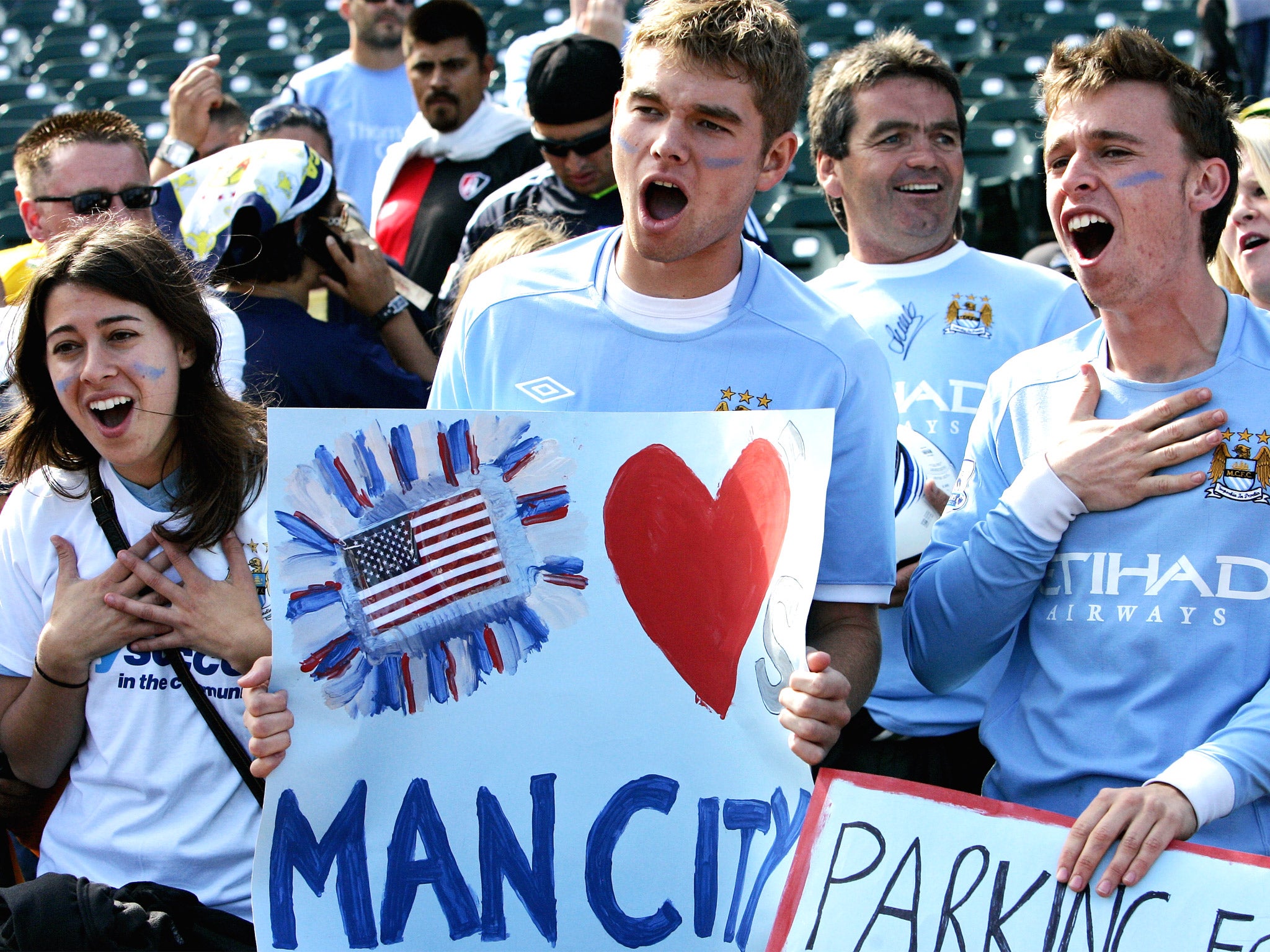 Manchester City are exploring the establishment of partner clubs on three continents as part of the commercial revolution needed to smash into football's world elite.
The Independent understands that the champions have been investigating partnering with clubs in China, Mexico, the United States and elsewhere in Asia, as a way of developing the City brand. The partnerships would replicate a strategy Manchester United employed but later dropped, 15 years ago, and reveal how City are attempting to follow the Old Trafford club's commercial development, which has seen them rise to become one of the two biggest brands in world football, alongside Real Madrid.
City need a vast increase in revenues to compete because Financial Fair Play rules are about to curtail their ability to run up major losses. But the potential to increase their revenues in the UK is limited by the fact that their fanbase, still dwarfed by United, Arsenal and Liverpool, does not make it feasible to expand their stadium to increase matchday revenues – despite the club having the space to do so.
City rejected suggestions by the Bloomberg agency, in December, that they may be looking at buying a Major League Soccer franchise to boost their following in the US – where City are planning a one-week post-season tour in May to build awareness. But chief executive Ferran Soriano declared in the club's annual report in December that "new, creative ideas and business models" would be required to undertake an "historic transformation" of the club and there is a feeling that North America may be the location for the most ambitious City partnership.
Commercial partnerships can take a number of forms, including the Udinese model operated by the Italian club's owner Giampaolo Pozzo and his family. The Pozzos also own Watford and Granada and have made millions by recruiting players from a multitude of countries and selling the best of them, such as Alexis Sanchez to Barcelona, for a huge profit.
Soriano, who was hired on the back of his track record in helping make Barcelona a world power between 2005 and 2008, appointed former Derby chief executive Tom Glick as chief commercial and operating officer to drive up City's commercial revenues and the club are hiring heavily as they seek to amass expertise to exploit the club's brand.
The overhaul has included the introduction of a system whereby City's non-playing staff are technically employed – and paid – by a different company to the playing staff, a legal device that is common in football. Analysts estimate that removes only £5m-£7m from the core City wage bill, which was a combined £178m last year. But with the club seeking to drive down their losses, which were £97.8m in the year to May 2012, and Uefa's FFP regime allowing only €45m (£39m) losses across three years to 2013, this is considered a prudent move. United have eight companies for accounting purposes.
The expertise City are seeking to amass includes financial fair play specialists. Alex Byars and Martyn Hawkins have joined from the Deloitte sports business which helped Uefa set up the FFP legislation. Both men, who were seconded by Deloitte to Uefa for 18 months, have a detailed understanding of the system.
But it is with global commerce that the big money lies. City are not currently selling out the Etihad and even though the 13 per cent rise in matchday hospitality during their historic title-winning campaign lifted revenues by £1.3m, the club need the kind of footprint which has enabled United's chief executive in waiting, Ed Woodward, and marketing director Richard Arnold, to drive major deals.
Whether partnerships are a lucrative way ahead remains to be seen. Tottenham Hotspur were one of the first clubs to try it, through Enic, an investment company registered in the Bahamas, which had stakes in Spurs, Vicenza, Basel, AEK Athens, Rangers and Slavia Prague from the late 1990s. Sources have told The Independent that Spurs found multiple ownership to be a distraction from their focus. The club eventually dropped the strategy.
United embarked on something similar in 1998, though their alliances were with outfits they saw as feeder clubs, including Royal Antwerp of Belgium, IFK Gothenburg of Sweden and FC Fortune of South Africa. Further deals were formalised with Shelbourne in the Republic of Ireland and Brommapojkarna, another Swedish club – though it is the Belgian club with whom United have retained contact.
City have not been prepared to discuss the form any partnerships will take. Soriano said in December: "Having returned to the summit of English football, the club has earned the chance to compete for a place as one of the biggest and most successful clubs globally in the years ahead."
Join our commenting forum
Join thought-provoking conversations, follow other Independent readers and see their replies