Failure to forge unique style spelt the end for Roberto Di Matteo
The Italian's departure from Stamford Bridge was a simple decision for Chelsea's demanding owner after his inability to deliver new philosophy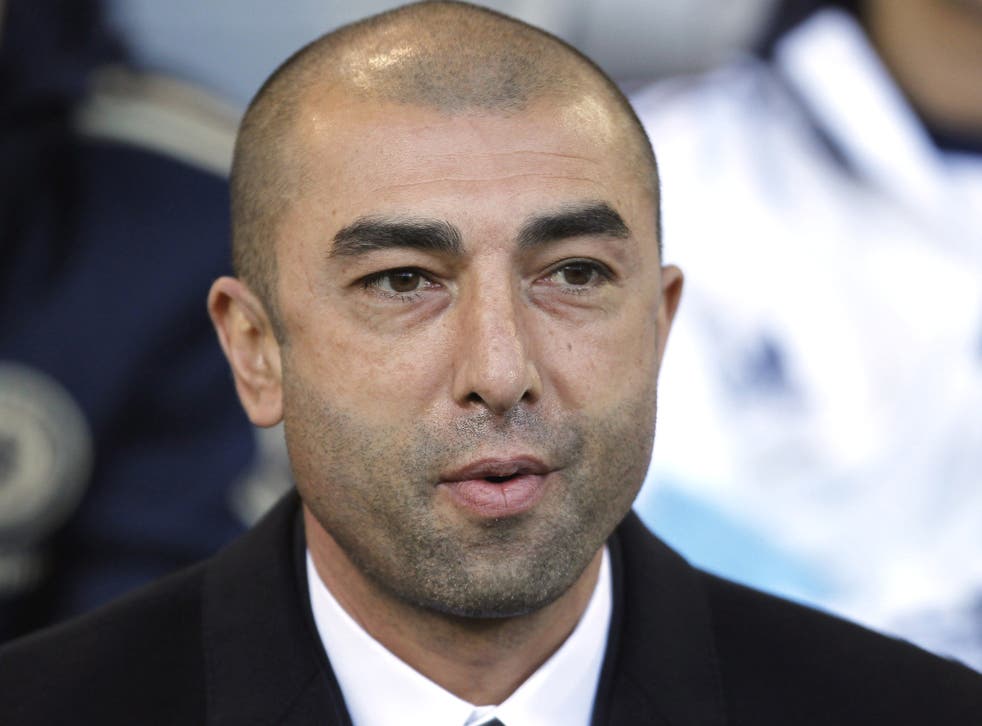 Roberto Di Matteo learned his fate this morning after a board meeting at Chelsea's training ground following the club's return to Gatwick airport from Turin in the early hours. Sacking him was, The Independent has been told, an easy decision for the club's board to make.
Not easy from a personal perspective because it meant parting company with a man who was admired within the club for his achievements last season in winning the Champions League and respected for his exploits as a player. He was liked by chairman Bruce Buck, chief executive Ron Gourlay and all those senior staff whose job it is to carry out the wishes of Roman Abramovich.
It was easy because Di Matteo was simply not delivering on the key objective set out to him in the summer – a failing he had been warned about consistently this season.
That objective was, The Independent has learned, to develop a distinctive style and vision for the club that reflected what the board considered as Chelsea's status as one of the biggest, most high-profile clubs in the world. The club wanted an ambitious, attacking team. The weak, confused capitulation to Juventus on Tuesday night was simply the final straw.
Di Matteo had never been the first choice to take the job on a permanent basis and as the season developed it became patently obvious to Roman Abramovich and his closest advisors that they had made a mistake in appointing him.
In Turin in the Champions League on Tuesday, Di Matteo's team was re-jigged to include Cesar Azpilicueta as a makeshift right winger and was never really in contention to win the game. The Chelsea board saw a side that was not set up to take the initiative or control the game in the way in which Di Matteo had been told Chelsea should play.
The objective had been laid out to Di Matteo in simple terms during the summer. He was charged with creating a team with a distinctive, confident approach. The obvious example was Barcelona but there are other coaches and teams who are admired at Stamford Bridge and regarded as a template for Chelsea.
One is Jurgen Klopp and his young Borussia Dortmund team. Roberto Martinez is well-regarded at Chelsea for his determination that Wigan Athletic play bold, attacking football whoever the opponent. Tuesday's opponents Juventus, who were also impressive when they got a 2-2 draw at Stamford Bridge in September, are held up as an example of the kind of team Chelsea should be.
Against Juventus this week, the consensus was that Chelsea were drifting, led by a manager who did not share the objectives that had been given to him by Abramovich and the board in the summer. Worryingly, for the club it was a trend that they had recognised from the earliest stages of the season.
The appointment of Rafael Benitez will be a bold step, given his unpopularity with Chelsea supporters. Those misgivings are acknowledged at the club who feel there is never likely to be a perfect solution. They believe that Benitez has a track record of producing distinctive, attacking football. He was appointed on an interim basis last night but he has been told he can make the job his own.
As much as Abramovich and others at the club admire Pep Guardiola, there was consensus that they could not wait for him while the former Barcelona coach completes his sabbatical in New York.
The original decision to appoint Di Matteo was always taken reluctantly by the club in spite of his remarkable success winning the Champions League last season. It was accepted then that Di Matteo, on the way to winning in Munich, could justify playing in such a defensive style. But this season, with new signings such as Eden Hazard and Oscar, the club wanted a major change.
The decision to sack Di Matteo was not a reaction him leaving Fernando Torres out the side to face Juventus. Rather it was the culmination of misgivings about Di Matteo's capability to deliver what was asked of him. Even as early as a 3-1 pre-season friendly defeat to Brighton on 4 August, that followed a dismal pre-season for the club, there were fears about Di Matteo's capacity to do the job.
Within the club, Di Matteo pointed to the defeat to Atletico Madrid in the Super Cup final at the end of August, and latterly to Shakhtar Donetsk in Ukraine, as examples of the pitfalls of opening up against dangerous opposition. He felt that the team should be taking smaller steps towards a transition to a more distinctive, attacking philosophy.
At the start of September, there was considerable disquiet at Chelsea's failure to win away to Queens Park Rangers when, against a side that included old boys Jose Bosingwa and Shaun Wright-Phillips, there was incredulity that Di Matteo's team did not take the initiative. After a 1-1 draw away to Swansea, the feeling was that Di Matteo should have done much to win the game.
The draw at home to Liverpool on 11 November was another source of concern at the club. After Luis Suarez equalised in the 73rd minute, there was disquiet at Di Matteo's substitutions. He brought on Victor Moses for Oscar and Daniel Sturridge for Torres. Questions were asked at a high-level why he had brought off attackers rather than sacrificing defensive numbers and leaving all his strikers on.
There was an argument for letting him push on with his approach in the hope that a more discernible attacking philosophy would develop. However, it was felt that a quick decision would serve the club best. With hindsight the club feel they should have moved quicker to sack Andre Villas-Boas last season rather than waiting until March.
There is frustration at the club that their pursuit of a recognisable style and philosophy is often presented in much simpler, reductive terms along the lines of "Roman wants to watch attacking football". They regard their vision for the club as more sophisticated than that, with an emphasis on a manager developing an identity for the team and pursuing it, whoever the opposition might be.
For his part, Di Matteo never felt that he was given due credit by those in the club's hierarchy for what he achieved last season. He felt his strength was adapting the side to play in different circumstances. By contrast, the club thought that even the good days, like the 4-2 win over Tottenham last month, was more a result of individual performances rather than evidence of a coherent style and philosophy.
Benitez will be charged with developing the Chelsea philosophy now. If he is successful then he will be encouraged to stay as long as possible. If he does not deliver the brief, then he can expect to be moved on just the same as Di Matteo.
Di Matteo's downfall: Where it went wrong
4 August 3-1 friendly defeat at Brighton. Chelsea had already shipped 10 goals in five pre-season games. Early seeds of doubt were sown.
31 August 4-2 defeat to Atletico Madrid in the Super Cup final showed up Chelsea's failings.
15 September 0-0 draw with Queen's Park Rangers brought fears Di Matteo was too conservative.
23 October Defeat away to Shakhtar Donetsk, 2-1. Again Chelsea failed to show progress.
11 November 1-1 draw with Liverpool, Di Matteo was perceived as not pushing enough for winner.
20 November 3-0 defeat to Juventus. Weak, incoherent performance convinced Chelsea to sack Di Matteo.
Bluesprint: The attack-minded clubs Abramovich wants to emulate
Borussia Dortmund
In 2007-08, the season before Jurgen Klopp arrived, Dortmund finished 13th. Two years later the club won the Bundesliga title. Nuturing young talents such as Mario Götze and Mats Hummels, Klopp repeated the trick the following year.
Juventus
It did Di Matteo no favours to be in the same Champions League group as one of the most offensively impressive teams on the continent. Juve won Serie A last season and are top of the table again.
Wigan Athletic
Last season's relegation battlers perhaps, but there is a great deal of admiration at Chelsea at the fluid attacking style manager Roberto Martinez has forged with limited resources.
Join our new commenting forum
Join thought-provoking conversations, follow other Independent readers and see their replies