'It would be impossible for a gay Premier League player to come out,' admits new FA chairman Greg Clarke
72 per cent of supporters at live sport events had heard homophobic abuse in the last five years
Ian Herbert
Chief Sports Writer
Monday 17 October 2016 14:47 Comments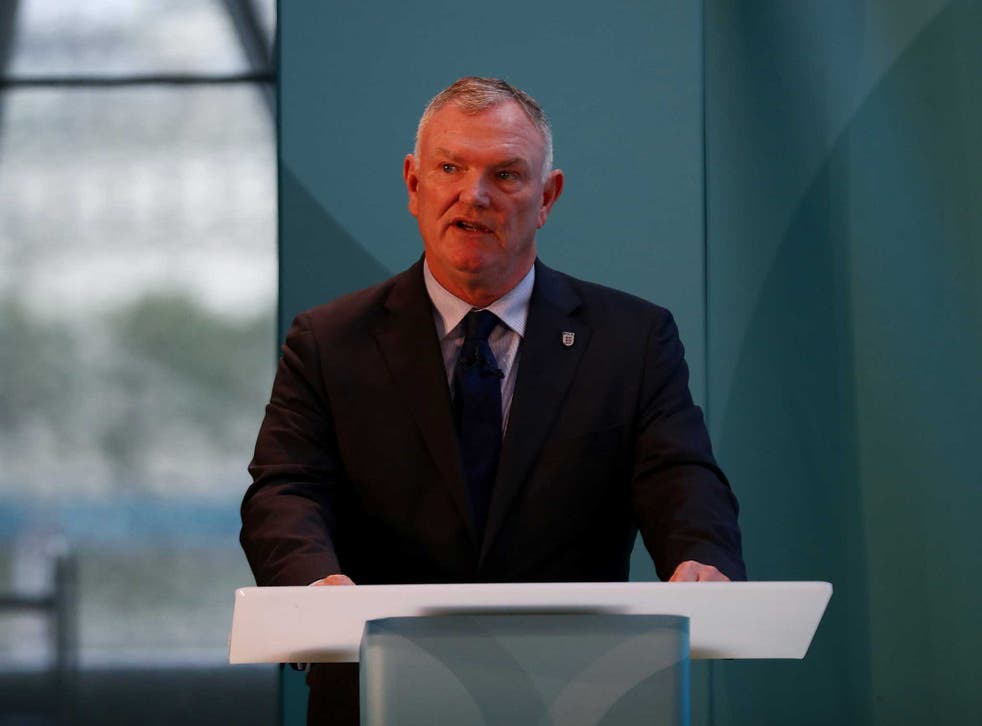 Football Association chairman Greg Clarke admitted on Monday that it remains impossible for a gay Premier League footballer to come out because of the vile abuse he would receive.
Appearing before the Department for Culture, Media, and Sport select committee, Clarke said he "would be amazed" if there were not a gay player in the Premier League and that he felt "ashamed" that none had ever felt the confidence to reveal the fact. "I think there would be significant abuse," Clarke said. "I don't think we have corrected the problem [of homophobia in football] yet."
Clarke did not challenge the assertion of MP John Nicolson, one of the committee members, that football "lags so far behind civil society" and he drew attention to the fact that only this weekend Luton Town fans allegedly hurled homophobic abuse at a group of Leyton Orient supporters "who they perceived to be gay."
Clarke told MPs: "There are a very small minority of people who hurl vile abuse at people who they perceive are different," he said. "If I was a gay man, why would I expose myself to that?" Clarke said in large football crowds the "bad people get brave" and would hurl abuse at a gay players.
In 2015, the Daily Mirror reported that two Premier League players, including one international, were planning to come out as gay, though Clarke said he had "not been party to those conversations" and did not know the identity of the players. Nicolson said that the Football Association should make it their business to establish who those players were, so they could help them to feel able to come out.
The select committee asked Clarke did he recall who the first openly gay footballer was. "Was it Justin Fashanu?" he replied. Fashanu hanged himself in 1993, three years after revealing his sexuality.
No other player in British professional or semi-professional football came out until Liam Davis, then of Gainsborough Trinity in the Conference North, in 2014. Davis said his teammates had accepted his sexuality and that he had made light of it. It is widely accepted that homophobic supporters are the problem, especially in large crowds where they are able to maintain anonymity while giving out abuse.
Research commissioned by the Stonewall charity revealed last month that 72 per cent of supporters at live sport events had heard homophobic abuse in the last five years, with football fans the most likely to have encountered such language.
The research found that 22 per cent of 18-to-24-year-olds would feel uncomfortable if a player they supported was to come out as gay. Stonewall also reported that 22 per cent of young fans consider anti-LGBT language harmless if it is meant as "banter", compared to 13 per cent of those surveyed as a whole.
Clarke, who is only five weeks into his role as chairman, said that he would "come down like a ton of bricks" on perpetrators of homophobic abuse. "When it's become socially unacceptable, that vile behaviour will have been driven out of the game," he said. Campaigners will say they have heard those promises before.
Register for free to continue reading
Registration is a free and easy way to support our truly independent journalism
By registering, you will also enjoy limited access to Premium articles, exclusive newsletters, commenting, and virtual events with our leading journalists
Already have an account? sign in
Join our new commenting forum
Join thought-provoking conversations, follow other Independent readers and see their replies