Frank de Boer tempers Crystal Palace expectations ahead of Huddersfield opener
The Eagles will debut their new 3-4-3 formation but De Boer has warned not to necessarily expect flowing, attacking football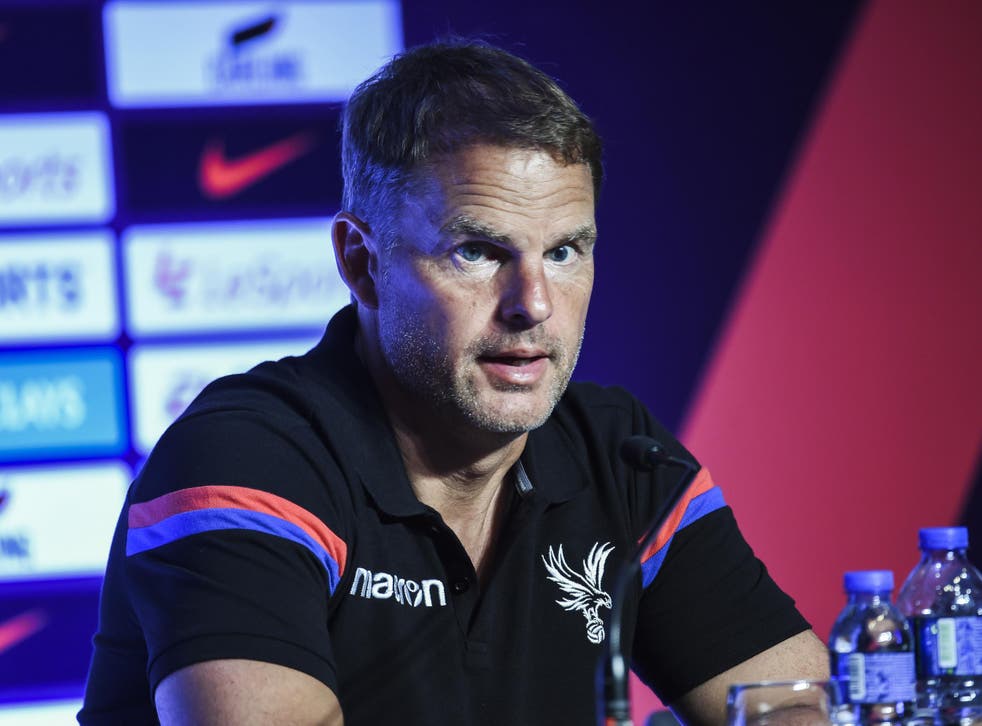 Frank de Boer has moved to dampen expectations at Crystal Palace, clarifying that his move to adopt the now-popular 3-4-3 formation doesn't necessarily mean they are about to embark on a season of "adventurous and exciting" football.
Ever since De Boer's appointment as manager, he has been clear that he would attempt to implement his own style of football - the style with which his former club Ajax excelled in the process of winning four Eredivisie titles.
But there remains the fear that Palace could get dragged into a relegation battle this season, with memories of Alan Pardew's 'street football' which sleepwalked the club into the drop zone last autumn.
On Saturday the Eagles host newly-promoted Huddersfield in their opening fixture of the Premier League season, and the Dutchman was keen to clear up misconceptions about his favoured system: "Everybody says that 3-4-3 can be very adventurous or exciting but you can also say you're playing with five defenders.
"It's how you look at it. If you have the ball it's very offensive; if you don't you're dropping back and it's very defensive. Louis van Gaal at the World Cup (with Holland), he played 3-4-3 or 5-3-2 but they mostly let the opponent get the ball and played in transition with Arjen Robben; Juventus were very offensive.
"It depends how you try to dominate the game; we will try to dominate but we have to be realistic where we came from. We want to be a solid club and there are many good teams in the Premier League so a lot of times we will be pulled back and have the security of five at the back."
Pardew's successor Sam Allardyce abandoned his model to adopt a far more organised, unambitious game that ultimately preserved their Premier League status shortly before his resignation.
De Boer, who in 2012 rejected the chance to manage Liverpool, enters English football as his replacement after the disappointment of Inter, but insists he does not have to prove himself again.
"(I'm not here) to prove people wrong," said the 47-year-old, who remains without the unfit Yohan Cabaye, James McArthur, Bakary Sako and Pape Souare. "I knew with Inter that it was quite a hard job but when a chance comes with a major club in the world I'm going to try, even though I knew it would be very difficult.
"They didn't give me enough time so I have to respect that but I'm still confident in my quality."
Huddersfield boss David Wagner, for his part, will also be sticking with the formula that has proven successful for him in the past.
The German coach stunned the Championship by guiding the Terriers to promotion last season and he sees absolutely no reason to change.
"We will, like we have done the whole time since I arrived, try to do our best, try to bring our ideas, identity, even now in the highest level of the Premier League," Wagner told reporters.
"We will stick to our idea of football. We will not give ourselves any limits, any targets, it makes no sense.
"We know exactly where we come from, we know how big the financial gap is but we know we have the right to play in the Premier League."
Register for free to continue reading
Registration is a free and easy way to support our truly independent journalism
By registering, you will also enjoy limited access to Premium articles, exclusive newsletters, commenting, and virtual events with our leading journalists
Already have an account? sign in
Register for free to continue reading
Registration is a free and easy way to support our truly independent journalism
By registering, you will also enjoy limited access to Premium articles, exclusive newsletters, commenting, and virtual events with our leading journalists
Already have an account? sign in
Join our new commenting forum
Join thought-provoking conversations, follow other Independent readers and see their replies