Chelsea news: Frank Lampard on John Terry contract, Antonio Conte and why the Blues were bad this season
Lampard also failed to see his career finish in Blue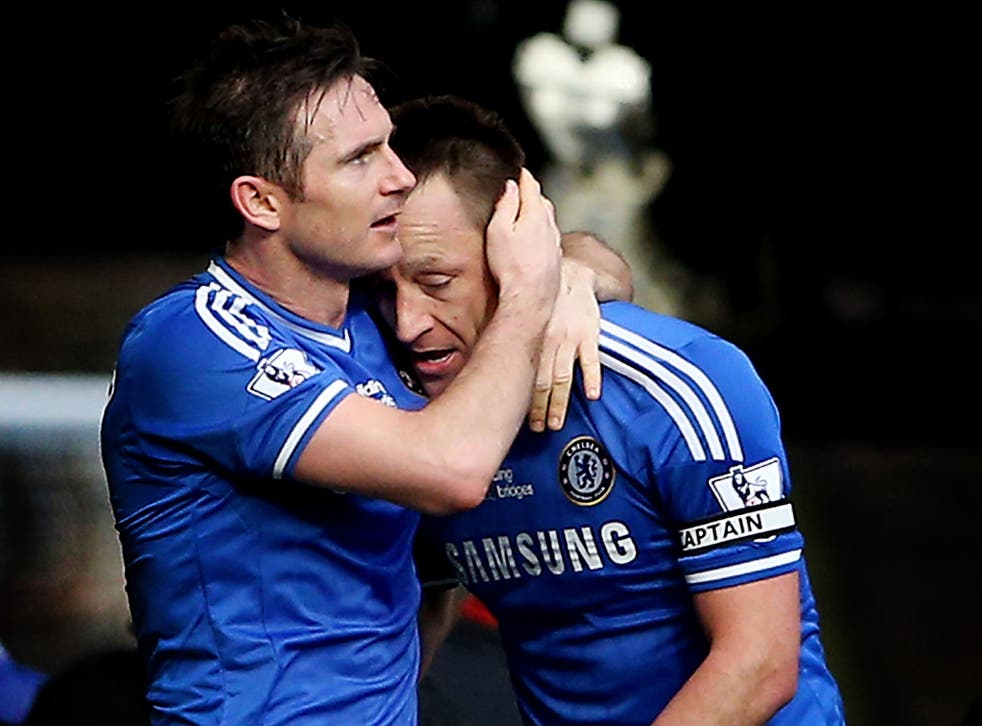 Chelsea legend Frank Lampard has spoken about the current contract stand-off between club captain John Terry and the Blues.
Supporters were shocked when Lampard, 35 at the time but Chelsea's all-time top goalscorer with 211 goals, was allowed to leave at the end of the 2013-14 season. One of Chelsea's best ever players, Lampard had won three Premier League titles, four FA Cups, two League Cups, the Europa League and the Champions League in more than 600 appearances for the club.
The future of Terry, who has spent all but a short loan spell at the start of his career in west London, is now unclear after he announced earlier this year that he had yet to receive a contract offer from the club. Terry, 35, is said to be desperate to continue in west London but incoming manager Antonio Conte will have the final say.
New York City FC midfielder Lampard told Sport magazine that Terry will be going through a "difficult" time because of the potential upheaval after years of stability.
"I imagined finishing my career at Chelsea, and I know John would have, too," he said. "But you do have moments when you wonder where your career is going, and I found that period difficult at the end of my time at Chelsea. It's now the choice that John makes. If he doesn't stay, where does he go? For me it's been an amazing experience to go to Manchester and New York, even when I didn't expect it. And it might be the same for John if it does go that way. But it's a difficult situation – you've got a family and you're wondering where you're going to live. You go from being very stable and at a club you love to having to take in all these other variables. So it is not an easy time. John will be going through all that now."
Lampard also had his say on Italian Conte, who will take over at Stamford Bridge after Euro 2016. After a lost season the former Juventus manager has a huge task on his hands and Lampard expects the 46-year-old to make a number of changes to the squad.
"Conte has a big job to do," added Lampard. "There's been a transition at Chelsea that looked like it was going in a good direction, but it's gone in a completely negative one. They shouldn't be where they are now. You can see Conte is going to take the bull by the horns and try to imprint his style and technique on the club. He might need to bring in players who will respond to that. There will be a change of personnel at Chelsea."
Lampard also pointed at poor indvidual performances for the reason Chelsea have struggled so much this season. Former manager Jose Mourinho was sacked in December, just six months after winning the Blues their first Premier League title in five years, while reigning Premier League Player of the Year Eden Hazard hasn't scored a league goal all season. Interim manager Guus Hiddink saw results improve, but Chelsea will end the season without a trophy and outside of the top four.
"Chelsea's players have underperformed. Important players, too – ones who were at a really high level last year. I don't know if that's because of issues they have with the club, the manager; if it's just form, or injuries. The players have to look at themselves and ask: 'How can so many underperform to that level?' You can have bad seasons, but you shouldn't have a bad one where you finish in the bottom half. The big test is how they come back, because Chelsea can't afford to be out of the top four for two years consecutively."
The midfielder has missed all five of New York City's Major League Soccer matches this season, with Patrick Vieira's team currently sitting just two places off bottom of the league.
Register for free to continue reading
Registration is a free and easy way to support our truly independent journalism
By registering, you will also enjoy limited access to Premium articles, exclusive newsletters, commenting, and virtual events with our leading journalists
Already have an account? sign in
Join our new commenting forum
Join thought-provoking conversations, follow other Independent readers and see their replies