From backside to Wearside: O'Neill's moving story
Manager reveals the pain – emotional and physical – following Sunderland has caused down the years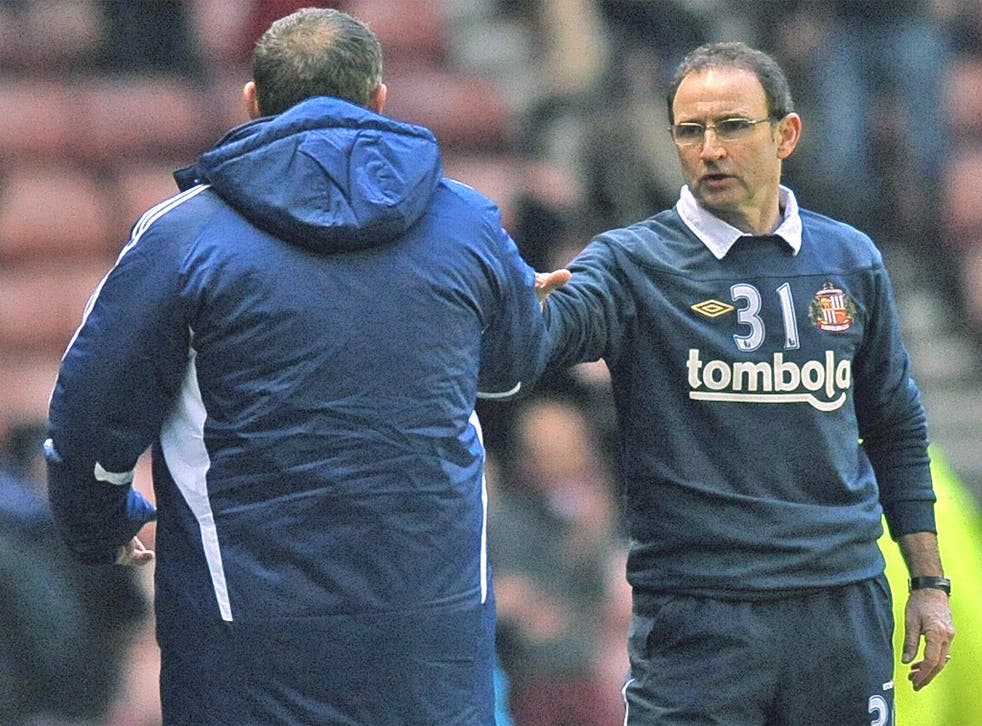 Martin O'Neill has suffered for his support of Sunderland. As a youngster it was with the strap, in his increasing years through the expectation that whatever can go wrong eventually will.
Admirably, the Sunderland manager does not claim to have the depth of history with the club he is currently managing so successfully to compare with Tony Mowbray at Middlesbrough, with the two North-east sides meeting in a FA Cup fourth-round replay at the Riverside Stadium tonight.
But he still recalls the pain following Sunderland has put him through. "I was at boarding school and you weren't allowed radios," he said. "My mother got me a little crystal set to listen to the last bits of the game. There I was listening in, it got to the last bit and it said, 'It's been a terrible night for Sunderland.' That's great, and I think we had taken the lead as well.
"Just then the dean walked in and lifted my crystal set and I got slaps in the morning. It was the night they got beaten 5-1 at Leeds Road against Manchester United in the [1964] FA Cup quarter-final second replay."
From there comes a unique take on why he feels disaster is always waiting for him. "If I could change my life I'd like to change the way I grew up," he added. "I just think it's the Irish background thing. Disaster is around the corner. It is, it's lurking, it's incredibly negative. Am I thinking about the bad times ahead? Jesus, no. I've got to remain positive, I'm going to have to fight this negativity
"I've had some poor runs in my time, don't worry about that. I know how difficult it is. I'm not building up for the inevitable. The inevitable is inevitable, but I'm not building up for it.
"That's probably why I'm a Sunderland fan, absolutely, I couldn't have chosen a more appropriate club. That was my upbringing, supporting Sunderland and getting my crystal set nicked."
Register for free to continue reading
Registration is a free and easy way to support our truly independent journalism
By registering, you will also enjoy limited access to Premium articles, exclusive newsletters, commenting, and virtual events with our leading journalists
Already have an account? sign in
Register for free to continue reading
Registration is a free and easy way to support our truly independent journalism
By registering, you will also enjoy limited access to Premium articles, exclusive newsletters, commenting, and virtual events with our leading journalists
Already have an account? sign in
Join our new commenting forum
Join thought-provoking conversations, follow other Independent readers and see their replies