Fulham v Everton: Aiden McGeady happy to come in from the cold
Not too many Premier League stars are familiar with the perils of playing in Dagestan, but the happily home-again Everton winger has never conformed to the norm, writes Simon Hart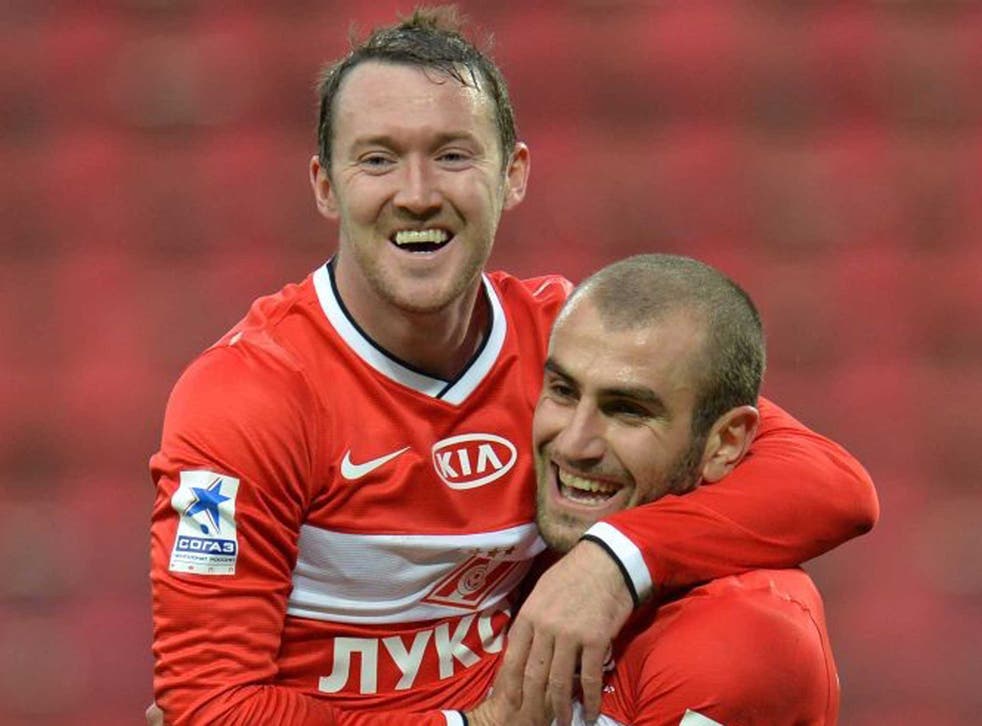 Visitors to Aintree Racecourse last week had to don bright high-visibility bibs before entering a venue busily preparing for the Grand National.
That an exception was made for Everton's Aiden McGeady seemed a fitting motif for a footballer whose low profile since landing in the Premier League in January contrasts markedly with the intense spotlight that once shone on him in Scotland.
It was not so long ago that McGeady, now 27, was the biggest thing in Scottish football, identified by Lionel Messi no less as Celtic's danger man in the same year, 2008, that he won both the PFA Scotland Player and Young Player of the Year prizes. His journey from youthful prodigy north of the border to unknown quantity south of it is intriguing, yet the Republic of Ireland winger is simply glad to be back in from the cold of Russia, where he spent nearly four years with Spartak Moscow after a £9.5 million transfer from Celtic. "You probably get some people who would have known me from Celtic but not seen me play for a few years but that doesn't bother me, the main thing was just to get here," he says.
It was not just life in a gated community outside Moscow that left him feeling "a little bit isolated" but the sense of the spotlight shifting ever further away. "I felt I'd get forgotten about sometimes," he admits. "[My] games weren't on TV very much and if you weren't playing in the Champions' League you went out of people's minds. There was only the odd international to keep you fresh in people's memories. I used to get jealous going away with Ireland and seeing players I'd played with on Match Of The Day and doing well, and I'd be thinking, 'I want to be there, doing the same thing'. Now I am here I've got the chance to show everyone what I can do. People will say, 'Celtic, Russia, can he take the step up?' but I want to prove that I can."
According to one Russian source, McGeady earned admirers at Spartak for an on-field commitment not universal in that country's domestic football, and also a rare willingness among foreign imports to speak Russian to the local media. It was the place where his daughter Kaia was born and where, away from the Glasgow goldfish bowl, he did a lot of growing up. But he will not miss it. "Loads of things happened that I had never seen before, not to do with the political stuff but just in terms of football," he says.
A player whose free-spirit tendencies led to a strained relationship with Gordon Strachan at Celtic did not enjoy the player-coach dynamic in the Russian game. "Towards the end it started to get on my nerves. It was quite a negative atmosphere, always wanting to fine players and treat players like children.
"One week before we played CSKA in the derby the manager had us staying from the Monday every single night in the training ground. We played the game on the Saturday and lost, so had to stay that night as well and train again on the Sunday.
"They're very heavy on discipline – the fine board at the end of the month would be outrageous."
It is appropriate we are sitting in Aintree's weighing room as he continues: "Every player had their maximum weight, and if you were over that it was a dollar a gram, so if you were a kilo overweight – which could [happen] the day after being off – it was $1,000 [£600]. At the end of the month the fine board was maybe $9,000 for certain players. Crazy."
Not as bad, though, as the long trips to Russia's most dangerous republic, Dagestan, to play Anji Makhachkala, a club who fly in their own players from Moscow for home fixtures. "That was the worst city I've ever played in. There was one [good] hotel there – [Anji] built their own hotel but they stayed in that so every [away] team stayed in the next-best hotel, which was a one-star bed and breakfast with cold showers."
That said, Glasgow-born McGeady was hardly a stranger to inhospitable treatment: when in Scotland, he was targeted for abuse by some rival fans for his decision to represent the Republic of Ireland rather than the country of his birth.
"Some away grounds can be pretty horrible places sometimes and I probably got a bit more stick than anyone else," he recalls. It was a choice influenced by several factors – family holidays with his grandparents in Co Donegal for one, though the key was former Celtic goalkeeper Packie Bonner's invitation to him to train with the Irish Under-15s at a time when, because of a Celtic rule, he was ineligible for Scotland Schoolboys. His Everton team-mate James McCarthy made the same decision, and McGeady expects both will receive "a bit of stick" when Ireland face Scotland in a Euro 2016 qualifier in Glasgow in November.
The growing number of Ireland internationals in Everton's squad – there are also Seamus Coleman and Darron Gibson – evokes the 1950s, when Goodison's sizeable Irish contingent drew regular boatloads of fans from Dublin. This has "helped me settle", he says, though more than anything it was a Spaniard that attracted McGeady to Merseyside.
Having come close to signing for Wigan 12 months earlier, McGeady is delighted to be finally playing for Roberto Martinez. "Shaun Maloney [his old Celtic colleague] said he was probably the best manager he had worked with. You can see the passion he has got for football and the tactical knowledge, and it is quite refreshing playing under him."
McGeady is still working to repay Martinez's faith. He has taken time to regain full fitness, having not played for two months before his arrival, yet made his second League start last weekend against Swansea and says: "The last two or three weeks I've felt a lot more like myself."
The same goes for Everton, once again in top-four contention after bouncing back from their FA Cup exit at Arsenal with three straight victories ahead of today's trip to Fulham. "If we win our game in hand we could be very close to Arsenal [who visit Goodison next Sunday]," McGeady says. "Three weeks ago you'd have said we've not really got a chance of the top four, but the three wins have rejuvenated us."
And, having played in the Champions' League for Celtic and Spartak, he believes Everton would hold their own there. "This team would be right up there. I'd say they could definitely compete in the Champions' League, yes, but it's getting there – that is the difficult thing."
Fulham v Everton is live on Sky Sports 1 Sunday, kick-off 1.30pm.
Join our new commenting forum
Join thought-provoking conversations, follow other Independent readers and see their replies