Gaël Clichy: Roberto Mancini must take share of blame for dismissal
Ian Herbert
Wednesday 22 May 2013 11:55 Comments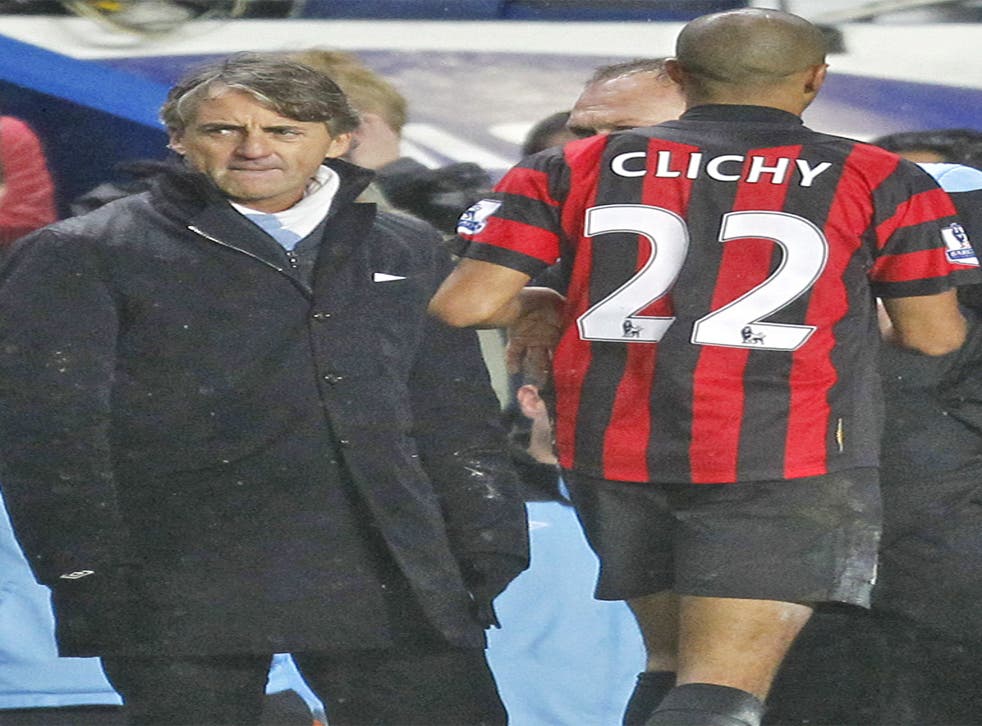 Manchester City's Gaël Clichy has said that Roberto Mancini must take responsibility for events that led to the Italian's dismissal as manager last week, though admitted that there were games last season during which the players "didn't give anything".
"He's the manager and you have to take responsibility," Clichy said of Mancini. "The manager is there to make the choices. Of course, when results are good it's all down to the manager. When the results are not so good, it's also down to him. We have to be aware that he was probably at fault for this, but as players on the pitch we also have to take responsibility and also know that we didn't perform. Whether we played three, four or six at the back – that doesn't matter, you have to give 100 per cent and sometimes this year we didn't give anything."
The Frenchman did not deny that Mancini's exacting standards had made him difficult to work with, though he rejected the suggestion that all players disliked him. "Most of us he brought to the club. If he bought you, it means that he likes you. Once you become a friend of the players that's when you can have trouble. I prefer to have trouble because the manager is respected and is hard."
City's chief executive, Ferran Soriano, told the Associated Press agency that Mancini's dismissal did not put the club "under any instability". On the wisdom of giving Mancini a five-year deal a year before sacking him, Soriano said: "I don't think anybody made a mistake."
Gaël Clichy was speaking at a Manchester City visit to Staten Island in New York, where City have donated football equipment to a local community group which is helping the island recover from Hurricane Sandy.
Register for free to continue reading
Registration is a free and easy way to support our truly independent journalism
By registering, you will also enjoy limited access to Premium articles, exclusive newsletters, commenting, and virtual events with our leading journalists
Already have an account? sign in
Join our new commenting forum
Join thought-provoking conversations, follow other Independent readers and see their replies