Grant accuses Eboué to raise stakes ahead of vital game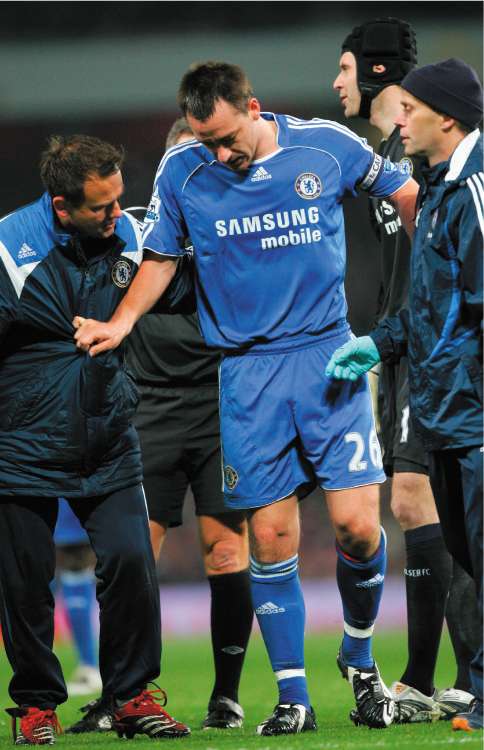 Avram Grant yesterday stoked the already heightened tensions ahead of tomorrow's Premier League clash between Chelsea and Arsenal by accusing Emmanuel Eboué of being guilty of far worse behaviour than Ashley Cole, whose horrific tackle and petulant reaction brought into sharp focus the issue of player discipline and respect.
The Chelsea manager said the Arsenal midfielder's challenge on John Terry, when the two sides met in December, was more serious than Cole's challenge on Tottenham's Alan Hutton and his refusal to speak or listen to referee Mike Riley, at White Hart Lane on Wednesday evening.
Grant's reaction came as there were further indications from sources close to Chelsea owner Roman Abramovich that the Israeli will not remain in charge beyond this season because of his failure to deal with so-called 'big games'.
Abramovich was said to be unhappy after the 4-4 draw against Spurs, especially as Chelsea surrendered the lead three times.
It was just before half-time in that game that Cole committed his reckless offence for which he subsequently issued an apology to both Hutton and Riley and admitted he needed to "control" his behaviour.
Grant applauded Cole's decision to say sorry, and insisted it was done without any pressure being applied by the club who have not fined the 27-year-old. The FA are also not taking any further action.
Grant said of his squad: "The team discipline is good, not less than other teams and sometimes more but I am not concerned.
"I will give credit to Ashley. Another player at Arsenal, whose name I will not say, tackled our captain who went to hospital and was out for a few weeks and he did not apologise. We are still waiting for that."
Although Grant, therefore, did not name Eboué it was clear who he meant. The Ivorian's foot-up challenge on Terry left the central defender, who himself had appeared out of control at the game at the Emirates Stadium which Chelsea lost 1-0, with three broken bones in his foot.
Arsenal manager Arsène Wenger yesterday defended Eboué saying: "It was not a terrible tackle. I regret that [the injury to Terry] but it was an accident. Perhaps Eboué could have eased off earlier but only he can tell you what was in his mind." Wenger also defended Cole, claiming his former player was not "dirty".
With so much at stake tomorrow at Stamford Bridge – defeat for either side would probably end their title hopes – Grant's intervention, especially when he also claimed that Cole was somehow "treated differently" to other players certainly appeared inflammatory. The Israeli went on to claim that other players had committed "worse tackles" than Cole and gone unpunished.
Grant also suggested that there was an agenda against Chelsea at the FA – and appeared to claim that this may have something to do with previous events under his predecessor José Mourinho. "Maybe something happened in the past," Grant said.
Responding to a question as to why Chelsea have been fined twice this season for failing to control their players, the manager added: "I think this is unfair from the FA. In the same games it happened. Against Manchester United [in September] their players ran to the referee before us. Maybe they are quicker, I don't know. In the game with the red card the other team was also quicker than us."
That was in reference to the dismissal of John Obi Mikel for his challenge on Patrice Evra, and Grant then went on to claim that the red card had been shown by referee Mike Dean because of the way the United players ran to him. "I think sometimes it can be a tactic but we haven't done that," he said. "One of the red cards that we got, against Manchester United, was not only to do with the decision of the ref."
Grant said he would like to see a rule by which only the captain of the team is allowed to question the referee – but then admitted he had no intention of setting an example because his players would say "why can other teams [crowd round] if we cannot".
Cole is included in the squad for tomorrow's game with Grant suggesting that if he had left him out it would be perceived as a punishment and he did not want to do that – believing he deserved credit instead for his apology.
"He apologised, he didn't say he did something he was proud of. I like my players to respect everybody."
Grant himself has appeared to struggle to command that respect with Didier Drogba, for example, reacting with frustration to the questionable substitutions made by the manager during Wednesday's game. Grant defended his decisions and denied that Drogba had rowed with his combustible assistant manager Henk ten Cate in the dressing room afterwards.
However, there is no denying the continued sense of discontent within the club over Grant's reign and he desperately needs to shore up his crumbling credibility with a victory over Arsenal tomorrow.
Join our commenting forum
Join thought-provoking conversations, follow other Independent readers and see their replies