Grass roots should get extra cash – not Bentley dealers and tattooists
The Weekend Dossier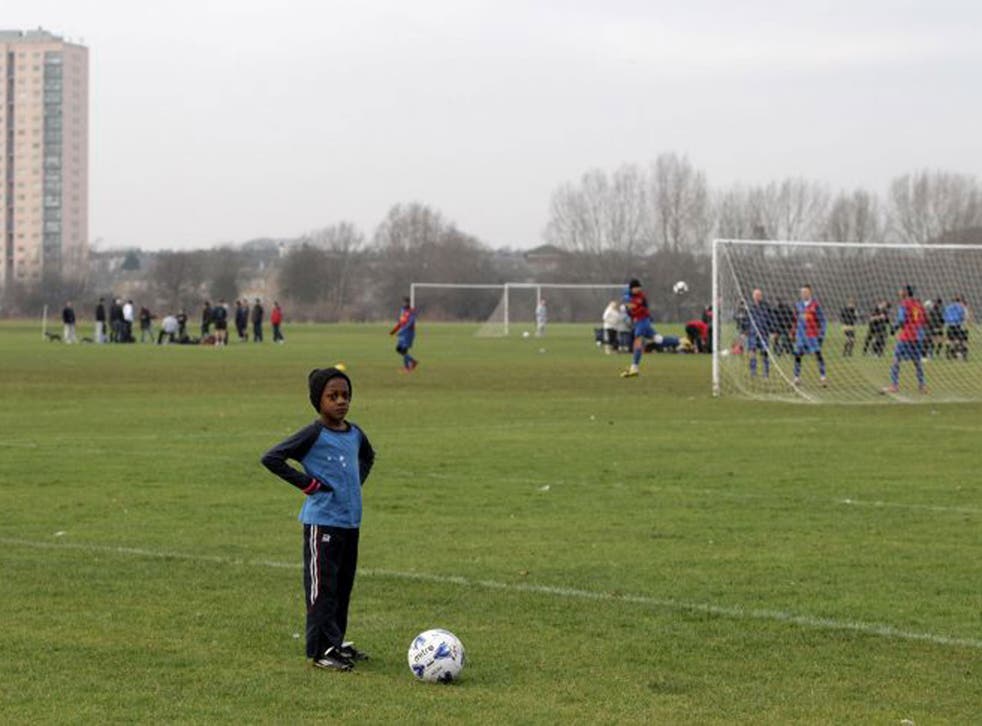 The text arrived yesterday, but sometimes it is not until Saturday morning, as boots are being searched for and breakfast wolfed down, that the phone beeps and up flashes the message "All matches off, pitches unfit". Cue another weekend of frustration and inactivity instead of football.
It is a tale that will be repeated across the country this winter, like last winter and the one before that. England has 38,000 football pitches but only 400 of them are the 3G (third generation) artificial pitches that mimic a decent grass surface and can be played on endlessly. Even when the pitch is playable it is rarely in use, as only five per cent have floodlights, which means between October and March kids' teams either have to hire expensive indoor facilities, or not train at all. And that is without even considering the awful state of most municipal changing rooms – where they even exist.
A 3G pitch, with floodlights to enable maximum usage and functional changing rooms, costs £700,000. Roughly nine months' pay for Liam Ridgewell, exposed last weekend wiping his backside with £20 notes, and less than Didier Drogba spent this week on buying his millionaire ex-teammates commemorative Champions League rings.
Ridgewell and Drogba are entitled to earn whatever they can, and to do whatever they want with the money. Drogba spends a fair bit on charitable endeavours in Ivory Coast. But that such a journeyman as Ridgewell has a reported £1m-a-year salary sums up the game's warped priorities.
"Prune juice economics," Alan Sugar called it when chairman at Tottenham. Television provides the cash that goes straight through clubs to players and agents and the current torrent is about to become a deluge. With the overseas television contracts for the 2013-16 cycle nearing conclusion it looks as if the £3bn domestic deal will be topped up by £2bn from overseas. That will mean £1.8bn-a-year, an increase of £40m per club.
Richard Scudamore, the Premier League's chief executive, said when the domestic deal was done in June: "I'm hoping it will be invested in things other than playing talent. It should also be able to achieve sustainability." But Scudamore was talking about building youth systems and club infrastructure, not community sports facilities.
The Premier League argues they are not its responsibility. Within the game, grass roots is the remit of the Football Association; within society, these facilities are down to local authorities and government. The Premier League points out the Exchequer's £1bn tax take from football – much of it income tax. Moreover, the Premier League charitable spend already exceeds that of many blue-chip companies. The League puts £20m into social programmes and does it so effectively government agencies increasingly use football to engage parts of the community that are traditionally hard to reach.
Yet while there is much to applaud, one is left to conclude – when considering the windfall about to land in the lap of agents, Bentley dealers and tattooists – that the game could do so much more. And perhaps has a moral responsibility to do more for the communities that provide their fans (and a third of their players – a percentage which might improve with better pitches).
At present the League invests £7m in grass roots, £6m on facilities, £1m (match-funded by the Professional Footballers Association) on kit. The £6m is delivered by the Football Foundation, which also receives £10m each from the FA and the Government quango Sport England. As with the Premier League's "good causes" this investment is usually used to leverage public money from bodies such as local authorities, the police and NHS trusts with football effectively contributing a fifth to a third of the cost. However, the Foundation fears the latest cuts announced by the Chancellor of the Exchequer will have a devastating effect, not just on big projects but also day-to-day aspects such as marking out pitches and unlocking dressing rooms.
In a logical world this would not happen. A healthy population saves government money on health spending. Engaging youth reduces crime and social exclusion. A slither of the £108bn NHS budget could carpet the nation in 3G pitches. However, that argument will not be won soon. The vacuum presents football with an opportunity.
This year, Premier League clubs handed agents £77m for work done on their players' behalf; in 2011 it was £70m. That money could have provided 250 floodlit 3G pitches. A 10 per cent slice of the new TV deal would still leave every club with an average £31m annual increase in income, but it would also build more than 500 floodlit 3G pitches with full facilities, including a bar and kitchen that could make them self-funding. That would take us almost halfway towards the Foundation's aim of 2,000 pitches – enough to meet the playing and training needs of its 120,000 teams.
It is an opportunity not just for clubs but players. What better way for John Terry (or Ridgewell) to restore their reputations than investing in local youth? Players could finance a pitch (setting the cost against income tax), emblazon their name on the gate, and bask in the glow of giving something back to the communities that made them. Or they can buy another Baby Bentley and wonder why footballers get a bad press.
Five Asides
1. Abusers of referees do not deserve leniency
In the Netherlands this week a volunteer youth-team linesman died after allegedly being beaten up by teenage footballers. In England John Obi Mikel was banned for three matches for threatening Mark Clattenburg – the same suspension as if he had denied a goal-scoring opportunity. Assaults on officials are declining in England but still occur, with 62 incidents last season. Fortunately none suffered the tragic fate of Richard Nieuwenhuizen but such an outcome is a possibility whenever an assault takes place. The leniency shown Mikel, whatever he thought Clattenburg had said, sends out the wrong message. No wonder the referees' union is outraged.
2. Women's struggles flag up another missed opportunity
The FA Women's Super League this week invited applications to join an expanded 20-team competition from 2014. So far the WSL has raised standards and profile but attendances remain disappointing. Once again there is a reminder of the missed opportunity of the FA's failure to retain control over the Premier League when it helped it into being two decades ago. Imagine the difference if a condition of membership was fielding a fully funded women's team as Arsenal do.
3. Owen's timely warning on perils of too much too young
Like the Neville brothers Michael Owen is emerging as a perceptive commentator on the game. His blog yesterday on the perils of playing too often too young should be required reading for all managers – especially Brendan Rodgers, though he does not appear to be someone who would risk a player's career for a result. Raheem Sterling, 18 today, has featured in 23 of Liverpool's 27 matches this season, playing the full 90 in 13 of them, plus there was 84 minutes for England.
Owen's blog: http:/bit.ly/QEiVZ7
4. City's failure signals more Groups of Death to come
Manchester City's latest European failure is not just embarrassing, it could have telling consequences. Their Uefa co-efficient – which decides seeding – will be damaged for five years by this season's early exit, increasing the possibility of more Groups of Death to come.
5. Stand by for controversy, even with technology
Goal-line technology is finally in use, at the Club World Cup in Japan. So what odds that there is no goal-line dispute in the tournament, but instead a different controversial incident when officials miss what cameras see?
Join our new commenting forum
Join thought-provoking conversations, follow other Independent readers and see their replies