Premier League title race: Had Arsenal signed Cesc Fabregas, they would be above Chelsea in the table. Fact
ANALYSIS: Statistics suggest the Spaniard has been the difference between the top two sides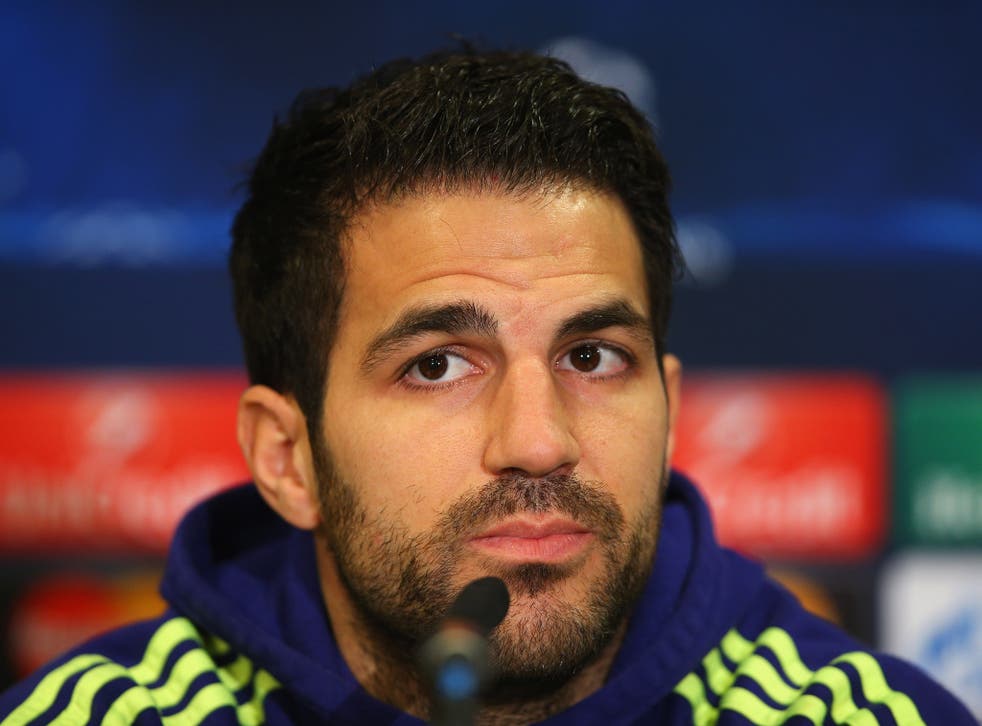 Arsenal's decision to overlook Cesc Fabregas last summer has come back to haunt them.
When the World Cup and European Championship winner was deemed surplus to requirements at Barcelona, the Gunners had first option on signing him. Yet despite his pedigree and that his previous spell with the Gunners sees him discussed in the same breath as some Arsenal greats, Arsene Wenger opted not to take up that option. It was deemed that Arsenal were already blessed with a multitude of talented players in the central creative role that Fabregas occupies.
It's impossible to argue that Arsenal have many options. Santi Cazorla has been arguably the Gunners' best player this season. There is Mesut Ozil, who as the season has progressed has shown more and more flashes of the genius he displayed at Real Madrid. Summer arrival Alexis Sanchez has been brilliant. Danny Welbeck has added depth. Aaron Ramsey is a truly blessed individual. Then there is Theo Walcott. And Alex Oxlade-Chamberlain. And let's not forget Tomas Rosicky.
But for all the many options - none of them are better than Fabregas - certainly not in terms of contribution. He has an incredible 16 assists in the Premier League this season. The same number as Santi Cazorla and Alexis Sanchez (Arsenal's two highest charters in terms of assists) combined. Mesut Ozil and Aaron Ramsey have five each.
The difference he would have made at Arsenal may have been subtle considering the other players at the Emirates, but he would almost undoubtedly have improved the side.
But when Arsenal chose not to sign Fabreas, not only did they miss out themselves, they also handed him to the team that have become their greatest rivals this season in terms of the title race. The £30m fee Roman Abramovich wrote made his Chelsea team simultaneously more dangerous and beautiful to watch.
Analysis shows that Fabregas' contribution in the Premier League - his 16 assists and three goals - have directly helped Chelsea mount an extra 17 points (see below).
Had he not been there, someone else would have been chipping in. So to take that into account, we've found the average number of assists and goals that have been contributed by Arsenal's six best players who tend to play in the creative roles behind the striker (Sanchez, Cazorla, Ozil, Oxlade-Chamberlain, Ramsey and Welbeck). The average number of assists is 5 and the number of goals is 5.8. That's a combined total of 10.8, compared to 19 direct contributions to goals by Fabregas.
On that basis, an alternative option to Fabregas in the Chelsea side would have helped out with 44 per cent less goals. Therefore, ff Fabregas has directly contributed 17 points, an alternative player would have contributed 9.5 points, meaning the Blues would have 7.5 points fewer than they currently do.
Turning to the current Premier League table, if Chelsea's total of 73 points was diminished by that much, they would be behind Arsenal by 0.5 points, with it proving that if Arsenal had signed Fabregas, they would be above Chelsea in the table.*
*However, Chelsea would still have a game in hand.
FABREGAS' CONTRIBUTION...
Goals
18 October 2014: Crystal Palace 1 Chelsea 2 (+2 points)
12 April 2014: QPR 0 Chelsea 1 (+2 points)
Goals and assists
22 December 2014: Stoke 0 Chelsea 2 [1 goal, 1 assist) (+3 points)
Assists
18 August 2014: Burnley 1 Chelsea 3 [2 assists] (+2 points)
23 August 2014: Chelsea 2 Leicester 0 (+0 points)
30 August 2014: Everton 3 Chelsea 6 (+0 points)
13 September 2014: Chelsea 4 Swansea 2 [2 assists] (+2 points)
05 October 2014: Chelsea 2 Arsenal 0 (+0 points)
26 October 2014: Manchester United 1 Chelsea 1 (+1 point)
01 November 2014: Chelsea 2 QPR 1 (+2 points)
22 November 2014: Chelsea 2 West Brom 0 (+0 points)
06 December 2014: Newcastle 2 Chelsea 1 (+0 points)
28 December 2014: Southampton 1 Chelsea 1 (+1 point)
01 January 2015: Tottenham 5 Chelsea 3 (+0 points)
17 January 2015: Swansea 0 Chelsea 5 (+0 points)
22 March 2015: Hull 2 Chelsea 3 (+2 points)
Register for free to continue reading
Registration is a free and easy way to support our truly independent journalism
By registering, you will also enjoy limited access to Premium articles, exclusive newsletters, commenting, and virtual events with our leading journalists
Already have an account? sign in
Register for free to continue reading
Registration is a free and easy way to support our truly independent journalism
By registering, you will also enjoy limited access to Premium articles, exclusive newsletters, commenting, and virtual events with our leading journalists
Already have an account? sign in
Join our new commenting forum
Join thought-provoking conversations, follow other Independent readers and see their replies