Harry Kane draws inspiration from 'big idol' Tom Brady to prove doubters wrong and follow steps of the Super Bowl great
EXCLUSIVE: The Tottenham striker has always looked up to the New England Patriots quarterback and he tells Jack Pitt-Brooke of his delight with Brady's fifth Super Bowl win on Sunday night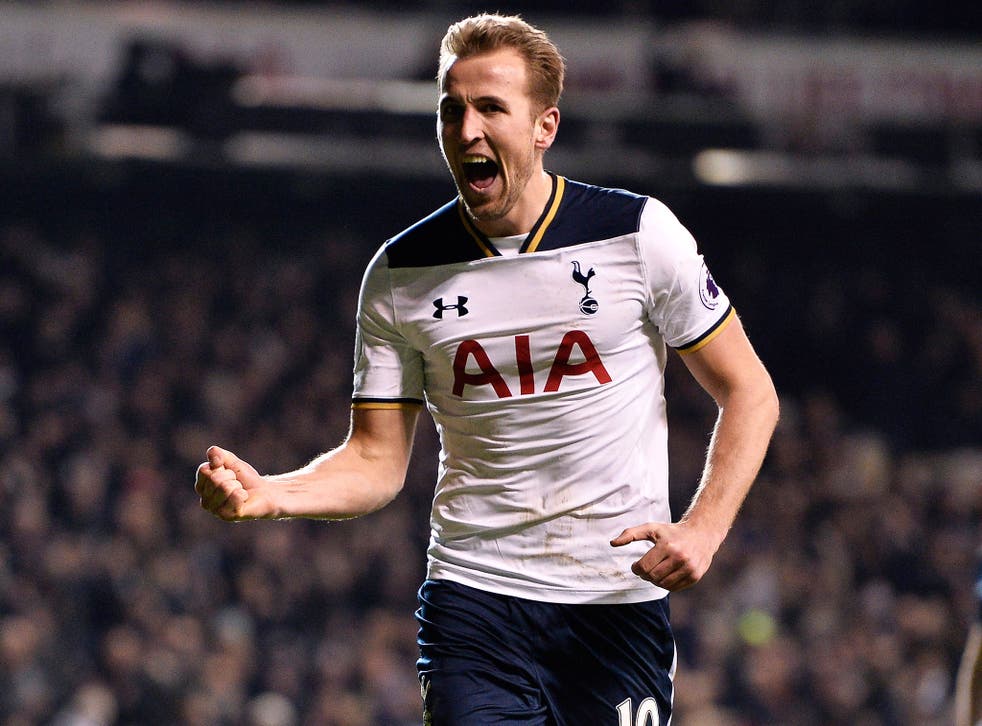 Six years ago, when Tom Brady had only won three Super Bowls and there was still a debate whether he was the greatest quarterback of all time, ESPN made a documentary about him. 'The Brady Six' is about how Brady was written off at 22, selected in the sixth round of the 2000 NFL draft, with 198 other players, and six quarterbacks, picked ahead of him.
It is the inspirational story of Brady's struggle for recognition, how he disproved everyone who thought he did not have the strength, speed or mobility to be a top quarterback. It is the story of how he beat a more talented rival to start for University of Michigan, and then the famous Drew Bledsoe to become the Patriots' starting quarterback at 24.
Harry Kane loves 'The Brady Six'. Tom Brady is his hero and the reason why Kane supports the New England Patriots. That is why Kane was so happy on Monday, the day after Brady masterminded an astonishing second half comeback and overtime win for the Patriots against the Atlanta Falcons.
Kane has always been inspired by the story of how Brady made it to the top despite so many doubting he could get there. When Kane was out on loan at Norwich City and Leicester City in the 2012-13 season, barely playing, it did not look like he would make it either. But he dug deep and four years on he is England's best striker.
"Tom Brady is a big inspiration and a big idol of mine," Kane says, the day after Super Bowl LI. "'The Brady Six' shows how he was underestimated, when he went late in the draft. But he worked hard and believed in himself and that is what I have tried to take in my career. Maybe when I was younger people didn't always believe in me, they didn't think I would make it to where I am now. It is about that self-belief, that self-drive, that has got me to where I am now. So watching him, seeing how he has done it, to become probably the greatest of all time in his sport, I have used that to help me."
There is a similarity between quarterback and centre-forward, the most important roles on the pitch in each sport, the man ultimately required to deliver for his team. With 63 Premier League goals already for Spurs in just his third season as first-choice, Kane has clearly learned a lot about performing under pressure.
"I watch clips of him playing on YouTube," says Kane, who has never met Brady but would love to. "For the way he handles pressure, the big moments when he steps up and delivers. Sunday night was a prime example."
The Patriots' lowest moment on Sunday was when a Brady throw was intercepted by Falcons cornerback Robert Alford, who scored a touchdown to put the Falcons 21-0 just before half-time. Brady looked broken but Kane knew better.
"There was a moment when it was 21-0 and it looked like Brady's head was down, looking at the floor," remembers Kane, who put fans through their paces as part of the Lucozade Sport Made to Move campaign. "I think a few commentators were saying they thought Brady looked defeated. But I've been in that situation. He was probably just talking to himself, saying 'let's do it, let's step it up', and he did. It just shows his mentality, to come from that far behind."
Kane has had his own moments recently of rescuing something out of nothing. "I've been there in football sometimes," he says, looking back on one of Spurs' best days of the season. "This year against West Ham [19 November], we were 2-1 down in the 89th minute, and we won 3-2. It's that attitude to never give up. And Brady has helped me to instil that into myself."
Brady is 39 years old now and it is his fourth and fifth Super Bowl that have really burnished his greatness. That hunger to keep competing and winning is what marks him out. "It shows how good he is, that he is never satisfied," Kane says. "Some people might win one or two, be happy, retire and enjoy life with a lot of money. But for him it's all about winning. He wants another one and I guarantee next season he will be there trying to get his sixth. And that's what I want do, I want to win games, I want to win trophies."
That is the big question hanging over Tottenham this season. After losing the Capital One Cup final in 2015, and letting the Premier League title slip in 2016, are they mentally ready to win a trophy this year? Mauricio Pochettino has said all season that the last step Spurs have to take is in their heads. And Kane agrees that establishing that Brady-style winning mentality is the only gap Spurs have to make up to their rivals.
"Ability-wise we were probably the best team in the league last year," Kane says. "And we are probably one of the best teams in the league this year. You hear people say when you get that first trophy, it takes you to another one. That is what we need. We need an FA Cup, a Premier League or a Europa League, whatever it may be, just to get the ball rolling. Then that winning mentality will push us on to many more."
As Pochettino has said many times, Spurs did not have the maturity to stay with Leicester City in last year's title race. The famous collapse at Stamford Bridge gifted Leicester the title, symptomizing how Spurs were not grown-up enough to shoulder heavy pressure.
But last month Spurs showed how they had grown, taking a 2-0 lead against Chelsea and then seeing it out with remarkable ease. They stuck to their plan and shut the game down, something they have struggled with recently.
"Last year we were 2-0 up, that was the time to control the game, but we got caught up in the fight," Kane says. "This year we went 2-0 up, controlled the tempo, controlled the pace, didn't get caught up in any tackles and we won 2-0. We knew our jobs, we focused, and it was not like we were holding on for dear life. We just kept the ball and made it difficult for them. We have come a long way since last year."
Although the last few weeks have not been quite as good, Spurs played their best football of the Pochettino era in late December and early January. Their wins over Southampton, Watford and West Brom were ludicrously one-sided, even before the Chelsea game. To Kane it is proof that Spurs are continuing to move in the right direction.
"We feel a lot more mature, we are controlling games a lot better," Kane says. "Some of the performances this year have been some of the best I have ever been a part of. West Brom at home, Chelsea at home, Watford away. Games like that, that teams normally struggle with, we have controlled, been really dominant. The reason people aren't talking about us is because Chelsea have done so well themselves."
On Saturday Spurs go to Anfield needing a big statement away win of the type that has evaded them this year. They lost at Stamford Bridge and Old Trafford, drawing at the Emirates and the Etihad, and now is the time for them to show that they can take that next step.
Last season Kane scored a brilliant goal on the turn at Anfield, "one of the better goals in my career", but Spurs drew 1-1 and Pochettino beat the ground in frustration at full time. Tomorrow Spurs need to go one better and win, narrowing the gap on Chelsea to six points for a few hours at least.
"Liverpool would be that big away win," says Kane. "It would put a big gap between us and them, and really lay down a marker, not just to Liverpool, but to teams around us as well."
Catching Chelsea will be difficult but there is no reason that Spurs should not finally win a trophy this spring. They have the players, the manager and finally the mentality to do so. "It is just about finding a way to do it," Kane says. "If we get that one, I hope it will push us on to many more." As Kane knows from Brady and the Patriots, it just takes one to start a dynasty.
Lucozade Sport's Made to Move campaign aims to get 1 million people moving more by 2020
Register for free to continue reading
Registration is a free and easy way to support our truly independent journalism
By registering, you will also enjoy limited access to Premium articles, exclusive newsletters, commenting, and virtual events with our leading journalists
Already have an account? sign in
Register for free to continue reading
Registration is a free and easy way to support our truly independent journalism
By registering, you will also enjoy limited access to Premium articles, exclusive newsletters, commenting, and virtual events with our leading journalists
Already have an account? sign in
Join our new commenting forum
Join thought-provoking conversations, follow other Independent readers and see their replies