Harry Redknapp relaxes with his 'blue and white army' - until he sees the QPR troops on the pitch
Tactical adjustments tighten team's defence but cannot dispel the nervous moments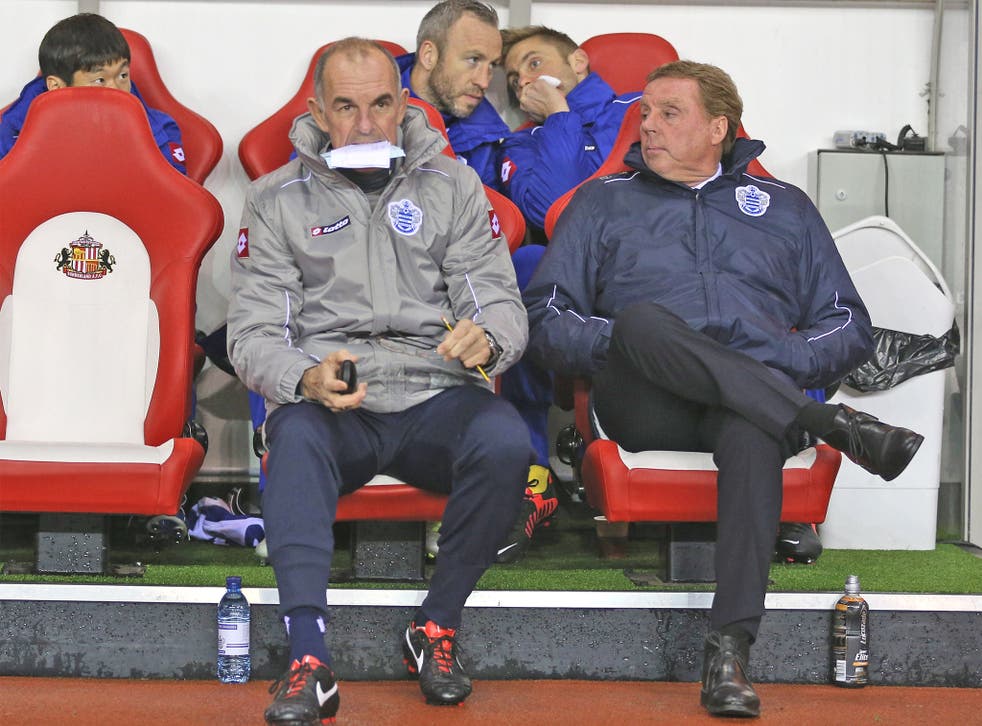 There are some managers who may show a touch of nerves as they are about to embark on what they confess to be the toughest job in their career, but for Harry Redknapp this is familiar territory and it showed.
Redknapp has had just six months to wait to be back in charge of a Premier League game following his dismissal from Tottenham and the confident manner in which he strode down the players' tunnel just before kick-off spoke volumes.
This was a man who has been involved in relegation battles with Portsmouth, Southampton and Spurs in the past decade and his body language was the epitome of calm before he even went to take his seat in the away dugout at the Stadium of Light.
The photographers waited expectantly for that first glimpse of the 65-year-old, but he let his players take centre stage and run out on to the pitch first. Meanwhile, he took the opportunity to put his arm round opposite number, Martin O'Neill, and exchange a few pleasantries.
O'Neill is under pressure himself with Sunderland just above the relegation zone and it was almost as if Redknapp was providing the Northern Irishman with some words of comfort, rather than the other way around, before the two teams commenced battle.
Just to emphasise his aura of coolness, he ignored the glare of the cameras before the whistle blew to sign an autograph for an eager Sunderland fan.
Of course, Redknapp is not the first new manager to be put in charge of a west London club in the past few days, but there is no doubt he is set for a happier marriage at QPR than Rafael Benitez is facing at Chelsea.
Only 350 QPR fans braved the floods in the North-east to make the trip and they certainly made their voice heard from the outset just as Chelsea supporters did on Sunday. But whereas Benitez was greeted with a chorus of boos and hostile banners demanding his instant departure, QPR's small travelling support couldn't have made him feel more welcome.
There was certainly no sign of any regret that Mark Hughes had been replaced after collecting a measly tally of four points from their first 12 games this season.
Indeed, they instantly christened their team "Harry Redknapp's blue and white army" and it was evident optimism had replaced the despondency that has been almost ever-present in their throats since August.
Still it was one thing being happy to see him in the flesh, it was what impact he could make on the side that they really wanted to see. It was not as if he had much time to make a difference, having seen QPR lose at Manchester United on the same day he was officially appointed on Saturday.
Since then he has taken one light session with the players who weren't involved at Old Trafford on the Sunday, before giving the squad a full workout after meeting the press yesterday.
That didn't stop him from making changes, with Jose Bosingwa, Esteban Granero and Samba Diakité replacing Alejandro Faurlin, Kieron Dyer and Shaun Derry.
More importantly, though, was the tactical shape of the side and while Redknapp is best known most for his attacking instincts, it was clear he made defensive organisation key on his debut.
Only Southampton have conceded more goals in the top flight this season and perhaps it helped that they were facing a Sunderland side who had amassed just 12 goals this term.
Employing a 4-5-1 formation when Sunderland had the ball, which switched to a 4-3-3 when they won possession, ensured they were in control for most of the game.
All the players seemed to be sharper in closing their opponents down and strong in the tackle, with Redknapp's words that they should be embarrassed over their points tally providing an instant incentive. Even Adel Taarabt, a luxury player whom Redknapp sold to QPR when Tottenham manager, earned a round of applause from his coach after fouling Jack Colback – because of the desire on show.
But as the game wore on, Redknapp found his seat increasingly uncomfortable and regularly patrolled the touchline, urging his players on despite the return of torrential rain. His angst was particularly noticeable at set-pieces, which was not surprising as it was arguably the biggest weakness during Hughes' reign and they looked vulnerable every time Sunderland had a corner or free-kick around the box.
There was also the inconvenience of having to replace keeper Julio Cesar with forgotten man Robert Green at half-time, but even that didn't disturb the visitors' rhythm.
O'Neill appeared to be the manager who is in charge of a group of players adrift at the bottom of the table, rather than Redknapp, and QPR fans, who saw one great escape last season, can start dreaming of achieving the impossible once again.
Join our new commenting forum
Join thought-provoking conversations, follow other Independent readers and see their replies