Hillsborough: Truth and justice at last. Now Margaret Aspinall can rest, writes Michael Calvin
THE LAST WORD
Michael Calvin
Saturday 09 January 2016 18:53 Comments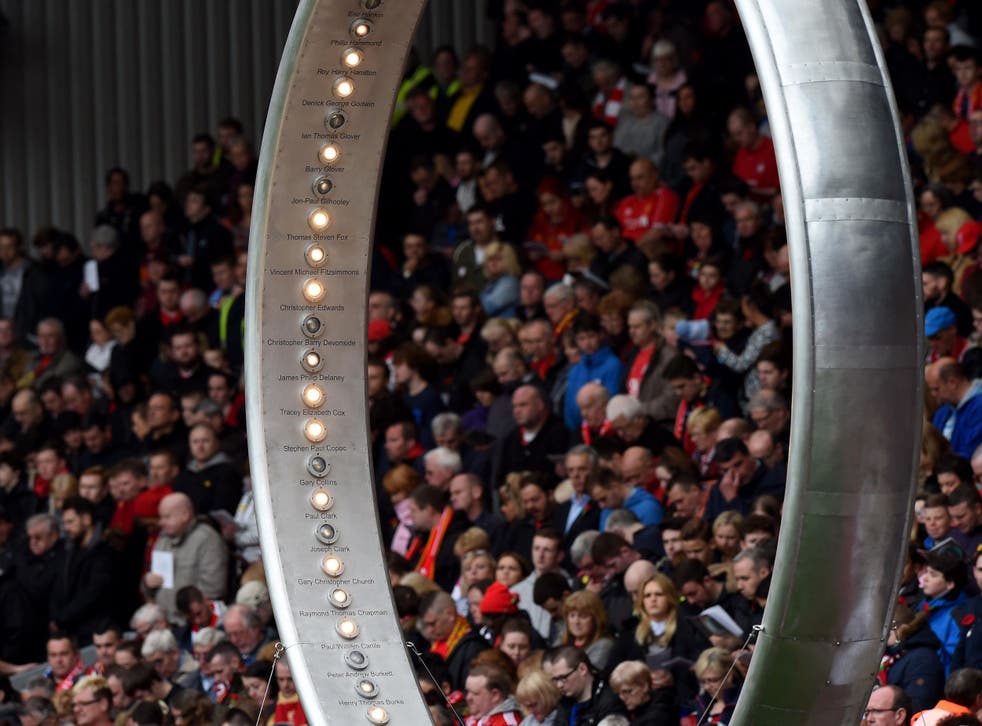 They will still be referred to as the 96, a group whose names, etched in gold on the Hillsborough Memorial, are framed by the promise of immortality. But now, after 21 months of inquests instilled with unique symbolism, we know them more intimately, as individuals.
Their humanity, as football fans fated to be in the wrong place at the wrong time on a sunny spring day in 1989, has been renewed. Shards of their lives have been shared, at the expense of the indescribable pain of sifting through ultimate agonies.
Brothers and sisters, boyfriends and girlfriends, fathers and mothers have been seen through the prism of tragically premature death at an FA Cup semi-final. Though reports from the court, on a business estate in Warrington, intermittently slipped down the news agenda, their perspective remained profound.
The insights they featured, both of the victims and pivotal figures such as the match commander David Duckenfield, never lost their power to shock, from the first day of personal statements on 3 April 2014 to the last day of medical and pathology evidence, 6 January 2016.
That final tranche of evidence included typically harrowing images and haunting indications of suffering. Blue paint was found on David Rimmer's pelvis, suggesting that life was squeezed out of him by a blue crush barrier.
Like many victims of the crush at the Leppings Lane end, Carl Hewitt, who died, at the age of 17, with his younger brother Nick, had bruises on his arm consistent with being gripped desperately by an unknown individual.
Closure, fought for with affecting dignity and superhuman determination by the Hillsborough families, is approaching. The coroner, Sir John Goldring, will start to summarise evidence on 25 January. The jury of seven women and three men will begin to consider their verdict on 22 February.
They are likely to have done their civic duty by 15 April, which will be the 27th anniversary of a disaster that seared a city's soul and challenged a nation's conscience, when Anfield will stage its final remembrance service for the victims.
This is not the time to speculate on the nature of the emotions released when the legal procedure is complete. However dramatic the repercussions, confirmation of truth, and the quest for justice, has been a cleansing process.
Respect for the 96 will remain constant, since it has become a touchstone of English football. Gestures like that of Exeter City, who ensured the programme for Friday night's FA Cup tie against Liverpool contained 96 pages, will recur. The cost must never be forgotten.
There was an awful relevance in Wednesday's proceedings being lubricated by the tears of Margaret Aspinall, chair of the Hillsborough Family Support Group.
She heard that James, her 18-year-old son, could still have been alive when a police officer laid his tunic over his head as he lay on the pitch, before being carried on an advertising hoarding to the gymnasium which doubled as a mortuary.
We have become accustomed to her as a campaigner, defiant, resourceful, engaging and optimistic. Yet that sense of duty, of unfailing, unselfish responsibility to others, masked the gravity of her own loss and the nature of her sacrifice.
A fragment of memory forced me to look up a particularly poignant interview for an adult education blog from 2013. She said then: "No matter how old you are, when you are dying or you feel you are going to die, the person you ask for is your mum. That's what makes it more heart-wrenching, when you weren't with them, and you think, what was he thinking?
"Was he saying, 'Where are you, mum?', 'Help me mum'? 'You were there when I took my first breath, where are you for my last?'
"That's the hardest thing a mother can take. That does not take away from the father's feelings, it does not take away from brothers, sisters, grandmothers, grandfathers, what they feel, but I think with a mum, it's different, and it always will be."
Her cause – "We are not whingeing Scousers, we fought for what was right and we have been proven to be right" – was just. As an influential voice in the debate which resulted in the decision to end the Anfield tributes this year, her life's work is done.
She has the gratitude of ghosts, and grandchildren, to enjoy. Millions will wish her a long and happy retirement, since she deserves the release of simple, everyday pleasures.
Aston Villa's barmy army
To be charitable, perspective may be difficult to acquire when one is born into a distinguished military family, and rises to the rank of Commandant of the US Marine Corps.
An indication of the distinctive nature of service life, and the type of personality forged by an authoritarian environment, lies in the nicknames of General Charles Krulak's father and godfather. They are known, respectively, as "Brute" and "Howling Mad".
The general is widely acknowledged as a brilliant battlefield tactician. Troops revered him for his humility. Yet it is as a non-executive director of Aston Villa Football Club that we in the toy department must judge him.
He has acquired a reputation as a robust contributor to fans' forums, where his views are amplified by his friendship with Randy Lerner. Yet his latest intervention, in solidarity with a club owner who comes from familiar Marine stock, cannot be excused.
Absurdly, the military man drew a parallel between Villa's apparently hopeless plight in the Premier League and the resolve required to fight through minefields and face chemical weapons in the Gulf War.
"The day you don't believe is the day you quit," he wittered. "Let's just look at Desert Storm. There were trenches filled with gas, massive artillery ready to rain down on us and the threat of chemical attack. My next in command looked at me and said, 'How are we gonna get through this?' I said, 'We're gonna do it, we're gonna go through this like a knife through butter'."
Villa do not need someone to play soldiers or to inflate a simple ball game with notions of heroism in combat. They need a new owner to revive spirits, sack executives and catalyse a cultural revolution in the dressing room. The sooner the general resigns his sporting commission, the better.
Register for free to continue reading
Registration is a free and easy way to support our truly independent journalism
By registering, you will also enjoy limited access to Premium articles, exclusive newsletters, commenting, and virtual events with our leading journalists
Already have an account? sign in
Join our new commenting forum
Join thought-provoking conversations, follow other Independent readers and see their replies