Leicester and Watford proving that good old 4-4-2 is king in England, writes Danny Higginbotham
TALKING TACTICS: Would you trust Diego Costa to put in a defensive shift for the team? I certainly wouldn't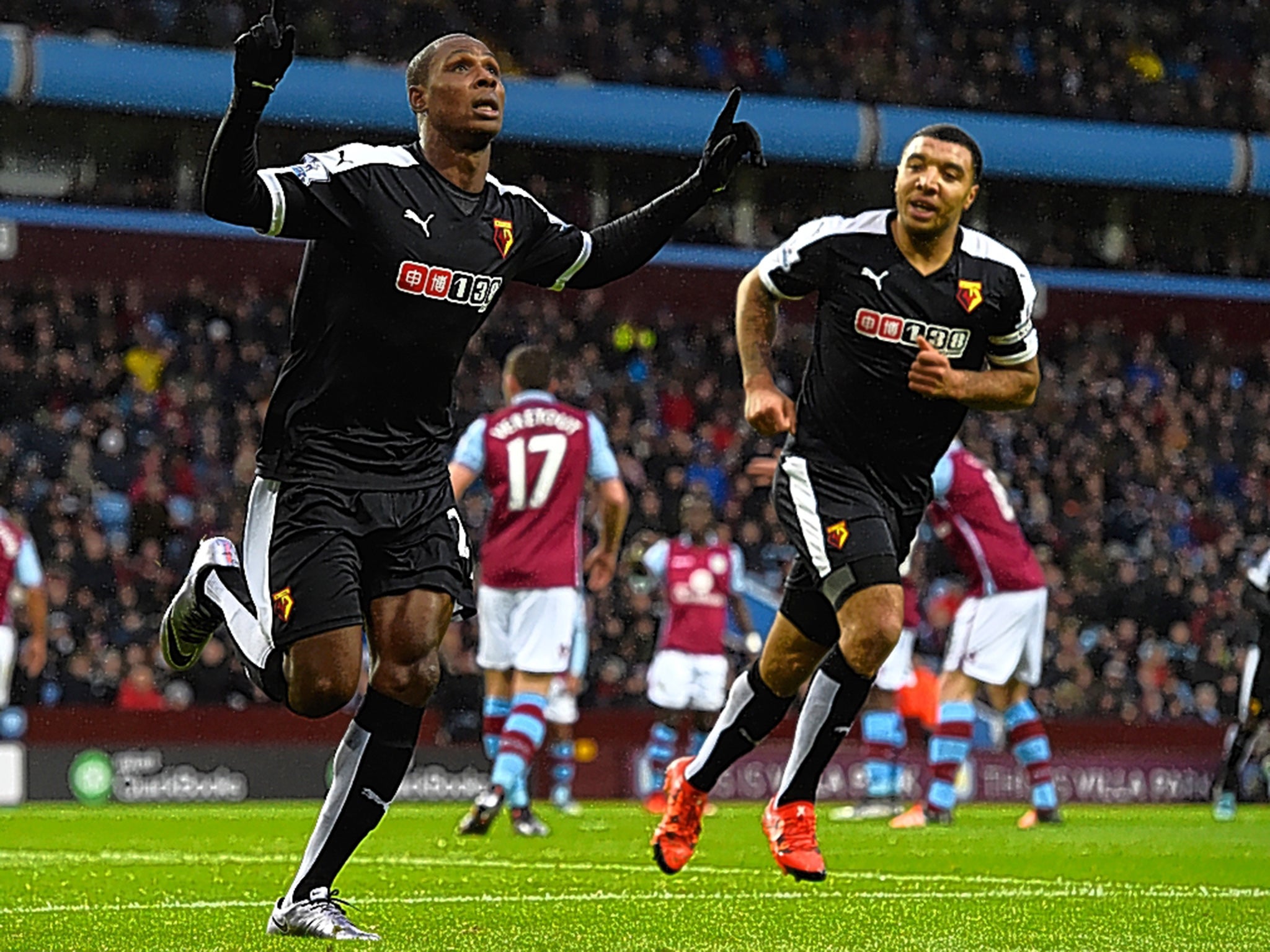 The two most impressive overachievers of the season so far are Leicester City and Watford, who have confounded expectations to sit first and seventh in the Premier League table. And what do those two teams have in common? They both play 4-4-2.
Football is a simple game which has been overcomplicated. What has always been true is this: 4-4-2 is the best formation. As long as it is done properly, it will beat any other system. This is what Leicester and Watford have been showing all season. Other teams could learn from their example.
Look at the most overachieving team of recent years, Diego Simeone's Atletico Madrid. They won La Liga in 2013-14, an amazing achievement, and came within seconds of winning the Champions League. And they did it playing 4-4-2.
What links Leicester, Watford and Atletico, and what makes 4-4-2 work, is having hard-working selfless centre-forwards who will do a defensive job for the team. As soon as they lose the ball, one of the strikers must drop in on the opposition's deepest-lying central midfielder. At that moment, the 4-4-2 becomes a 4-5-1. No team that does that will be outnumbered in midfield.
Just watch Jamie Vardy and Shinji Okazaki – or Leonardo Ulloa – for Leicester City, and how one of them, usually Okazaki, drops back into midfield to defend when they lose the ball. Or how Troy Deeney and Odion Ighalo take it in turns to do that defensive work, to make sure their team does not get outnumbered.
That is the difference between 4-4-2 done well and 4-4-2 done badly. Of course, when Manchester City played 4-4-2 against Barcelona last year they were completely dismantled. That was because neither of their strikers, Sergio Aguero nor Edin Dzeko, wanted to drop into midfield to defend. Naturally, they were outnumbered there by Barcelona, and that is why they lost the game.
This is why some of the big Premier League sides cannot play 4-4-2. Would you trust Diego Costa to put in a defensive shift for the team? Or Loïc Rémy? Or Radamel Falcao? I certainly wouldn't.
But if you do have strikers who will defend for the team, and you are able to play 4-4-2, then you will reap the benefits all over the pitch. Football is about getting numerical advantage in important areas. As Leicester and Watford have shown, 4-4-2 can do that whether attacking or defending.
The first and most obvious way is out wide. If a 4-4-2 is playing against a 4-2-3-1, and the full-back attacks, he and the winger in front of him will almost always have a two versus one overload against the opposition full-back. Why? Because the wide attacking midfielders in a 4-2-3-1 rarely do as much defending as a winger in a 4-4-2 does. So the full-back is outnumbered and has no way of stopping the cross. Look how much joy Leicester and Watford get from crosses by doing exactly this.
Then, when the cross comes in, a team playing 4-4-2 is more likely to have more men in the box. Obviously, they have two strikers rather than one, occupying both opposition centre-backs. If the more attacking central midfielder and the wide player from the opposite side join them, you have four attackers in the box and a good chance of outnumbering the opposition. So much of Leicester's success this year has come from left-winger Marc Albrighton switching the ball to right-winger Riyad Mahrez, arriving into the area.
I know some people say that 4-4-2 leaves you exposed defensively but, in reality, a 4-4-2 is far more secure against a counter-attack than a 4-2-3-1. In that system, both full-backs have to push up together to provide width, because the band of three tend to play quite narrow. This means that when they lose the ball there are only two centre-backs, and maybe one sitting midfielder, left to defend. That pair of centre-backs will always be vulnerable to being attacked down the sides. Manchester City and Arsenal concede so many goals in exactly this way.
But if you play 4-4-2 only one full-back has to attack at any moment. So the other full-back, and the two centre-backs, can stay in the rear to defend as a three. Those three defenders, with one midfielder in front, are far better at defending across the width of the pitch than just two defenders. So there is far less room down the sides.
Leicester 2 Chelsea 1 player ratings
Show all 26
Leicester do not get counter-attacked down the sides, and neither do Watford. But they know that, when the opposition's attack breaks down, they can counter them in that way. Deeney and Ighalo make those runs outside the opposition centre-backs so well that their Watford team-mates barely have to look up to find them.
This is why a 4-4-2, if played properly, has so many advantages over a 4-2-3-1.
Over the last 10 years in England we have tried to model our football on other European countries. We have always been a 4-4-2 nation but it has become unfashionable here. British managers have tried foreign approaches with mixed success. This year it has taken an Italian and a Spaniard, Claudio Ranieri and Quique Sanchez Flores, to show us how to play the British way again.
The innocence of youth has cost Tottenham of late
Tottenham Hotspur go to Southampton today hoping to end a run of throwing away points from winning positions. They were 1-0 up against Newcastle and lost 2-1; leading 1-0 at West Bromwich and drew 1-1; ahead 1-0 at Arsenal and drew 1-1. They have dropped 11 points from winning positions already this season.
But we cannot forget that Tottenham have such a young side. Experienced players can sense when the tide is turning in a game and know how to manage a game, when to be defensively strong. But the innocence of youth means Spurs sometimes keep looking for goals, even if it means they can get hit by a sucker punch. Which is what happened against Newcastle on Sunday. But the only solution to this is to keep playing games, learning and growing together. If Spurs keep doing that, they will be an unbelievable force in the Premier League.
Join our commenting forum
Join thought-provoking conversations, follow other Independent readers and see their replies