Leicester vs Manchester United: How pace, patience and the long pass have taken Foxes to the pinnacle
INSIDE FOOTBALL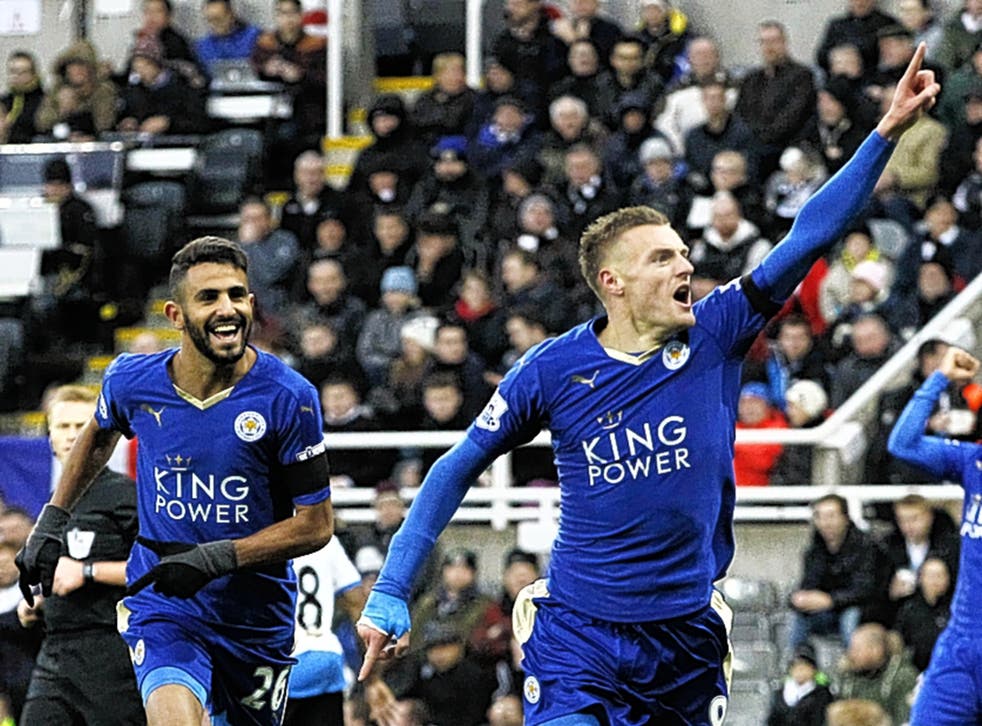 It's an achievement which has defied all our expectations and I suppose there are some who will try to say it's a fluke and can't last. Some people never learn about football! Top of the league after 13 games by accident?!
Of course, what Leicester City have accomplished – rallying from bottom after 13 games last season to top spot now – has a method and an explanation. It's only a well-kept secret for those who don't want to look in detail at their success. The same goes for Jamie Vardy's incredible season. There's a very good reason why he has scored in 10 successive Premier League games.
Let's start the examination of it all with an obscure statistic. Offsides. Leicester have caught their opponents offside 19 times in their 13 games – the second lowest in the division – and they have been caught offside themselves a mere four times: joint lowest with Watford.
That tells us something important about their game. It is based around defending incredibly deep. So deep that it's hard to be offside against them. So deep that Leicester's own strikers are tending to receive the ball or start a run in their own half, where they can't be offside. Claudio Ranieri's team sit and sit, defend and defend, and then look for the opportunity to counter-attack at pace, which often will come in the second half of a game.
Plenty of sides set themselves up like this away from home this season but the difference with Leicester – and what makes them exceptional – is that they do so at home too.
So what are the Leicester "secrets"? What specific qualities is Ranieri drawing on for this game plan, which ought to give Louis van Gaal and his Manchester United players cause for concern at the King Power Stadium on Saturday evening?
Pace, for one. Jeffrey Schlupp, Nathan Dyer and Marc Albrighton – a player my Independent colleague Simon Hart has spoken to in depth for Saturday's paper – are statistically among the fastest players in the Premier League and they are making vast ground in very little time as Leicester counter-attack.
Manchester United injury news

Show all 5
Patience is another. In 12 of 13 games they have played Leicester have had less possession than the opposition but they know that opponents will begin to lose focus in the second half as they grow frustrated at their failure to break them down. Of the 28 goals Leicester have scored this league season, 20 have come in the second half.
Forward passing accuracy and speed is another – and one I want to reflect on because there are too many foolish misconceptions about the value of that particular skill. The distinction between the "long ball" and the "long pass" is one not many people tend to appreciate, which means that when a side find their strikers by going long they're accused of being unsophisticated. I've actually heard people say: "That's not how to play football." Give me a break.
Leicester have quite simply become experts in what to do at the moment they turn over possession. Did you know that they have played the most forward passes as well as the most long passes in the Premier League this season so far? They're not afraid at all of playing "back to front", as we call it. What we are seeing from them is a real ability to pick out the striker or advancing midfielder and full-back.
And that is where the very special qualities of Vardy come in. Ranieri doesn't mess about with where to put him, as Manchester United have done with their strikers. Vardy has scored on nine of the 13 occasions when he has been Ranieri's furthest forward player. He is particularly dangerous in the second half of games when the opposition become more vulnerable, lured by Leicester's deep-lying defensive line into playing a very high line, with the full-backs venturing forward.
Nine of Vardy's 13 goals have come in the second half of games. When Leicester turn over possession, he and others head into the space the full-backs have vacated and, without even looking up, the blue-shirted player in possession will hit that area. That in turn drags the opposition centre-back into a full-back area he doesn't want to be in.
One of the rare occasions when Vardy has not scored this season was against Tottenham Hotspur at home. That was significant, I would suggest. One of the main reasons for Spurs stopping him was that their two centre-halves, Jan Vertonghen and Toby Alderweireld, are accomplished full-backs too. They were comfortable in that area against Vardy.
Early on, when teams are more disciplined, Vardy seems less of a problem: he's scored only three goals in the first 40 minutes of league games this season.
A close examination of his goals reveals that many come by inducing errors from defenders. Centre-halves think they can have a few touches of the ball against him and suddenly, bang – he's taken it from them. He doesn't give defenders a moment's peace. It's hard to compare Vardy with, for example, Harry Kane, because they are operating in totally different systems. Tottenham play a high line so there is not that space in behind opponents.
What makes Leicester unique in this division is that they operate their system home and away. Most teams feel they have to show more ambition in front of their home fans. Perhaps it is partly an awareness that his centre-backs don't have great pace that informs Ranieri's strategy. It is certainly the knowledge that his forwards, full-backs and wingers do which makes him keep to the same template every time.
In Manchester United's 5-3 defeat at Leicester last season there was a defining moment for Van Gaal. Though it was a great attacking performance by Angel Di Maria – certainly his best performance for United – Van Gaal looked at it and said Di Maria was not going to give him the defensive ballast he needed.
United will need to be inventive today to break down that deep-lying wall of blue. Van Gaal will have been thinking and plotting all week, which is testament to Leicester – a team with infinitely fewer resources have found a simple, effective plan and are sticking to it.
Register for free to continue reading
Registration is a free and easy way to support our truly independent journalism
By registering, you will also enjoy limited access to Premium articles, exclusive newsletters, commenting, and virtual events with our leading journalists
Already have an account? sign in
Register for free to continue reading
Registration is a free and easy way to support our truly independent journalism
By registering, you will also enjoy limited access to Premium articles, exclusive newsletters, commenting, and virtual events with our leading journalists
Already have an account? sign in
Join our new commenting forum
Join thought-provoking conversations, follow other Independent readers and see their replies