Howard Webb: 'Simulation is emotive. It's trying to cheat'
Howard Webb was such a good referee he was given a World Cup final – but he quit this year to improve the top-flight's men in black. He has no regrets, he tells Sam Wallace, but admits it took some time to get used to a new way of life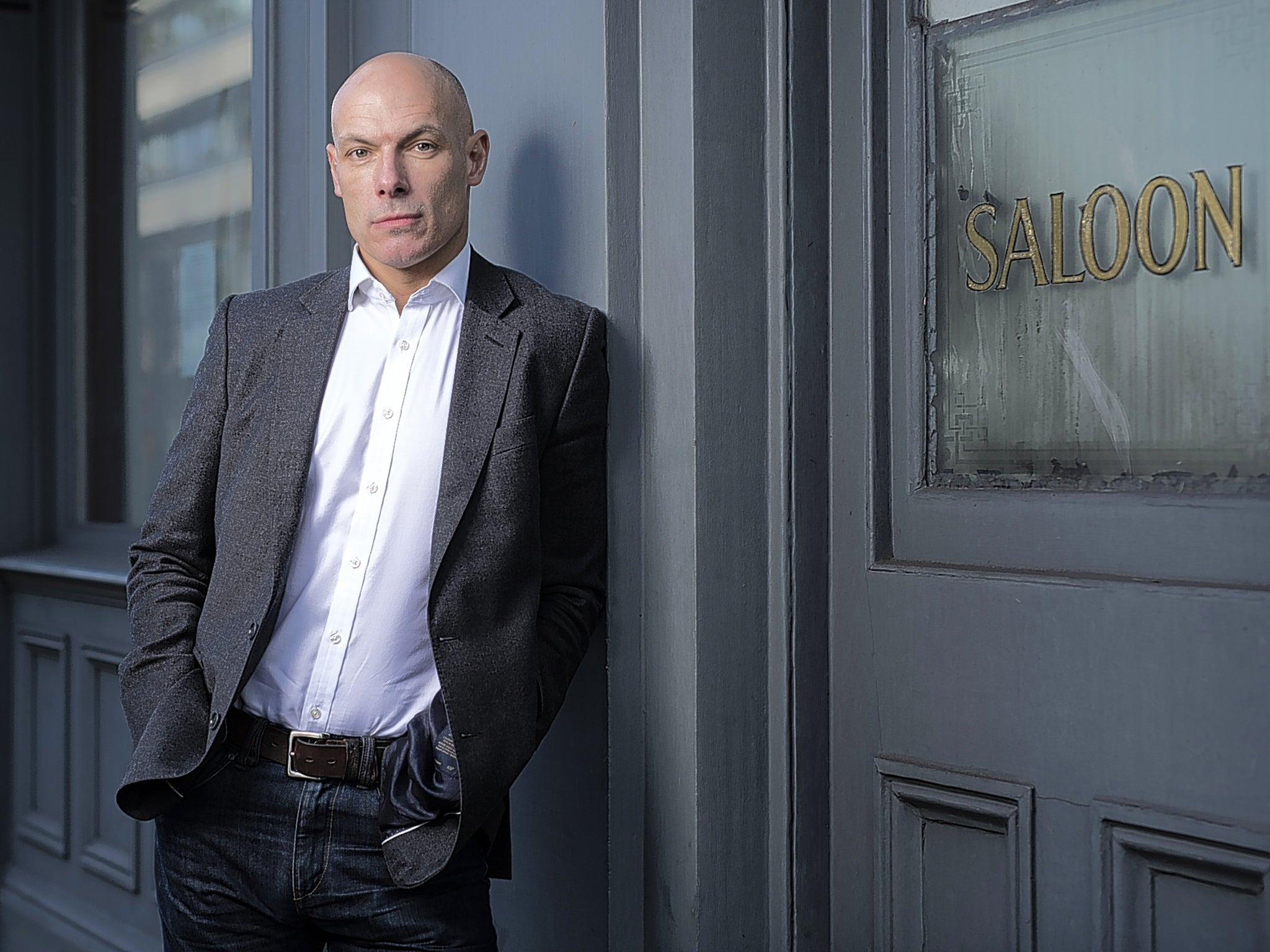 Only three times since his last game at the summer's World Cup finals has Howard Webb wrapped the cord of his whistle around his wrist and walked into the centre circle to referee a football match.
Once for an exhibition match in Bangkok, once for the Christmas truce game in Ypres this month, and once when the referee did not turn up for his son Jack's Under-15s game.
Anyone walking across the playing fields of Oakwood High School in Rotherham that day will have seen a familiar figure in charge of Whiston Wildcats against Swinton Athletic Spartans in the Sheffield and District League. "I was shamed into doing it by the other parents," Webbs says. "My son hates me refereeing. 'Dad, don't talk to me,' he says. And, no, I didn't have to send anyone off. I used my game-management techniques!"
Four months on from his surprise decision to quit as the country's leading referee at the age of just 43, it should be said that Webb is enjoying his life as technical director of Professional Game Match Officials, the referees' body. At this time of year he would usually be contemplating a run of Christmas and New Year fixtures and all the scrutiny that brings. Life has changed. After our meeting at the PGMOL offices he is due to see a software developer about a project to help analyse the select group referees in even greater detail.
Not that they are not already under the microscope. Webb can tell you from the statistics on his phone that match evaluators in the Premier League have assessed every game in minute detail and say that up to the round of 15 matches so far this season there have been, collectively, 38,718 decision moments for referees. Of those, they say, 98.4 per cent have been made correctly.
This is just a part of the new life Webb has, supporting referees, coaching – he is now a Fifa instructor – or appearing on Monday Night Football on Sky Sports to go head to head with Gary Neville and Jamie Carragher. Quitting the only two jobs he has known, refereeing and the South Yorkshire police force, within the space of six days has made this a "momentous" year, Webb says, but he has no regrets.
"You'd be crazy to say you don't miss those big games or that great feeling of satisfaction when a game has gone well and you can relax a bit," he says. "That pressure got higher and higher all the time. I had been around it a long time. I never expected to get the World Cup final [in 2010] but it came along. It is only one game but it changes the way people perceive you. Not long after I went to a Champions League game, Shakhtar Donetsk v Roma, and didn't perform very well and the guy with us said: 'Howard, it must be difficult for you, having done the World Cup final'.
"You carry a bit of a tag that you are the World Cup ref. They are looking for you to be the benchmark. Maybe people expect something different of you. I thought the way to show I was a worthy World Cup final referee was to get to the next tournament. Maintain that performance within the context of some strong competition and then that would be the time to move on. I could have carried on for 10 more years. I could have coasted but that was never the way."
He faced the usual existential crisis that many footballers go through when they retire at a relatively young age from the profession that has defined them. "It was a bigger adjustment than I thought it would be," he says. "When the announcement was made I drove home from St George's Park on 6 August thinking, 'My goodness, what am I now? I have lost my identity'.
"I have spoken to quite a few ex-professionals about the way they felt when they finished. It has been really interesting to hear those thoughts. I am not someone who gets down, I am not a pessimist. But it was just such a change."
As a police sergeant in his native Yorkshire, before he became a select group referee in 2003, he would occasionally finish a shift at 4am and be at a game later the same day. That ruled out a career in CID. "The worry was you get the call across the office, 'They've found a body', and you think, 'Damn, I'm at Everton tomorrow and now I have to tell the detective inspector I can't get involved in this murder investigation'. He would have to have said 'I'm sorry but Everton can wait'."
Grateful for the support he was given from the police, Webb says he might have made inspector had he stayed, the rank at which it becomes more about management than work on the ground. Instead he has that role with the referees now, finding ways to improve and support them. On Saturdays he is usually at the BBC's Salford base watching live feeds of games and calling referees after games to discuss performances on what can sometimes be, he knows himself, "a lonely drive home".
He is passionate about the high standards of the 17 select group referees although he knows there will always be some issues that stand out. Of that overall decision count of 38,718 – which is the number of decisions that the assessors deem should have been made, whether the referees did so or not – only 0.023 per cent relate to acts of simulation. Yet that remains a topic which always stays near the top of the agenda.
"In terms of the impact simulation has in comparison to, say, giving an incorrect throw-in, it is more significant because it is more emotive and has an impact on the outcome of game," Webb says. "Ultimately it involves someone trying to cheat. It's not getting worse from what we see. There seems to be a bigger negative reaction to it. Less acceptance. Managers stepping up their reaction and saying they fine their players for diving in training sessions. We take Garry [Monk] at his word. Let's hope that continues.
"The standard of Premier League refereeing, irrespective of what you might get from post-match [manager] interviews is very high. I sit watching the feeds coming in every single week. The number of times I have driven home thinking, 'That was another good day'. A Premier League team has 38 games to negotiate with a squad of 25. We have a squad of 17 to do 380 games. In that context we have a lot to deal with, inevitably you can point to things – of course it is a challenge."
In the new year, Webb and PGMOL will present a DVD to clubs detailing the rules around holding in the penalty area, an issue set alight by Michael Oliver's decision to penalise Stoke's Ryan Shawcross against Swansea in October. There has been consultation on what kind of acts are likely to attract punishment but, as Webb points out, the hardest thing is spotting holding incidents when there is such a concentration of players in one area.
He has also been to the Netherlands to look at the proposals for video assistants who would, potentially, work from an outside broadcast truck reviewing footage and communicating over the headset with the referee and his assistants. The Dutch football association, the KNVB, are pressing for a live trial and the Premier League will keep an open mind, although progress in that area is a very long way off.
What of Mark Clattenburg, one of two Fifa-list contenders for Webb's former role as England's referee at major tournaments, and his decision to leave a ground in a non-official car to get to an Ed Sheeran concert? "In terms of what happened the referees are clear in terms of protocol," Webb says. "It is there for the benefit and safety of the officials. Everyone signs up to them. It wasn't a big issue. It was something that had to be dealt with by the management at the time. Everyone is moving on."
Webb was in Barcelona last week to surprise his old friend and long-term assistant Darren Cann, the country's leading linesman who was on the touchline for his last Champions League game having hit the Uefa age-limit of 45. Webb, Cann and Mike Mullarkey were together for the Champions League and World Cup finals in 2010. It was as the latter turned into a Dutch foul-marathon that Cann told Webb over the headset to believe in himself and keep going.
"At the end, I could see Darren walking off looking around the stadium. I could see what he was doing, thinking 'This is my last chance to take it all in'," Webb says. For those who have been there and done it, nothing, of course, will ever come close to the pressure and pride of the football world analysing their every decision. The trick, as Webb, has found out, is finding something else to fill the void.
Join our commenting forum
Join thought-provoking conversations, follow other Independent readers and see their replies