Huang admits he is not backed by China but claims £450m is in place
Consortium pledges to leave Liverpool debt-free but new stadium would only be a long-term goal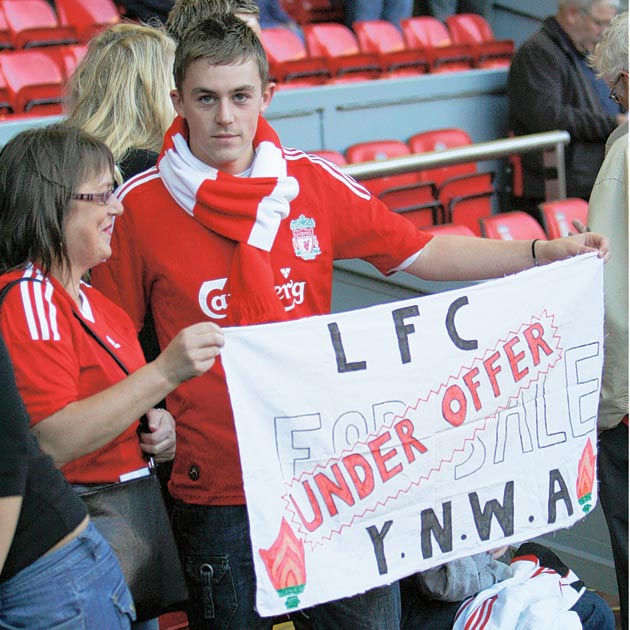 The Chinese businessman seeking to to take over Liverpool categorically denied last night that the Chinese state government was financing the bid in any way, though he insisted that he would table between £400m and £450m to secure the club's future.
Kenny Huang's declaration was accompanied by an acknowledgement that the consortium of investors he has gathered does not have the funds to relocate Liverpool immediately to a new stadium and that he cannot say when that vital move might happen. Huang made his position clear after the Chinese government faced a barrage of questions from taxpayers wanting to know why state finance was being spent on a football club through the Chinese Investment Corporation (CIC).
In what appears to be raise another doubt about the Chinese bid, Huang's representatives were unable to say last night whether the search for investors to secure the sum of near £400m is actually complete, and The Independent also understands that Huang does not believe the deal will be sealed by the time the transfer window closes on 31 August. Liverpool's non-executive chairman Martin Broughton said earlier this week that he wanted the sale concluded by then.
But the Huang camp maintain discussions with Liverpool are "reasonably advanced" and the businessman has also said through a business associate Marc Ganis, whose Chicago-based company Sportscorp has helped compile the bid, that an an "investor group" made up of at least five parties would provide the funds for the bid.
A number of respected financial sources have indicated that the CIC, the $300bn sovereign wealth fund, had been a part of the consortium, but it is clear that the barrage of publicity associated with the Liverpool story has startled the Chinese authorities and Huang's priority last night was to make it clear that the corporation was not one of the "passive investors" involved. Huang appears to have been attempting on Tuesday to dispel suggestions that CIC were backing him when he sent an email from his mobile telephone indicating to a respected Chinese sports journalist that the sovereign wealth was, indeed, not behind him. That email was evidently intended for his PR representatives, with whom he was formulating the wording, but reached the journalist instead.
Seeking to put the credibility of the Huang bid back on track, his representatives set up interviews with Ganis yesterday for the Associated Press and the Wall Street Journal, though it was not until last night that the notion of CIC's immediate involvement was finally dispelled.
It is possible that CIC money might be delivered into an investment fund which subsequently ploughs resources into Liverpool. But the need for public disclosure by CIC may make that difficult and, ironic for a country with an autocratic image, prompt greater public outcry.
Ganis offered more detail on the structure and companies behind the Chinese bid, though he said that what had been put to Liverpool was not "a formal proposal" but "the broad parameters of what a proposal to see if it would be welcomed – and it was" If a deal to buy Liverpool went through, the club would be owned by a new company ultimately owned by QSL Sports Limited, the company headed by Mr Huang, and Yang Guang, an associate of his who is executive vice-president of Franklin Templeton Investments and chief investment officer of the China Life/Franklin Templeton Fund. But in a further unraveling of the Chinese bid, it was being reported last night that Guang had denied any involvement.
Ganis said the size of investment would be enough to leave Liverpool debt free, make an equity contribution to the process of moving to a new stadium, and provide a significant contribution to manager Roy Hodgson's transfer fund. But the Chinese are unwilling to line the pockets of current owners Tom Hicks and George Gillett, who are looking for a return on the £130m they have sunk into the club.
A week of intense publicity has left far more questions than answers about the Chinese bid and indeed about Huang, who also teamed up with Ganis in a move to buy into the Cleveland Cavaliers basketball team. Despite widespread reports to the contrary, that deal did not go through.
You'll never wok alone
As the Chinese bid gathers momentum, it may be time for the Kop to memorise the following familiar lyrics translated into Mandarin (with apologies to Gerry & The Pacemakers):
Ni Yong Yuan Bu Hui Du Xing
Dong Ni Chuan Guo Feng Bao De Shi Hou,
Gao Ang Qi Ni De Tou,
Bu Yao Hai Pa Hei An.
Zai Na Feng Bao Jin Tou,
Shi Pian Jin Se Tian Kong,
He Bai Lin Na Tian Mei De Ge Sheng.
Chuan Guo Feng, Chuan Guo Yu,
Ni De Meng Xiang Huo Xu Hui Po Mie,
Dan Dai Zhe Ni Xin Zhong De Xi Wang Qian Jin,
Ni Yong Yuan Bu Hui Du Xing,
Ni Yong Yuan Bu Hui Du Xing.
Join our commenting forum
Join thought-provoking conversations, follow other Independent readers and see their replies